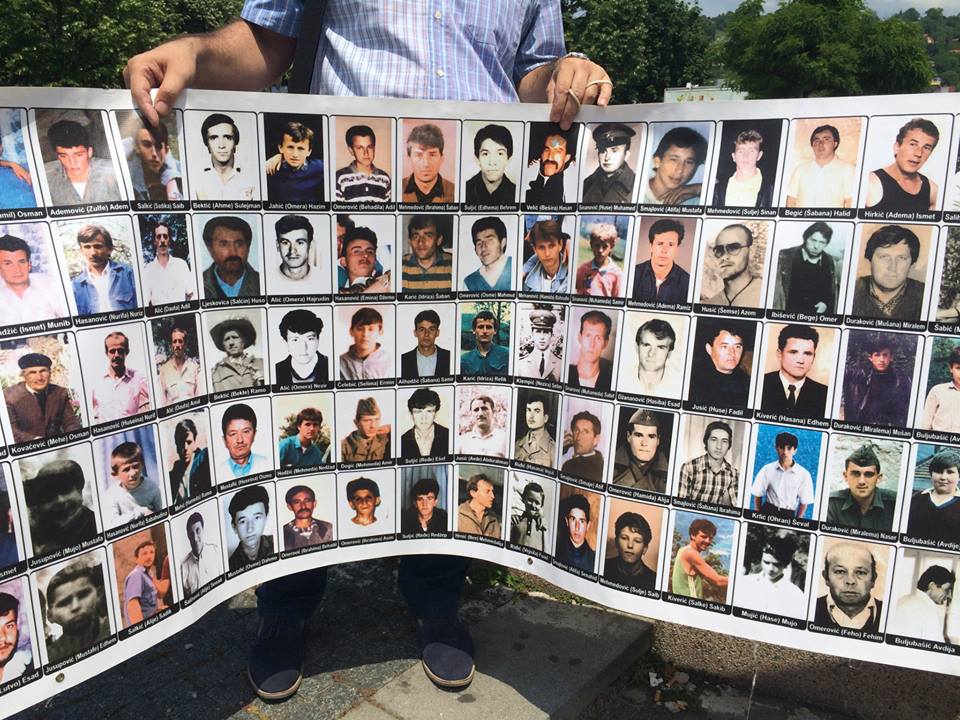 As the Syrian war enters its fifth year and Russia deploys its forces to counter the spread of extremist group Islamic State (ISIS /ISIL) in the war battered country, thousands of refugees are making their way through Europe looking for safety.
The tragic death of toddler Ayan Kurdi has placed focus on human strife and grief faced by those fleeing persecution and war. But, a similar genocide took place in July 1995 and neither the United Nations nor the world powers were able to intervene and save innocent lives.
Around 8,372 Bosnian Muslim civilian men were slaughtered by Bosnian Serb forces in the UN-protected area of Srebrenica. The men were shot and buried in mass graves while the women were raped and abused. The Bosnian Serbs carried out the killings with the aim to ethnically cleanse the territory by persecuting minorities - in this case, the Muslim community.
The Srebrenica massacre is a matter of global shame, guilt and sadness. Thousands of innocent lives were destroyed in this act of extreme brutality in what is now being called the deadliest genocide on European soil after World War II.
The massacre shed light on United Nations' failure to intervene and save lives as well as that of the other countries which did not do enough to address these crimes against humanity.
Ahead of the 20th anniversary of the massacre in July this year, the United Kingdom drafted a UN Security Council resolution to commemorate the Bosnian Muslims who were killed in 1995. However, the Russian Federation voted against it and the UN Security Council failed to adopt the resolution.
Despite the efforts, experts claim the move comes much too late for those who lost their families to the genocide.
Bosnian journalist Dzenana Halimovic has taken it upon herself to identify victims of the genocide, trace down their roots and contact their families. Her project has helped numerous families, who had fled Srebrenica to come to terms with their loss.
Catch spoke to Dzenana about her project - Faces of Srebrenica - to understand the complexities of working on an arduous project with such a minuscule lead. She spoke to us in detail about how families of genocide victims reacted to the news and why such genocides must never happen again.
Read the interview below:
Vishal Manve: Please tell us more about your project - Faces of Srebrenica. How did you start working on the project?
Dzenana Halimovic: The general idea was to commemorate the 20th anniversary of the Srebrenica genocide. We started to look for the most appropriate way to remember the victims with the dignity they deserve. All these years, when we spoke about victims we talked in terms of one figure - 8,372. Individual tragedies hidden behind this number were lost. With this project we wanted to give a human aspect to the atrocities and reveal the names and faces behind this number.
The number on its own means nothing to most people. But photographs of thousands of people will be a strong reminder that we're talking about human beings who suffered tremendously, and whose remains were discovered, sometimes in several mass graves, in attempt to destroy their dignity even in death.
Then we started to collect photos from the families of the victims and NGOs. We decided to make it simple but effective - to show that these victims were once alive, had families, had people who loved them, and still miss them. Some of them were never found, and their loved ones have no grave to visit, no place to commemorate their grief.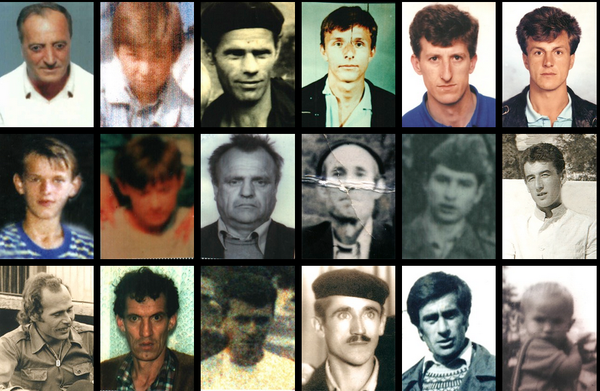 VM How many identities of victims have you managed to uncover? How difficult was it to place together the details and what hurdles did you face?
ZH When it comes to identities there is an official list of victims created by the State Institute for Missing Persons. That's where we got all these names to start with. The next step was to search for photographs. There are several NGOs formed by family members, and they had a lots of photos. Some of them called up other family members to bring more photos so we could collect them. That's where the hardest part began. I had to search for the names on the list and compare them with pictures, dates of birth etc.
Some of the photographs came from family members living somewhere else, from family gatherings, birthdays, army photos, schools, etc. Some of these photos were taken decades before they were killed. These pictures are all that is left with these families.
VM: What impact did the project and its details have on you?
DZ: "I will never be a mother again. I will never know what it feels like to be a grandmother." - This is a sentence that illustrates the horror of the genocide for me. The project started as journalistic research but it has turned out to be one of the hardest things I have done in my 18-year-long career.
At first it was just a mechanical job. You take a photograph, compare it with the list, scan it, save it and get to the next one. And then you start to really look at the photographs, especially in the case where you have three or more stapled together. Then you realise you're looking at photographs of a father and three sons, or two brothers and their children, and that's when it gets personal. Lots of them reminded me of people I know.
You start to wonder as a wife, as a child, as a mother and sister how horrific it was for them. Parents having to live with their children being killed, children growing up without their families. That's when you realise it has nothing to do with a nation, or a religion, or anything in the world. Pain and suffering are unfortunately languages that everyone understands. It could happened to any of us. Many of those killed in the genocide were just children. They would be fathers now. That's the part when the story of a mother really hits you. She will never feel that joy. And all she wants is to find the remains and bury them with dignity.
VM: Genocide and ethnic cleansing has been used as a tool to target minorities and different groups for a long time. Even today, you see the same pattern in atrocities of ISIS to the Rohingya crisis. Could you offer any insight into the pattern?
DZ: To answer this first it is necessary to understand the magnitude of the atrocities committed in Srebrenica. That was the worst crime in Europe since the Second World War, and it happened while the whole world was watching.
After saying "never again", Europe had once more witnessed mass murders of civilians. Between seven and eight thousand men, and boys were killed and there was no will to stop Serb forces in the UN protected area.
Thinking it was a safe haven, people from surrounding areas came to Srebrenica thinking that no one will dare attack a place under UN protection, which was supposed to guarantee their safety.
Twenty years later, Srebrenica is a reminder of that failure. Now it has to be a warning and a wake-up call to everyone to look at what's going on around the world and to prevent future genocides.
Unfortunately, the world did not learn the lesson. You have major atrocities going on in the world right now, many extremist groups are targeting minorities, destroying cultural monuments and world heritage.
You can see the pattern repeating in Syria, Nigeria, you name it. That's how it starts. It started that way in Rwanda too, and led to the unseen crime. We could see some phases of the genocide in some parts of the world - from distinguishing people into "us and them" by ethnicity, race, religion.
We had the same division in Bosnia during the 90's. We can see that happening in cases of ISIS or Boko Haram, for example. We should be concerned that in some parts of the world, execution forces are formed ready to commit mass murders. No one should be blind to this. Everyone must pay attention to these visible warnings before it is too late.
VM: How do you think global peace keeping forces and the UN should respond to these challenges of communities being attacked and targeted?
DZ: I must say that I have no confidence in these forces. They are too subjected to politics and different interests. Even now when it's more than clear what's happening in some parts of the world, we have no reaction whatsoever.
These forces are compromised in many regions, as they were in Bosnia. Allegations of raping, business deals, trafficking, and murders in the areas they operate in, cast a shadow on their acts. They have amnesty from prosecution, as we could see from Srebrenica case, so I don't see the true intention to respond in an adequate way.
VM: How long have you been working on the project? How long did it take you to conduct research?
DZ: It was a long term process, and it took about six months to publish. We collected around 2,600 pictures. We're not closing the project and we're still looking for them.
When you look at these pictures and start asking why we collected around 2,600 and not more, you must know that there are several things influencing our work. First of all, many of the women, and family members, have left all they had behind when they were forced to leave. Houses and all the memories including pictures were lost. Some of them found the pictures from family members and friends. In some cases however, there is no surviving family members to provide pictures.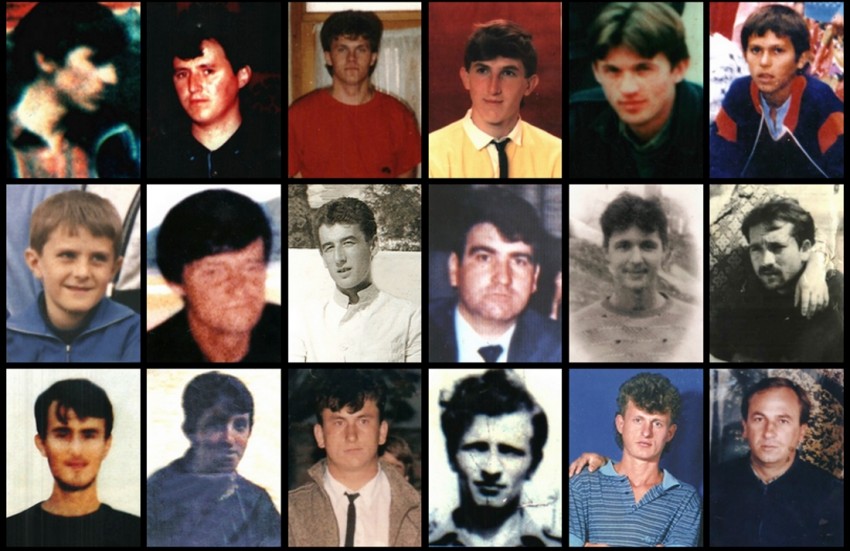 VM: Have any families reached out to you after the project went public? What has their reaction been like?
DZ: One of the major goals we're trying to achieve with this project is to end denial. This is a sad reminder that the crime had happened, and that the victims have faces, that they're not just numbers without meaning. These were once living, breathing men and boys who were killed just because they were members of a different religious and national group than their perpetrators.
I am happy that the families of the victims have had a great reaction to this project. This was the first one that was really made for the victims. Finally, you could see the faces of people killed in the genocide. Family members see this as a confirmation that someone else cares about their loved ones.
Here are some reactions to the project that were mailed to facesofsrebrenica@rferl.org.
"First let me start of with saying how fascinated i am with the project you made. For years now all people rememberd was the names of those who died but i could never picture what they looked like. These pictures give such a strong and powerfull message, i was born in Srebrenica 14th of may 1995 just two months before the genocide. Never getting to know my grandfather and only remembering him by name not really knowing what he looked like. And i know i am not the only one who lost a family member he does not even remember or only knows by name and not by what they looked like. That's why i would like to submit a picture of my granddad so he can always be rememberd by the family and other people around the world and tell his own story like every single picture does so all those who died will never be forgotten. (Sic)
Kind Regards,
-- Ajet Pasalic"
"Attached below is a photograph of my father, Hasan (Idriz) Avdic. He was born September 8, 1968. He went missing July 11, 1995 as my family was fleeing Srebrenica. July 11th was the last contact my family had with him. At that time, I was only six months old, so I only know him through stories, but I would appreciate if his picture be added to your website because he is one of the faces of Srebrenica. I can provide more documentation if you need verification.
Your website is a generous reminder that the 8372 lives lost in Srebrenica are not just numbers, but faces of fathers, sons, husbands, brothers, and friends! For this I thank you very much! (Sic)
Much thanks,
-- Selmira Avdic"
"First of all I want to thank you for creating this album and giving a picture to the names of the ones that can't speak for themselves. Now people can actually see eyes of the ones that were killed in July 1995. (Sic)
-- Adis Memic"
Watch the video below: