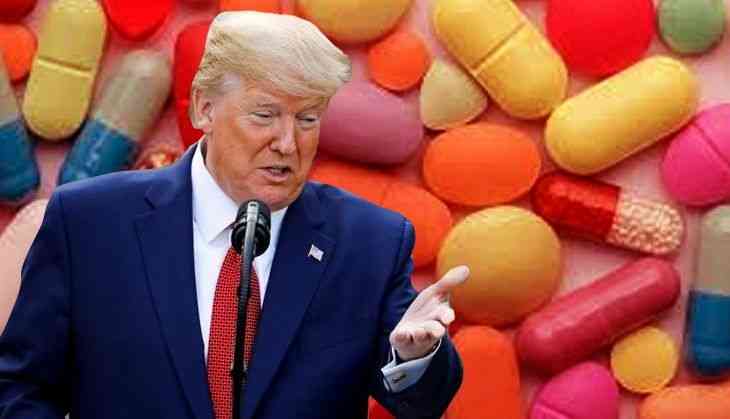 US President Donald Trump divulged about the medicine that he has been taking to protect himself from the contraction of the novel coronavirus on Monday.

Trump said that he is taking malaria drugs in a bid to keep the virus away. Despite warning from his own government that the drug should only be given to the COVID-19 affected patients in a hospital or for the research purpose, he is taking the medicine.

The President of the US told reporters that he has been taking the drug, hydroxychloroquine, and a zinc supplement daily "for about a week and a half now."
Trump spent weeks pushing the drug as a potential cure or prophylaxis for COVID-19 against the cautionary advice of many of his administration's top medical professionals.
However, the drug has shown some side effects in some patients and they were unable to combat the COVID-19 pandemic.

Trump also said that his doctors didn't advise him to take drugs, but he requested it from the White House physician.

"I started taking it, because I think it's good," Trump said. "I've heard a lot of good stories."

Earlier last month, the Food and Drug Administration alarmed the health professionals about the fatal side effects of the medicine to COVID-19 patients.

The alert for the drug was issued by the regulators after receiving the problems related to heart-rhythm, including deaths, from poison control centers and other health providers.

However, POTUS dismissed all the reports on the side effects of hydroxychloroquine and said, "All I can tell you is, so far I seem to be OK."

Earlier, at least two White House staffers were tested positive for COVID-19, which raised the issue to protect the President from the virus and also sending Vice President Mike Pence and other officials into varying forms of self-isolation.

Since then, the White House mandated that those are in the West Wing must wear ma ask and also introduced daily testing for the president, vice president and those they come in close contact with.

Earlier in November, Trump visited for his 'interim' medical checkup at Walter Reed National Military Medical Centre. While his last complete physical took place in February 2019.
Also Read: Donald Trump calls Barack Obama a 'grossly incompetent' President