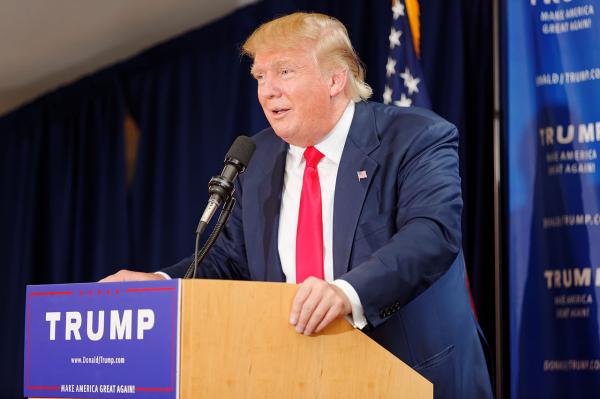 Republican presidential forerunner Donald Trump said Muslims must be barred from the US.
He alleged that US President Barack Obama was clueless about radical Islamic terrorism.
Trump\'s anger towards Muslims seems to have grown since the 13 November terror attacks in Paris.
Donald Trump has a reputation for making controversial and jarring statements and he has done it again. The Republican presidential forerunner made a statement on Monday calling for complete ban on Muslims from entering the United States.
Trump was speaking at a rally in South Carolina when he made the following statement:
"We're out of control; we have no idea who is coming into our country."
Drawing cheers from the spectators, Trump added that they had no idea whether Muslims "love us or hate us."
His statement comes a day after incumbent president Barack Obama addressed the nation from the Oval office on Sunday in the aftermath of the shooting in San Bernardino, California.
While his reassurances of continuing and renewed efforts to fight the Islamic State failed to woo agitated Americans, Trump, taking a dig at Obama, said, "He didn't know why he was there. He refuses to use the term 'radical Islamic terrorism.' He refuses to use the term. I don't even know if he knows what the hell is going on."
Also Read: #ObamaSpeech is trending on Twitter and it's rather alarming. Here's why
In a statement issued on 7 December, Trump called stated that the Muslims hated America and the hatred was "beyond comprehension".
"Until we are able to determine and understand this problem and the dangerous threat it poses, our country cannot be the victims of horrendous attacks by people that believe only in Jihad, and have no sense of reason or respect for human life. If I win the election for President, we are going to Make America Great Again," he added.
Shortly after, he tweeted:
Just put out a very important policy statement on the extraordinary influx of hatred & danger coming into our country. We must be vigilant!

- Donald J. Trump (@realDonaldTrump) December 7, 2015
With the above statements, Donald Trump has done a complete turnaround from a statement he made in September saying that he "loves" Muslims. After the Paris Attacks of 13 November, in fact, he called for a database to profile Muslims in America.