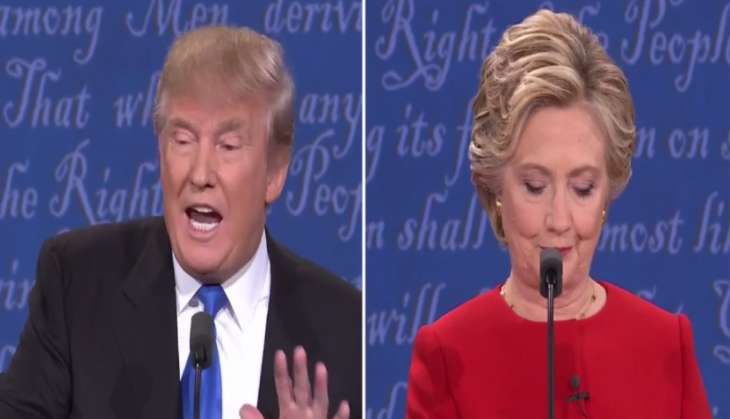 US presidential candidates Hillary Clinton and Donald Trump locked horns at their first presidential debate on 27 September. This is the first of three debates which will be held before America goes to polls on 8 November.
Here are the highlights from the event, which has already broken records to be the most-watched televised debate till date:
Here are 10 areas Clinton drilled Trump on:
1) On Trump's racism
"He has a long record of engaging in racist behaviour," she said. "Donald has consistently insulted Muslims abroad, Muslims at home," she said.
Also Read: Trump has 'black soul', say parents of fallen Muslim US soldier as Pence tries to save face
2) Trump's campaign against Obama's birthplace (The 'birtherism' row)
Taking him on about his campaign against Obama's birthplace, Clinton said it was a "very hurtful" lie that annoyed and bothered the first African American president.
3) Tax return row
Clinton alleged that Trump refused to release his tax returns. "I think you've just seen another example of bait and switch here. For 40 years, everyone running for president has release their tax returns," she said. "You got to ask yourself: Why won't he release his tax returns? Maybe he doesn't want the American people, all of you watching tonight, to know that he's paid nothing in federal taxes," she said.
4) On his diplomatic outlook
"The other day I saw Donald saying that there were some Iranian sailors on a ship in the waters off of Iran, and they were taunting American sailors who were on a nearby ship. He said, you know, if they taunted our sailors, I'd blow them out of the water and start another war," she said.
5) Climate change
"Some country is going to be the clean energy superpower of the 21st century. Donald thinks that climate change is a hoax perpetrated by the Chinese. I think it's real," she said.
Also Read: Hillary Clinton's powerful new campaign ad will be wasted on Donald Trump and his fans
6)On his stance on nuclear weapons
"Donald Trump's attitude towards nuclear weapon is the number one threat to the nation and the world right now. A man who can be provoked by a tweet should not have his fingers anywhere near the nuclear code," she said.
7) On his stand on Russia
"I was so shocked when Donald publicly invited Putin to hack into Americans. That is just unacceptable... Donald is unfit to be commander-in-chief," she said.
8) On his wealth
"Donald was very fortunate in his life and that's all to his benefit. He started his business with $14 million, borrowed from his father, and he really believes that the more you help wealthy people, the better off we'll be and that everything will work out from there. I don't buy that. I have a different experience," Clinton said.
Also Watch: John Oliver on Hillary Clinton & 'America's wealthiest hemorrhoid', Donald Trump
9) On his stance on women
"This is a man who has called women pigs, slobs and dogs, and someone who has said pregnancy is an inconvenience to employers, who has said women don't deserve equal pay unless they do as good a job as men," she said. Referring to a beauty pageant contestant, she said: "He called this woman Miss Piggy. Then he called her Miss Housekeeping, because she was Latina. Donald, she has a name."
Also Read: Why 'woman' isn't Hillary Clinton's trump card
10) On the trickle-down effect
"Trumped up, trickle down. Trickle down did not work. It got us into the mess we were in in 2008 and 2009. Slashing taxes on the wealthy hasn't worked and a lot of really smart, wealthy people know that."
Also Read: Trump, Clinton and the future of global democracy
When Donald Trump says he has a "winning temperament." #debatenight pic.twitter.com/ElQ7aG2vxu

— Hillary Clinton (@HillaryClinton) September 27, 2016
10 points Trump raised against Clinton
1) On Clinton's health
Things turned personal when Trump accused Clinton of not having the stamina to be President. "I said she doesn't have the stamina. And I don't believe she does have the stamina. To be president of this country, you need tremendous stamina," he said. In response, Clinton said she had visited 112 countries during her term as secretary of state.
Also Read: Hillary Clinton diagnosed with pneumonia; cancels campaign trip to California
2) On the email server scandal
"I will release my tax returns against my lawyer's wishes when she releases her 33,000 e-mails that have been deleted," he said, linking the two scandals that have often overshadowed their respective campaigns.
On her part, Clinton said there were no "excuses for the mistake and she takes full responsibility for the incident".
Also Read: FBI grills Hillary Clinton for 3 hours in connection with email server controversy
3) On her experience
"Let me tell you, Hillary has experience. But it's bad, bad experience," he said.
4) On terrorism
"You're telling the enemy everything you want to do. No wonder you've been fighting ISIS your entire adult life," he said, when they debated about how best to deal with terrorism and the Islamic State.
Also Read: Trump calls for 'ideological test' for immigrants in anti-terrorism bid
5) On Iraq
"That is a lie about me that's been put out by Hillary Clinton. Let me make this absolutely clear - Hillary Clinton is the only candidate on stage who voted for the Iraq War," Trump said.
Also Read:How Dostoevsky predicted Trump's America
6) On the Trans-Pacific Partnership trade deal.
"NAFTA is the worst trade deal ever signed everywhere," Trump said, adding that the Trans-Pacific Partnership "will be almost as bad." "You called it the gold standard," he told Clinton.
7) Stop and frisk
"Stop and frisk had a tremendous impact on the safety of New York City. Tremendous beyond belief. So when you say it has no impact, it really did, it had a very very big impact," Trump said.
Also Read: Hillary Clinton is the founder of the Islamic State, or so Donald Trump believes
8) On internet security
"Under Obama, we've lost control of our Internet. Look at what ISIS is doing with the internet. We have to secure it. We are not doing it right now," he said.
9) On the Obama administration
"You've been doing this for 30 years. Why are you thinking about creating jobs only now?"
10) On the economy
"Our debt crisis is deepening. Obama has doubled the debt," he said, adding "We have to stop our jobs from leaving us. We can't let Mexicans take our jobs."
Also Watch: Baba Sehgal's new single 'Trump ka Mania' can only be seen, not described
So who won?
Trump ended the debate by saying: "If Clinton wins, I will absolutely support her." The next two debates have been scheduled for 9 October and 19 October.
Also Read: Hillary Clinton, Donald Trump clash over plans for US economy during 90-minute debate
Also Read: The Trump & Clinton guide to things bisexuals are sick of hearing
Also Read: Adrift in a sea of violence: Obama's legacy, and the prospect of a Trump or Clinton presidency
After the debate both Clinton and Trump took to their Twitter handles to share two varied opinion polls on the debate.
#DebateNight pic.twitter.com/x4oTfkIlHS

— Hillary Clinton (@HillaryClinton) September 27, 2016
Thank you! CNBC #DebateNight poll with over 400,000 votes.
Trump 61%
Clinton 39%#AmericaFirst #ImWithYou https://t.co/c8rB0iSj7c pic.twitter.com/lgu6tOkYCP

— Donald J. Trump (@realDonaldTrump) September 27, 2016