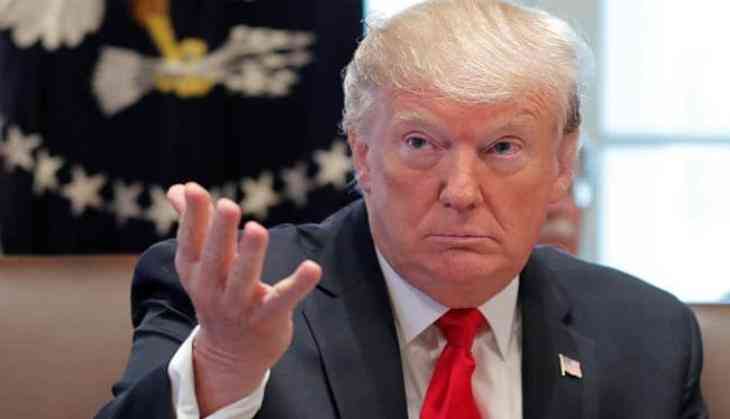 Coronavirus outbreak has affected 70 countries, including the United States. It seems like US President Donald Trump also got scared of COVID-19 these days.
A report in the leading media website, Trump has said that he hasn't touched his face for weeks as preventive measures against the virus. Due to anti-coronavirus precautions, Donald Trump is not touching his face.
Meanwhile, at least 11 people have been killed due to the deadly coronavirus which is rising concerns of the Trump administration.
Earlier on Wednesday, Trump addressed the airline executive and administration officials in the White House.
During the meeting, the executives apprised the US President about their enhanced cleaning operations on passenger planes.
Also, the White House coronavirus response coordinator, Deborah Birz also said about the common sense of washing hands and also not touching your face. Responding to the coordinator, Trump also said that "I haven't touched my face in weeks, in weeks! I miss it!"
So far, the US has reported 160 confirmed cases of coronavirus. Reportedly, 9 people have shown recovery from the deadly virus.
Trump had also advised Americans to avoid traveling to hard-hit areas of South Korea and Italy where the virus have affected badly. Also, the US had restricted people from traveling to China and Iran.
US President also urged citizens of America not to panic as the country is prepared for any circumstance.
Earlier on March 1, Trump held a meeting with top officials of big pharmaceutical groups at the White House to discuss treatments and efforts to develop a vaccine to combat the virus.
"I ordered sweeping travel restrictions, increased travel advisory levels, establish screening measures and imposed historic quarantines. We have quarantines all over the country, a lot of them," Trump was quoted as saying by PTI.
-PTI inputs
Also Read: Coronavirus: Instead of testing on animals Chinese woman doctor injected herself with untested COVID-19 vaccine