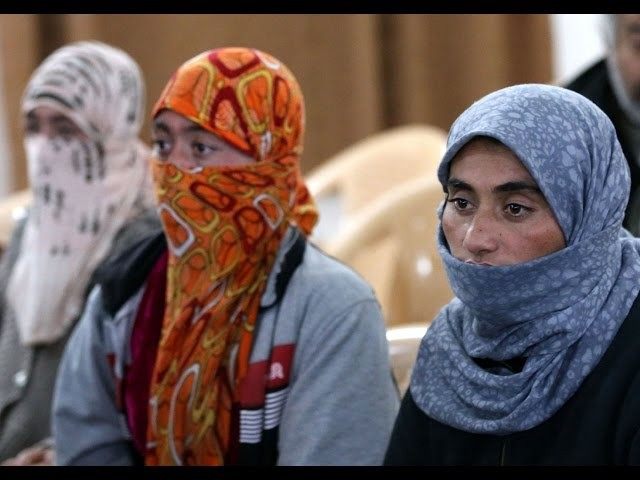 We know Islamic State\'s outlook towards captured slaves, especially Yazidi and Christian women who are forced to have sex with IS fighters.
Now, the terror group has a rule book of do\'s and dont\'s for IS fighters.
Islamic State will never cease to shock with their disgusting acts of beheading, murdering infants and killing large swathes of people in the name of religion and establishment of their caliphate. But what is more pressing and more venereal is the way they capture female sex slaves and treat them in extreme abject misery.
Now, Islamic State theologists have come up with a rule book in order to humanise the very act of capturing women and treating them as sex slaves by doing exactly what's expected of them -- Legitimizing sex slavery with a set of edicts. Forget consent, forget humanity and damn it, forget human rights. Islamic State has a halo around its head that allows them to decide for the rest of infidel humans.
The ruling or fatwa has the force of law and appears to go beyond the Islamic State's previous known utterances on the subject, a leading IS scholar was quoted as saying.
After being mocked by Muslims worldwide over their clarion call to join Islamic State, the terror outfit's rules for sex with non-consenting captured women is just thoroughly appalling.
Islamic State theologians have issued an extremely detailed ruling on when "owners" of women enslaved by the extremist group can have sex with them, in an apparent bid to curb what they call violations in the treatment of captured females.
It sheds new light on how the group is trying to reinterpret centuries-old teachings to justify the sexual slavery of women in the swaths of Syria and Iraq it captured.
The fatwa was among a huge trove of documents captured by US Special Operations Forces during a raid targeting a top Islamic State official in Syria in May.
Reuters has reviewed some of the documents, which have not been previously published.
Here are some points from the rule book:
Among the religious rulings are bans on a father and son having sex with the same female slave.
The owner of a mother and daughter cannot have sex with both.
Joint owners of a female captive are similarly enjoined from intercourse because she is viewed as part of a joint ownership.
If the owner of a female captive, who has a daughter suitable for intercourse, has sexual relations with the latter, he is not permitted to have intercourse with her mother and she is permanently off limits to him. Should he have intercourse with her mother then he is not permitted to have intercourse with her daughter and she is to be off limits to him.
An owner should also not sell her to an individual whom he knows will mistreat her.
The fatwa also instructs owners of female slaves to "show compassion towards her, be kind to her, not humiliate her, and not assign her work she is unable to perform."
Crimes against humanity grow unabated under Islamic State's reign:
The United Nations and human rights groups have accused the Islamic State of the systematic abduction and rape of thousands of women and girls as young as 12, especially members of the Yazidi minority in northern Iraq.
Many women have been given to fighters as a reward or sold as sex slaves. Far from trying to conceal the practice, Islamic State has boasted about it and established a department of war spoils to manage slavery.
What experts say:
Professor Abdel Fattah Alawari, dean of Islamic Theology at Al-Azhar University, a 1,000-year-old Egyptian center for Islamic learning, told Reuters:
"Islamic State has nothing to do with Islam and was deliberately misreading centuries-old verses and sayings that were originally designed to end, rather than encourage, slavery. Islam preaches freedom to slaves, not slavery. Slavery was the status quo when Islam came around,"
So, the question majority of people must ask is: Who are Islamic State cadres to re-enforce slavery and capture free women and violate them against their will? Who are they to make rules and treat women like objects meant to be exchanged, used and shared? Isn't this exactly against what Islam preaches?
Our guess is as good as yours!
Also read NYT's Rukmini Callimachi's article on how Islamic State uses sexual oppression and attacks as tools of recruitment: ISIS Enshrines a Theology of Rape