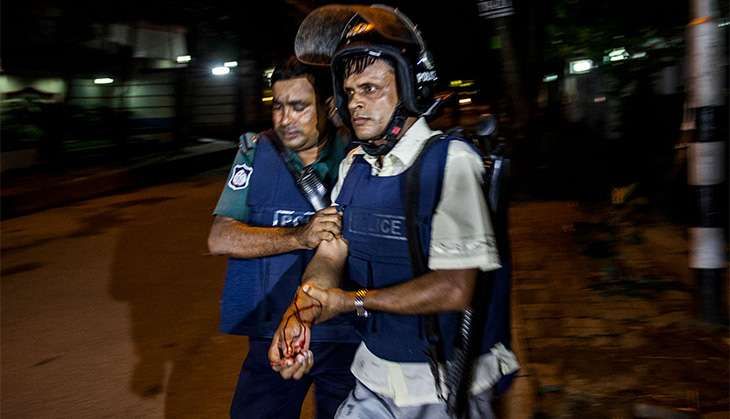 At least seven armed men reportedly took dozens of people hostage on 1 July after entering the restaurant Holey Artisan shouting slogans in the upscale neighbourhood of Bangladesh's capital, Dhaka.
Here are the latest updates:
- 20 civilians were hacked to death using sharp weapons by the assailants long before the joint operation began, said Brig General Nayeem Ashfaq Chowdhury, director military operations, reported the Dhaka Tribune.
- He also said that the bodies of the victims have been kept at the CMH morgue for an autopsy so that the identities can be confirmed.
- According to Dhaka Tribune, eight Japanese citizens were among the hostages taken by attackers in the restaurant. The Japanese Times reported that at least one of them has been rescued.
- Bangladeshi Prime Minister Sheikh Hasina on 2 July condemned the attack on Dhaka's Holey Artisan Bakery and praised the security forces after the end of the operation. Addressing media she asked, "What kind of Muslims are these militants that they are killing during the Holy month of Ramzan?"
- Rescued hostages were taken to DB Headquarters.
- The operation reportedly ended after 9 and at least six militants and two cops have been killed. 13 hostages were rescued after security forces cleared the main restaurant building at the end of the 10-hour long standoff.
Dhaka restaurant attack: 13 hostages rescued after Bangladesh siege: commander (Source: AFP)

— ANI (@ANI_news) July 2, 2016
- Alert sounded in Dhaka. Offices and schools to remain shut.
- By 7:53 am, the gunfire had stopped and ambulances moved into the area. Unconfirmed reports say about 10 people had been taken away in ambulances, and that five of the attackers were killed, one captured and two are unaccounted for.
- According to the Daily Star, heavy sound of explosion started to rock the area at 7:40 a.m. this morning.
- Bangladesh's Rapid Action Brigade stormed the restaurant at about 7.20 am this morning, leading to exchange of gunfire.
- The United States has said it cannot yet confirm Islamic State terror group's claim owning responsibility for the hostage crisis in a restaurant in Dhaka's high-security diplomatic area.
- The security forces on 2 July stormed into the restaurant to end the unprecedented hostage crisis, where around 20 people were believed to be kept as hostage since Friday night.
-With inputs from agencies