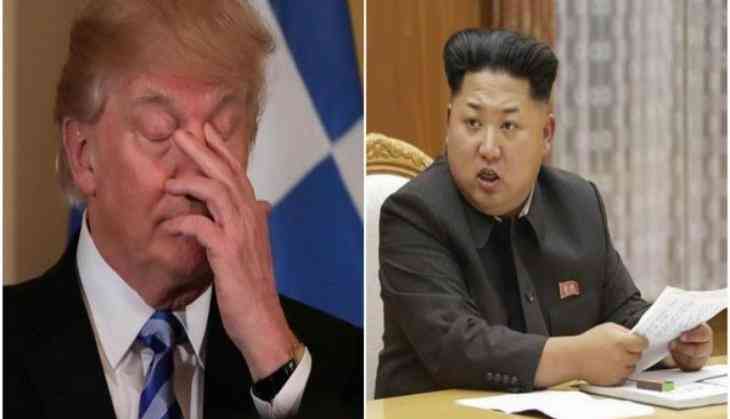 Conflict with North Korea is 'biggest worry' of US: Donald Trump
U.S. President Donald Trump has admitted that conflict with North Korea is presently the biggest concern on his plate.
In a recent interview, the President stated that there is an absolute chance that the U.S. could end up having a major conflict with North Korea.
North Korea has conducted several tests ever since the new U.S. administration came to power and refused to halt its nuclear weapons development programs.
In the most recent show of force, Pyongyang put its military might on display during a parade on April 15 marking the 105th birth anniversary of the country's founder Kim Il Sung, grandfather of present ruler Kim Jong Un.
According to reports, North Korea displayed what appeared to be an intercontinental ballistic missile (ICBM) during the parade. The parade also featured the North's submarine-launched ballistic missiles (SLBM) for the first time.
A day after it conducted a failed missile launch on its east coast following which U.S. Vice President Mike Pence has said that all options are still on the table with North Korea, not ruling out military actions.
Ever since the two sides have been engaged in a spat of verbal warnings. Last week, a North Korean newspaper said Pyongyang was ready to take out a US aircraft carrier conducting drills with Japanese destroyers near the Philippines.
With mounting Pyongyang's nuclear threats, Washington has also speeded the installation of its advanced missile defense system Terminal High Altitude Area Defense (THAAD) in South Korea.
Designed to shoot down missiles at a high altitude, a THAAD battery is made up of six truck-mounted launchers carrying some 50 interceptor missiles, and a fire control and communications unit, which are linked to the very long-range X-band radar system.
The Trump administration has also said it will tighten economic sanctions against Pyongyang to halt Kim Jong-Un's nuclear weapons program and ballistic missile tests.
-ANI