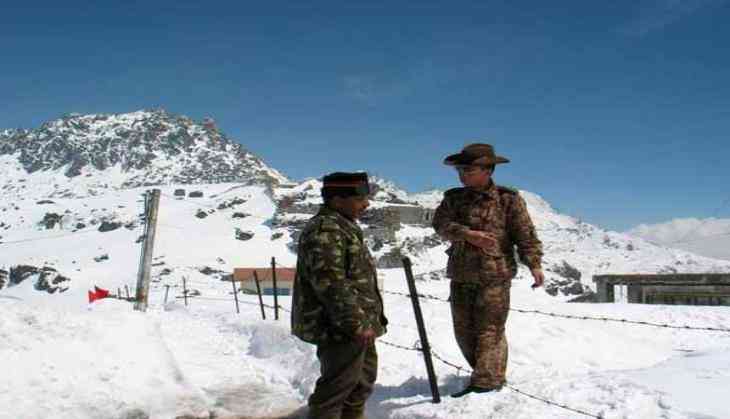 Chinese media has exposed the Sino-Pak nexus as it warned New Delhi that it can enter Kashmir on Pakistan's invitation.
India has always been saying that Pakistan is fomenting trouble in Jammu and Kashmir under the Chinese patronisation.
Continuing their tirade against India, the state owned Chinese media has warned New Delhi that China can enter Kashmir on Pakistan's invitation.
An opinionated piece by John Gong titled "Time for a second lesson for forgetful India" published in the Global Times said, "No matter what vassalage relationship India maintains with Bhutan, it baffles this author that India has the courage to transgress another country on its behalf. And in this case, Indian troops even entered into Doklam from the China-Sikkim border. Well, if this kind of logic holds, a third country can certainly enter into Kashmir, including India-controlled Kashmir, upon Pakistan's invitation."
The op-ed accused India of transgressing China's borders and trying Chinese people's patience in the on-going standoff, adding that no government in the world can stand still doing nothing while its borders are being violated.
The opinion piece said that it is time that India is taught a second lesson as it continues down this intransigent path.
"Their troops in Doklam could either withdraw voluntarily, be captured or may be killed when border disputes escalate, Liu Youfa, China's former consul general in Mumbai, made the above comments in an appearance on CGTN," it read.
Describing India's logic of reasoning on the border standoff as feeble as its troops on the ground, the opinion piece said that New Delhi's claims Doklam to be a territory in dispute between China and Bhutan, and it has been invited there by Bhutan, its protectorate state.
It said India also argues that China's road construction in Doklam poses a strategic threat to the "chicken's neck," referring to the 27-kilometer-wide Siliguri Corridor to the south of Doklam that connects the north-eastern part of India with the rest of the country.
"Chicken's neck or giraffe's neck, who cares? Why would a peaceful China care about the road condition in another country when its only purpose is to improve its own road conditions? This road in Doklam has been there for at least a decade under firm Chinese administration, and this time China is merely trying to do some asphalt patching work in order to facilitate better logistics support to its border posts. That a public infrastructure project in one country can be viewed as a strategic threat to another and worse yet be used as an excuse warranting an invasion, is unprecedented in recent human history," it read.
The op-ed alleged that India has a history of harbouring the Dalai Lama in Dharamsala as a strategic counter-China ploy.
"Underneath the Dalai Lama's façade of peace, there lies a trace of violence at least half a century old. Immediately after he fled to India in 1959, the Dalai Lama became the CIA's henchman in engaging in a terrorist guerrilla war on China," it said adding that "in more recent years, the Tibetan Youth Congress, the armed wing of the Dalai Lama's regime, instigated several violent riots and is responsible for several terrorist bombings in China. In a way, India is actively harboring terrorism against the Chinese."
The opinion piece warned saying that; China should reciprocate in a language that India can understand.
"China is embarking on a historic mission to be a peaceful, prosperous and powerful nation as it has been in history. It can't afford to be constantly distracted by border skirmishes with India," it said.
The opinion piece comes as Indian and Chinese troops continue to be locked in a standoff in Doklam and both sides have moved additional troops, ammunition and military equipment to the area.
The People's Liberation Army (PLA) of China has beefed up its defence in a region south of the Kunlun Mountains under the pretext of conducting a military exercise near Tibet.
Hardware has been moved simultaneously by road and rail by China's western theatre command, which oversees the restive regions of Xinjiang and Tibet, and handles, among others, border issues with India, media reports have said.
This show of strength is being projected by Beijing as a warning to India by China to back off from its objection to China constructing a road at the Doklam tri-junction.
Earlier, the External Affairs Ministry of India (MEA) reiterated that differences between India and China should not and would not be allowed to become disputes, and added that communication between the two governments have never ceased, nor have been broken.
The stand-off emerged after Chinese troops were stopped by the Indian Army from constructing roads at the Doklam border.
India claims Sikkim border as part of its territory, while China has said that the area falls on their side as per the 1890 treaty signed between British and China.
Consequently, China suspended the annual Kailash Manasarovar Yatra and conceded that the decision to suspend the pilgrimage was due to the border scuffle.
It also alleged that the Indian troops had crossed the Sikkim Sector of the Indo-China border. Beijing has accused New Delhi of violating a convention signed in 1890 between Britain and China relating to Sikkim and Tibet.
-ANI