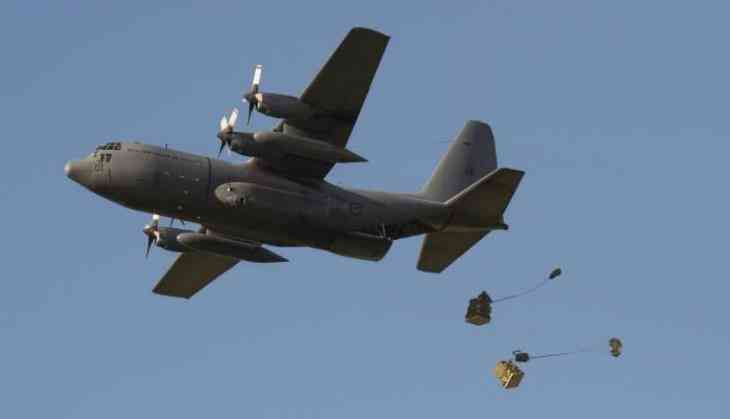 Chile military plane with 38 onboard goes missing (Representative Image )
A Chilean military plane with 38 people aboard on Monday evening went missing after taking off from the south of the country for a base in Antarctica, the Air Force said.
The military plane departed at 4.55 PM (local time) from Punta Arenas and lost contact with operators at 6.13 PM, approximately six hours from the time of publication, Air Force officials said. The officials launched a state of alert and dispatched a search and rescue team.
Vamos con ministro @gblumel rumbo a Cerrillos.Consternados con desaparición de avión Hércules de la @FACh_Chile que viajaba con 38 pasajeros rumbo a la Antártica desde Punta Arenas.Desde ahí,junto a Ministro @mindefchile monitorearemos búsqueda y despliegue de equipos de rescate

— Sebastian Piñera (@sebastianpinera) December 10, 2019
Taking to Twitter Chile Air force said: "The Air Force said that the C-130 Hercules was carrying 17 crew members and 21 passengers. Of the passengers. 15 are members of the Air Force, three are from the Army, two are from a company, and one is from the University of Magallanes in Punta Arenas. The crew is all members of the Air Force."
Gráfica que complementa Comunicado de Prensa #FACh pic.twitter.com/Elcbaudk48

— Fuerza Aérea de Chile (@FACh_Chile) December 10, 2019
Comunicado de Prensa N° 2 #FACh pic.twitter.com/aCJqLxENZT

— Fuerza Aérea de Chile (@FACh_Chile) December 10, 2019
The plane was traveling to Antarctica to help maintain facilities at Base Presidente Eduardo Frei Montalva, a Chilean base on the northern tip of the continent, according to the statement. The plane was scheduled to arrive at 7:17 PM, according to a projection released by the Chilean Air Force on Twitter.
(With Agency Inputs)
Also Read: Sanna Marin, 34, to become world's first youngest PM