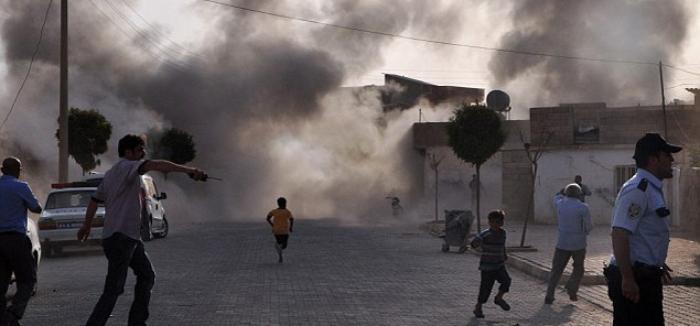 A hospital supported by Medicines Sans Frontiers (MSF) in Idlib province in Syria that was destroyed in an attack on Monday, is believed to be the seventeenth such medical facility to come under fire in this year, Avril Benoit, MSF's director of communication has said.
Terming the attacks as "barbaric", she took to Twitter in strong condemnation. "Already 4 attacks on hospitals this week," she tweeted. "For a total of at least 17 in north south Syria in 2016," she added.
MSF centres across conflict zones are no stranger to attacks, however, frequency of attacks on Syrian health facilities have drawn strong criticism from the international community.
UNICEF Executive Director Anthony Lake said today he is "appalled" by reports of attacks against four medical facilities in Syria, two of which are supported by UNICEF. Speaking at a press conference on Monday, Lake said:
"One of the facilities is a child and maternal hospital where children were reportedly killed and scores evacuated... Apart from compelling considerations of diplomacy and obligations under international humanitarian law, let us remember that these victims are children".
MSF believes that these hospitals have come under fire from the coalition attacks. "We believe it was destroyed by the Syrian government led coalition. And that it was deliberate," Benoit stated.
Five patients, one caretaker and one guard have reportedly been killed. "In addition, eight members of staff are missing, presumed dead. Other patients are still missing, but their numbers are currently unknown," Massimiliano Rebaudengo, MSF's Head of Mission stated.
"The destruction of the hospital leaves the local population of around 40,000 people without access to medical services in an active zone of conflict," he added.
#Idlib: The latest incident in a horrific string of attacks that targeted hospitals in Syria https://t.co/Vcp9M29Pjf pic.twitter.com/V955AiPebW

- MSF International (@MSF) February 15, 2016
Two of the strikes occurred at Azaz in Aleppo and another two occurred in Idlib, where one of the hospitals was reportedly struck four times, a UN report stated. Another maternal and paediatric care hospital, not supported by MSF, was also bombed in Azaz city, and has temporarily moved its paediatric centre into an MSF clinic.
In addition, UNICEF said there are reports that two schools were attacked at Azaz, reportedly killing six children. One of the schools was sheltering internally displaced people was also hit, killing 14 people.
A report from, September 2015 by the Commission of Inquiry on Syria called 'Assault on medical care in Syria' listed an appalling litany of attacks on hospitals and medical units over the past four years as well as numerous examples of the sick and wounded being deliberately denied medical assistance, primarily by government forces and pro-government militias.
While attacks on healthcare facilities go as far back as 2012, they have increased substantially in the last one year, the UN noted.