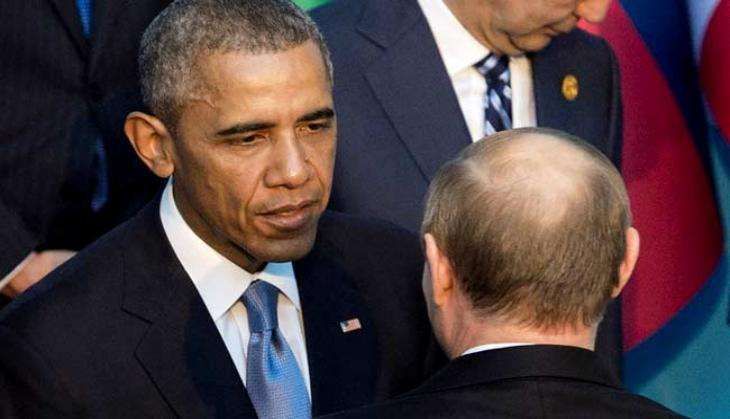 President Barack Obama on Friday all but named Russian President Vladimir Putin over Moscow's alleged attempts to nose into the US election, adding that he personally warned the latter to "cut it out".
Without putting a direct finger on Putin if he ordered the cyberactivity that the US intelligence allege was meant to bolster Donald Trump, Obama asserted the Russian Government was tightly controlled by the President.
"Not much happens in Russia without Vladimir Putin. This happened at the highest levels of the Russian government," CNN quoted Obama as saying.
Further stating that he personally confronted Putin about the hacking in September on the sidelines of the Group of 20 summit in China, Obama said he told the Russian leader to "cut it out" and warned of "serious consequences if he didn't."
"In fact, we did not see further tampering of the election process. But the leaks through WikiLeaks had already occurred," he added.Obama also attacked Republicans for siding with an arch-enemy of the United States because of their dislike of Democrats.
"Ronald Reagan would roll over in his grave. Mr. Putin can weaken us just like he is trying to weaken Europe if we start buying into notions that it is okay to intimidate the press or lock up dissidents," he said.
On the alleged Russia hacks, he said the issue should be confronted on a bipartisan basis.
"What we have simply said are the facts. Based on uniform intelligence assessments, the Russians were responsible for hacking the DNC, and as a consequence, it is important for us to review all elements of that and make sure we are preventing that kind of interference through cyberattacks in the future," the President said.
"That shouldn't be a partisan issue. My hope is the President-elect is similarly going to be concerned that we don't have foreign influence in our election process," Obama added.
-ANI