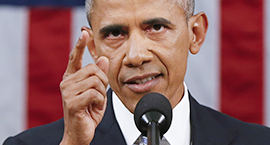 President Obama pushes US Congress to close Guantanamo Bay Detention Facility
At least 24 of the detainees are being held in the prison indefinitely without trial
The closure will also save the US up to $180m a year in costs
Even as his term comes to a close, there are many things that remain undone for President Barack Obama. But, perhaps, the one promise that will remain unfilled is the closing of Guantanamo Bay Detention Facility - a promise that helped bring Obama into office.
Obama, however, is not a quitter. In another effort to shut the infamous detention facility, the president, on Tuesday, delivered a closure plan to the US Congress.
In his public address, Obama pointed how keeping Guantanamo operational was contrary to the American values. "It undermines our standing in the world. It is viewed as a stain on our broader record of upholding the highest standards of rule of law," he said.
This isn't the first time a proposal has been brought forward to the Congress. Republican leaders, however, have raised objections and voted it down. Speaker of the House Paul Ryan called the plan against US law, unwilling to bring terrorists deemed 'too dangerous' into prisons within the US. "It is against the law, and it will stay against the law, to transfer terrorist detainees to American soil," he said. "It fails to provide critical details required by law," he added.
What does Obama's plan propose?
The proposal, formulated by Pentagon, lays a plan to transfer the remaining detainees and shutting the facility. It suggests moving the prisoners to other countries, and for those prisoners deemed too dangerous, to be moved to another US facility.
The closure will also save the US up to $180m a year in cost, the plan informs.
It's time to close the prison at Guantanamo Bay.Here's @POTUS's plan to do it → https://t.co/R5okJhIdLP pic.twitter.com/h7JIbD0dQH

- The White House (@WhiteHouse) February 24, 2016
Located in Cuba, there are 91 remaining detainees in the prison, as of today. At least 35 of them are waiting to be transferred to other countries, and at least 22 are "too dangerous" to be released.
Shockingly, 24 of the detainees are being held in the prison indefinitely without trial.
"The plan we're putting forward today isn't just about closing the facility at Guantanamo," Obama stated. "It's not just about dealing with the current group of detainees, which is a complex piece of business because of the manner in which they were originally apprehended and what happened. This is about closing a chapter in our history," he urged.
Guantanamo is a terrorist recruitment tool, moral blight, & an unnecessary drain on our resources. That's why we're committed to closing it

- Susan Rice (@AmbassadorRice) February 24, 2016
Even though the plan was received with apprehension from the House Republicans, it was welcomed by global leaders. "If there is insufficient evidence to charge them with any crime, they must be released to their home country, or to a third country if they risk persecution at home," Zeid Ra'ad Al Hussein, UN High Commissioner for Human Rights said, agreeing to Obama's plan.
"The Guantanamo regime, with all that it entailed, has been a serious blot on the human rights record, and reputation, of the United States for the past 14 years, and has been cited by many repressive Governments as justification for their own actions," he noted.
Deal with it now
Obama has put a strong appeal to get the proposal through. "I don't want to pass this problem on to the next president, whoever it is," he noted.
"For many years it's been clear that the detention center at Guantanamo Bay does not advance our national security," he said. "It undermines it."
"And if as a nation we don't deal with this now, when will we deal with it?"