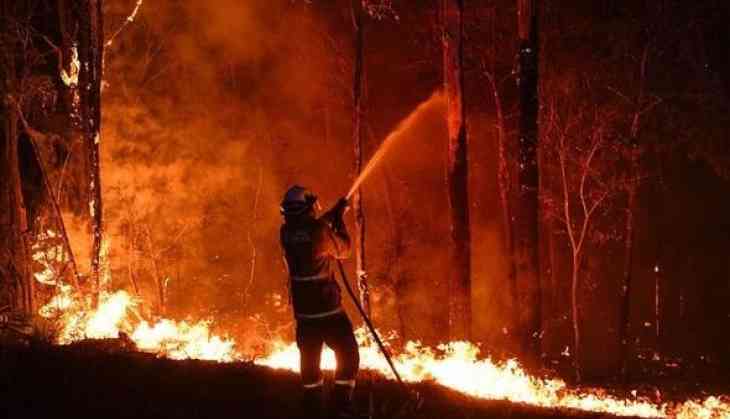 The Australia bushfire are a nationwide crisis, predominantly triggered by dry spell and intense heat, but a lot of people are forthrightly to be held accountable for some of the problem, official stated.
The Australian police have accused at least 24 people for deliberately starting bushfires in the state of New South Wales, as specified in a statement the New South Wales Police furnished on Monday.
New South Wales police have taken legal action against 183 people, 40 of whom are minor, for fire linked felony since 8th November, the statement stated. The lawsuit stretch from warnings to criminal charges.
Out of 183 people, 53 have been given warnings or criminal charges of failing to comply with a total fire ban and 47 are charged with discarding a lit cigarette or match on land, as per the police statement.
Also Read: Australia Bushfire: Distressing picture of kangaroo begging teenager for help after being burnt in wildfire
No less than 24 people have perished across the countryduring this fire season. While the bushfire have touched every state in the country, New South Wales has been the hardest hit.
The fire have been scorching nationwide for months, setting fire to homes and destroying entire town. Almost 18 million acres of landmass have been smouldered, most of it being bushland, forests and national parks, which are home to the nation's indigene flora and fauna.
Almost half a billion animals have been affected by the bushfires in NSW alone and millions of them are possibly dead, as specified by ecologists at the University of Sydney. Birds, reptiles and mammals, except bats, are among those hit.
Police are cracking down on the burn bats on all parts of the state. Earlier, a man was indicted after power tools he was plying allegedly triggered a fire in Mount Druitt, as stated by the NSW Police.
Three people were indicted for violating the fire ban over the weekend. Fire services put out fires in two different towns started for cooking purposes, NSW Police stated. Another man was charged after authorities found several fires lit on his property in another town.
In November, the NSW Rural Fire Service took into custody a 19-year-old volunteer on suspicion of arson, charging him with seven counts of intentionally setting fires over a six-week period.
Also Read: Australia Bushfires: These heartbreaking videos depict how bad things are in the region