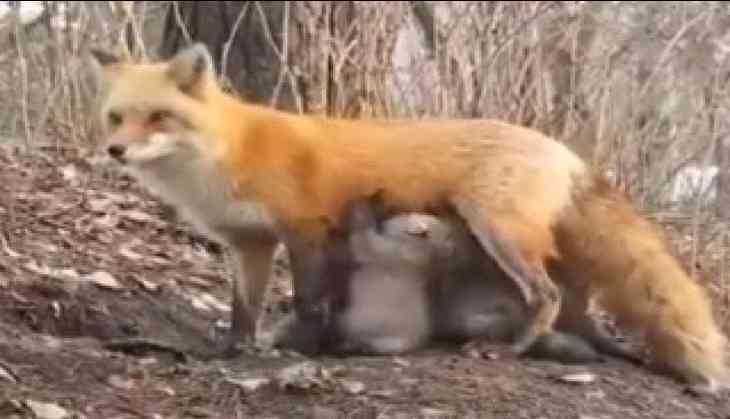 Twitter is a wonderful platform. Many a time and oft you come across buried wonders that leave you feeling all sorts of emotions. Australia has been forced to contend with a lot in recent weeks. After having experienced the grievous bushfire that the world has ever witnessed. Australia has been on the suffering end.
Having said that, a recent video of a fox allowing baby Koalas take feed from her in Australia gives hope that the country will join forces to bounce back to its glory days. The video was posted by a twitter user Adarsh Hegde with a caption, "A Fox allows itself to feed Koala Babies in Australia. In #AustraliaBushfires babies have lost their mothers & many mother animals have lost their little ones. This is a fine example of Humanity."
Also Read: Australia Bushfire: Over billions of animals, insects have been killed in wildfire, say wildlife experts
The video displays a mother Fox standing calmly, while a group of baby Koalas are drinking milk. The fact that the Fox is standing calmly and feeding the baby Koalas is a natural miracle and a perfect specimen of motherhood.
Twitter is in awe of the video and the comments on the video prove the same.
Also Read: Australia Bushfire: Distressing picture of kangaroo begging teenager for help after being burnt in wildfire
Let's call it 'Animality' ... Humanity has lost its meaning now a days 😕

— Rahat Dhir (@DhirRahat) January 25, 2020
Mother's Love is the Ultimate Love & Sacrifice!!

— Universal Citizen (@PrapancaMAnudan) January 25, 2020
Greatness of "MOTHERHOOD"

— naresh (@nareshavari_) January 25, 2020
Let's call it compassion, nowadays humanity is a joke.

— ASHOK KUMAR (@iamdakbabu) January 25, 2020