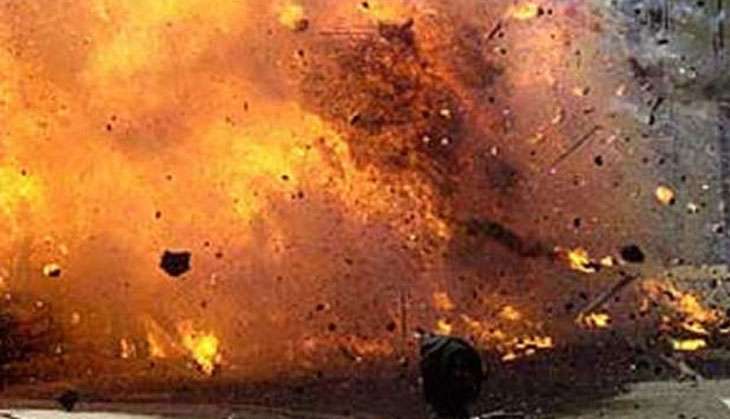 More than 24 hours after a powerful explosion that left 29 injured in Manhattan, a suspicious device exploded on 19 September near a New Jersey train station when a bomb squad robot was examining a backpack that appeared to contain pipe bombs.
A spokesman for New Jersey Mayor Chris Bollwage said the explosion was a controlled detonation, but at a news briefing a few minutes later, Bollwage said the robot was "cutting into the device when it exploded."
"This was an explosive device" containing as many as five explosives, he said. "Based on the loudness, I think people could have been severely hurt or injured if they had been in the vicinity." Bollwage said he was "extremely concerned for the residents of the community" if "someone could just go and drop a backpack into a garbage can that has multiple explosives in it."
The explosion was the second in New Jersey since yesterday. It came as developments continued moving quickly more than 24 hours after a bombing injured 29 people in Manhattan. Several law enforcement officials told NBC News that they are concerned that an active terrorism cell with multiple players could be at work in the New York-New Jersey area.
Authorities stopped a "vehicle of interest" in the New York blast near the Verrazano-Narrows Bridge in New York, the FBI said. Five people were being questioned by the FBI early today, officials said. None of the five people had been charged, and the investigation was ongoing. Several senior law enforcement officials said that the suspicious device discovered Sunday night in New Jersey appeared similar to a device that exploded earlier Saturday morning in Seaside Park, New Jersey.
The package was a backpack, and it was found by two men in a garbage can about 300 feet from the front door of a crowded pub in Elizabeth, said Bollwage. When they saw wires and pipes, they dropped the backpack and immediately went to police headquarters, he said. "We do not believe those two are involved," he said.
"We believe they did the right thing." New Jersey Transit suspended service between Newark Airport and the Elizabeth station, and Amtrak suspended service along parts of the Northeast Corridor. The explosion Saturday night injured 29 people in Manhattan's Chelsea neighborhood. Less than three hours later, a "possible secondary device" was found a few blocks away on 27th Street while officers were combing the area. The New York explosion was determined to have been an "intentional act," authorities said. New York Governor Andrew Cuomo said it was clearly "an act of terrorism," although it hadn't been linked to an international terrorist group.
"A bomb going off is generically a terrorist activity," said Cuomo, who ordered 1,000 New York State Police and National Guard members deployed across the city. Security had already been tightened in the city for the ongoing UN General Assembly, but the presence of officers throughout New York City after the blast will be "bigger than ever," New York Mayor Bill de Blasio said.
--PTI