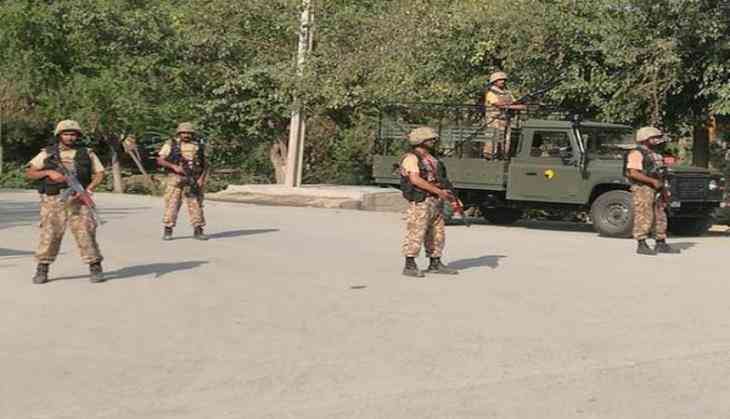 Pakistan has deployed a special military force of 15,000 for the protection of Chinese working on the China-Pakistan Economic Corridor (CPEC) and other similar projects in the country.
This comes after China raised concerns about the safety of its nationals in Pakistan following the abduction of a Chinese couple last month.
According to local media reports, President Mamnoon Hussain informed visiting Chinese Foreign Minister Wang Yi that protecting Chinese nationals in Pakistan was the "top priority" of Islamabad.
Two Chinese nationals were kidnapped on May 24 from the Jinnah town area of Quetta,the capital of Balochistan.
Unidentified abductors had forced the two Chinese nationals, a man and a woman, into a vehicle at gunpoint and drove away, the Dawn reported.
The two Chinese nationals were teachers at a private language school in Quetta. Another Chinese national reportedly managed to escape, while a passerby was injured during firing by the abductors.
Both China and Pakistan are also probing the ISIS claim that the Chinese couple have been killed by them.
The killing of two Chinese nationals by the Islamic State in Pakistan's Balochistan province, has sparked an outage on social media, with Chinese netizens demanding that their government send PLA troops to Pakistan to avenge the killings.
The reports about the killing of two Chinese nationals in Balochistan generated a cascade of discussion on Weibo, a Twitter-style Chinese social media platform, with many users calling for revenge, the South China Morning Post has reported.
"We shall start a war against IS, killing them on behalf of the two murdered Chinese," said a user going by the name Zhou Qi Bei Hou.
Chinese officials have yet to directly confirm the deaths, but a spokesman of the Chinese foreign ministry said Wednesday that Beijing is investigating whether the pair described in some reports as Chinese language teachers were illegally preaching in Pakistan before they were abducted and killed.
In an earlier press conference, the ministry said it had been told by Pakistan that the pair had "probably died".
"It is time to fight violence with violence," another user said.
Beijing has been restricting such content from going online, but tens of thousands of comments regarding the atrocity remain.
-ANI