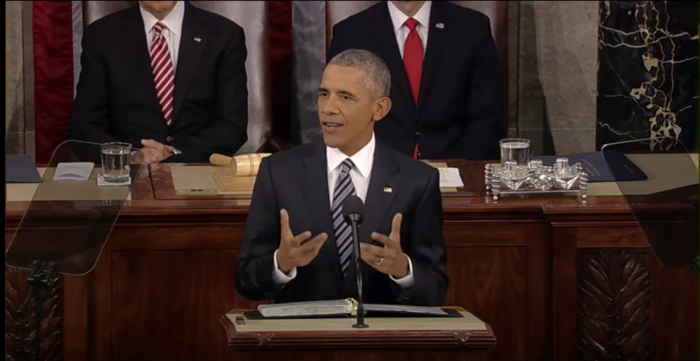 Barack Obama on 12 January delivered his seventh State of the Union Address - his last as the President of the United States.
During the one-hour long speech, Obama spoke about this being a "dangerous time" for the world, and claimed that the system put in place after World War 2 was being threatened.
Here are 10 important points from his address:
1) On the 2016 US Presidential election
Without taking any names about the forerunners of the upcoming presidential elections, Obama said that there was no doubt about the US being the world's most powerful nation.
He took multiple veiled swipes at Donald Trump and his 'Make America Great Again' campaign slogan. Sample these:
"Anyone claiming that America's economy is in decline is peddling fiction".

"There have been those who told us to fear the future...who claimed we could slam the brakes on change, promising to restore past glory if we just got some group or idea that was threatening America under control. And each time, we overcame those fears."
"The United States of America is the most powerful nation on Earth. Period. No nation dares to attack us or our allies because they know that's the path to ruin. Surveys show our standing around the world is higher than when I was elected to this office".
Obama also lamented that he had not been able to combat the growing "rancour and suspicion between the parties" during his tenure as President.
"It's not enough to just change a Congressman or a Senator or even a President; we have to change the system to reflect our better selves," he said.
2) On the global scenario
He cautioned that the world was going through "a dangerous time" - a situation that threatened to dislodge the international system put in place after World War II.
"The Middle East is going through a transformation that will play out for a generation, rooted in conflicts that date back a millennia. Economic headwinds blow from a Chinese economy in transition. Russia is pouring resources to prop up Ukraine and Syria," he said.
3) On terrorism
Obama said that instead of playing into the hands of the Islamic State, it was important that "we just need to call them what they are - killers and fanatics who have to be rooted out, hunted down, and destroyed".
He urged that with military force against the terror group, the IS would learn the lesson that US had taught "Osama bin Laden... the leader of al Qaeda in Yemen... or the perpetrator of the Benghazi attacks".
He also warned that even in a world without the IS, "instability will continue for decades in many parts of the world - in the Middle East, in Afghanistan and Pakistan, in parts of Central America, Africa and Asia". He said that some of these may become safe havens for new terrorist networks, or face ethnic conflict, or famine.
4) On climate change
Obama slammed climate change deniers, claiming they would be "pretty lonely" considering they were up against the 200 nations who had decided to work towards combating climate change after the 2015 UN Conference on Climate Change in Paris.
"We've got to accelerate the transition away from dirty energy. Rather than subsidise the past, we should invest in the future... especially in communities that rely on fossil fuels."
Obama said the time was ripe for American businesses to produce and sell the energy of the future. He added that the efforts towards combating climate change would help create jobs, help save money and ensure a better planet for future generations.
5) On immigrants
He touched upon the importance of correcting "a broken immigration system".
"Immigrants aren't the reason wages haven't gone up enough; those decisions are made in the boardrooms that too often put quarterly earnings over long-term returns," he said in connection to the economy.
Obama said immigrants were a vital component of the DNA of the US.
"We're every immigrant and entrepreneur from Boston to Austin to Silicon Valley racing to shape a better world. And over the past seven years, we've nurtured that spirit."
6) On Islamophobia
Obama tore into Islamophoboia and said it only tarnished the reputation of the US in the eyes of the world.
"When politicians insult Muslims, when a mosque is vandalised, or a kid bullied, that doesn't make us safer... It's just wrong... It makes it harder to achieve our goals. And it betrays who we are as a country," he said.
In a veiled jibe at Donald Trump's anti-Muslim rhetoric, Obama said:
"As frustration grows, there will be voices urging us to fall back into tribes, to scapegoat fellow citizens who don't look like us, or pray like us, or vote like we do, or share the same background".
7) On the US economy
Rubbishing reports of a declining US economy, Obama said the US currently had the world's most durable economy.
He claimed that the nation had cut deficits by almost three-quarters in the last six years - a period that had also seen the auto manufacturing sector create close to 900,000 new jobs.
POTUS urged that the government ensure that the "system's not rigged in favor of the wealthiest and biggest corporations".
"After years of record corporate profits, working families won't get more opportunity or bigger paychecks by letting big banks or big oil or hedge funds make their own rules at the expense of everyone else; or by allowing attacks on collective bargaining to go unanswered," he said.
"Food stamp recipients didn't cause the financial crisis; recklessness on Wall Street did," he added.
8) On gun control
Over 30,000 Americans die every year in gun-related violence, a tearful Obama had announced in his 5 January speech.
However, the long-drawn out debate on gun control found little mention in the State of the Union 2016.
In a symbolic gesture, a chair was left empty next to First Lady Michelle Obama to mark the victims of gun violence.
9) On medical research
POTUS said medical research called for the same commitment as did developing clean energy sources. He said he would put Vice-President Joe Biden in charge of mission control, in light of his 2015 'moonshot' that America could solve cancer.
"Last month, he (Joe Biden) worked with this Congress to give scientists at the National Institutes of Health the strongest resources they've had in over a decade. Tonight, I'm announcing a new national effort to get it done. And because he's gone to the mat for all of us, on so many issues over the past forty years, I'm putting Joe in charge of Mission Control."
10) On the achievements of the US
Obama credited the American "optimism and work ethic" as the factors that helped the nation overcome the economic crisis and reinvent the energy and healthcare sectors.
He said the US would always step up to protect its people and allies and also mobilise other countries to "pull their own weight".
He claimed it was this disciplined approach that had helped the US nudge Syria on its way to peace, and had helped West Africa stamp out Ebola. This strategy had also helped prevent a nuclear-armed Iran, forge the Trans-Pacific Partnership and advance American leadership in Asia, he said.
Watch his full speech here:
The 5,462 word-long speech was posted to Medium before the address. Click here to read the full text.