Jet flight develops landing gear fault, all passengers safe
All the 127 passengers aboard a Jet Airways plane from New Delhi to Mumbai deplaned safely after the plane's main landing gear collapsed as it landed at Chhatrapati International Airport, reports The Indian Express.
"Airways flight 9W 354 on landing in Mumbai reported a technical fault with the main landing gear. All 127 passengers have been safely disembarked," said the airline in a statement.
"As per preliminary assessment of the aircraft by the Jet Airways engineering team, the right hand main landing gear has been damaged. Efforts for recovery of the aircraft are currently underway," the statement said.
BSF in J&K destroys 30m-long tunnel from Pakistan
The BSF on Thursday said it had discovered and destroyed a tunnel 10 feet below the ground that originated on the Pakistan side of the international border in the RS Pura sector of Jammu and Kashmir, reports The Indian Express.
The tunnel was intended to be used for infiltration of Pakistani nationals and the transport of arms and ammunition, said BSG Inspector General for Jammu Frontier RK Sharma. Almost 30 metres within Indian territory, partially completed tunnel might have been used for a terror attack before the beginning of the Amarnath pilgrimage, he said.
All colleges must have special web page for SC/ST student complaints: UGC
The University Grants Commission (UGC) has directed all universities and colleges in India to place a special page on their websites for complaints of discrimination by students belonging to Scheduled Castes and Scheduled Tribes, reports The Hindustan Times. All universities and colleges must also maintain a complaints register for the same purpose.
The move comes after HRD ministry investigations into the sensitivity of universities and colleges towards students in the SC/ST categories after the suicide of Dalit scholar Rohith Vemula at Hyderabad University in January.
Environment ministry questions forest land use for Andhra's new capital
The Andhra Pradesh government's new capital at Amravati has been delayed by the Union Environment Ministry, which has asked for details about the diversion of more than 19,000 hectares of forest land for its construction, reports The Economic Times. A petition regarding the state government's environmental clearance for the diversion is already pending before the National Green Tribunal.
"In our view the project proposal sent by the state government is incomplete and we will need more information before considering it as this involves a very large forest area," said a source at the Environment Ministry.
Nothing objectionable in Katheria speech: Rajnath
Home Minister Rajnath Singh on Thursday said that there was nothing 'objectionable' in a hate speech made by the HRD Minister of State Ram Shankar Katheria in Agra last week, reports The Indian Express.
Dismissing Opposition demands that Katheria be sacked, Singh said: "We gave the CD to our officers. They informed that there was no objectionable utterances by the Minister."
On Sunday, at a condolence meeting in Agra, Katheria had said: "Doosra jane se pehle, yeh hatyare hi chale jayen is prakar ki taqat humen dikhani hogi (Before another is lost, we must show such strength that these killers themselves disappear)."
Kanhaiya's first speech out of jail marks him as political star
After 20 days in prison, Kanhaiya Kumar, president of the Jawaharlal Nehru University Students Union, was released from the Capital's Tihar jail on Thursday on a six-month interim bail.
Kanhaiya didn't waste much time in returning to his campus: hours after his release he addressed a large gathering and made a fiery speech on the university, attacking Prime Minister Narendra Modi and the BJP government for attempting to malign the image of the prestigious varsity and inciting hatred.
His speech sent social media into a frenzy at midnight, with many people applauding him as the country's new leader, while others denigrated him for his anti-Modi stance.
PA Sangma dies at 68
Former Lok Sabha Speaker and former Meghalaya chief minister PA Sangma passed away on 4 March. The 68-year-old was was the Lok Sabha Speaker between 1996 and 1998. Purno Agitok Sangma was born on 1 September 1947 in village Chapahati in the picturesque West Garo Hills District of the State of Meghalaya in North East India. The Lok Sabha was adjourned till March 8 as a mark of respect to Sangma.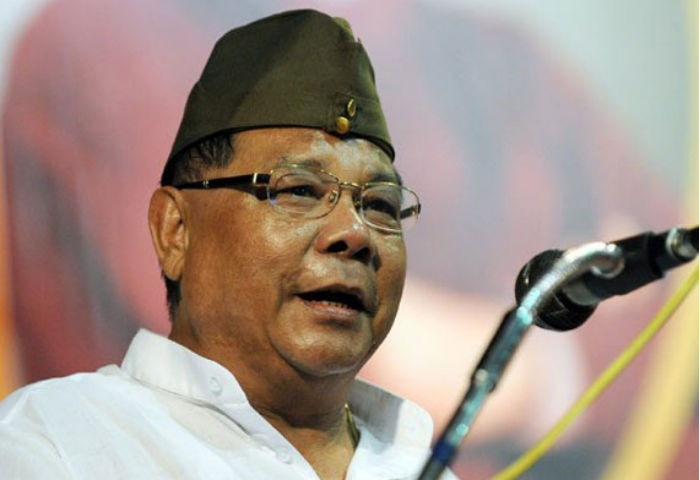 "We deeply mourn the passing away of PA Sangma ji. I had learnt how to run Lok Sabha with a smile from him," LS Speaker Sumitra Mahajan said.
Assembly election dates and schedule out
The Election Commission of India on Friday, 4 March announced the dates for Assembly elections in four states and one Union territory including Assam, West Bengal, Tamil Nadu, Kerala and Puducherry.
Polling in Assam will take place on 4 April and 11 April. West Bengal goes to polls in six phases between 4 April to 5 May. Elections in Kerala, Tamil Nadu and Puducherry elections will take place on 16 May. The terms of the incumbent state assemblies will end between 22 May to 5 June.
Kebab lands man in trouble. Vienna police slaps 70 euro fine
Edin Mehic has been fined for offending public decency. He burped loudly in public after eating a kebab. Mehic was fined for belching while standing close to a policeman in the city's famous Prater Park.
Writing on Facebook, Mehic said he burped after eating a kebab with too much onion. Moments later, he wrote, "I felt a hand on my shoulder". "But what had I done?... I was being reported for a 'decency violation', the policeman shouted. "I had a long discussion with him about why he wasn't picking up real criminals who were obviously consuming and selling completely legal drugs. That didn't get us very far."
Mehic posted a photograph of the fine on his Facebook page, which says that he violated "public decency with a loud belch next to a police officer." Police spokesman Roman Hahslinger on Monday confirmed that Mehic had been fined for the offending burp, a report in the Guardian said.
Mexico City council passes resolution to ban Trump
The Mexico City council has passed a resolution to ban Donald Trump from entering the country because of his xenophobic statements, reports Think Progress. Being a city council, the "ban" is largely a symbolic move, aimed to urge Mexican president Enrique Pena Nieto to take strong action against Trump. Trump has called Mexicans "rapists" and criminals and notoriously sought to build a wall between the two nations to stop illegal migration.
Arrest reveals "super rich" are buying monkey meat as aphrodisiac
The Nilgiri Langur, an endangered monkey species of the Nilgiri hills of south India, is being poached at a massive scale. But a recent arrest revealed the reason behind this -- its meat is being sold as an aphrodisiac. 39-year old Jais Mathew, who was arrested by Kerala forest authorities, revealed that this was a "big racket", reports the New Indian Express. The customers are "super rich" and consume the monkey meat as a sex stimulant, Mathew is said to have revealed. Alas, the report adds that the "medicinal value", according to the district veterinary officer, is only a "misconception".
Unicef warns of severe child malnourishment in North Korea
About 25,000 children in North Korea require immediate treatment for malnutrition after a drought cut food production by a fifth and the government reduced rations, Unicef has warned. The UN's children's fund is asking for $18m in donations for its North Korea work as part of a global 1.9 bn pounds humanitarian appeal for children.
It said the money needed for its work had doubled in three years, driven by global conflicts and extreme weather that were forcing growing numbers of children from their homes and exposing millions more to food shortages, violence, disease and abuse. For the first time, it said a quarter of the worldwide appeal would go towards educating children in emergencies, focusing on 5 million children affected by the Syrian civil war, which is now in its fifth year.
In North Korea, Unicef said severe drought during 2015 in four agricultural provinces led to a 20% reduction in crop production compared with 2014.
February was warmest month on record
In February, earth was warmer by 0.83 degrees C than the long-term average. This was almost 0.3 degrees C higher than the warmest point in January. This is just the average -- at its highest the earth was 1.46 degrees C warmer in non-tropical northern hemisphere, according to scientists at University of Alamaba who carried out measurements using satellites. The warm February comes on the back of an exceptionally warm winter.
By 2050, 5,00,000 will die as climate change alters diets
Climate change will take 5 lakh lives by 2050, a new study has suggested. These deaths would be caused by the food scarcity, and are additional to deaths caused by other effects of global warming. The study was published in the reputed medical journal The Lancet. Scientists behind the study predicted world temperatures to be two degrees higher than in the 1986-2005 time period. It found that there would be 3.2% lower food availability, and people would be consuming 4% lesser fruit and vegetables.