Inaugurate the Afghan Parliament, pay a surprise visit to Pakistan: All in a day's work for PM Modi
On 25 December, PM Narendra Modi paid a surprise visit to Lahore to meet Pakistani counterpart Nawaz Sharif on his way back from Kabul.
Modi was in Kabul to meet President Ashraf Ghani and to inaugurate the Afghan Parliament. India also inked a deal to supply three Mi-35 choppers to the country.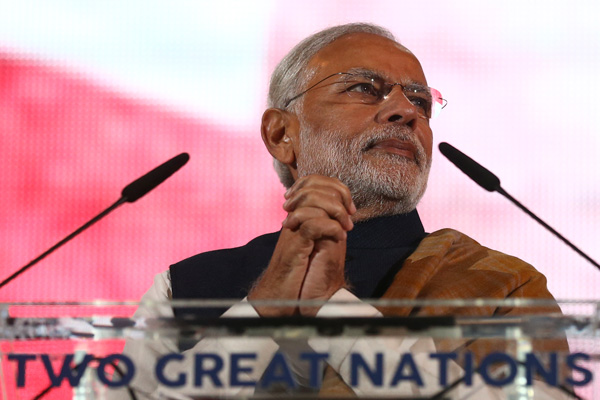 In Pakistan, Modi met Sharif - who was celebrating his 66th birthday. The move was welcomed by most Kashmiri separatist leaders. However, Hurrriyat hardliner Syed Ali Shah Geelani has urged that the two leaders focus on resolving the Kashmir issue.
MEA comes to the rescue of three Indian men in Saudi Arabia
Three men from Kerala, who alleged physical torture by their employer in Saudi Arabia, returned home on 26 December.
According to reports, the three were taken to Saudi Arabia on the pretext of the job.
One of the men posted a video on WhatsApp showing his employer beating him with a wooden plank.
External Affairs Minister Sushma Swaraj had, on 24 December, vowed to bring the youth back home - a promise she kept.
Earthquake tremours felt in Delhi, parts of North India on Christmas night
A moderate intensity earthquake, with epicentre in the Hindu Kush region of Afghanistan, on 26 December, Christmas night shook Delhi, Jammu and Kashmir and parts of North India.
The earthquake, measuring 6.5 on the Richter scale, was 186km deep, according to the National Seismology division of ministry of earth sciences. The earthquake occurred at 12:44am, India Meteorological department said.
Reports of earthquake spreading panic also poured in from other districts of Jammu region. There has no report of any loss of life or damage to property so far.
- PTI
Ex-ISRO chairman calls for an overhaul of Indian education system
Former Chairman of Indian Space Research Organisation (ISRO) G Madhavan Nair has said that Indian schools are like factories that churn out students even as he called for renewed thrust in the fields of science and research.
Slamming the present way of teaching at schools that encourages rote learning, he said that school syllabi need to be changed.
"We have a large human resource base, we will cut a sorry figure in front of other nations if we don't pay attention to these," Nair told PTI.
Rape case registered against Kolkata SRFTI professor
A case of rape has been registered against a professor of Satyajit Ray Film & Television Institute (SRFTI) in Kolkata.
The case was registered on 24 December after a student complained to the police that she had allegedly forced to have sex with the professor.
The victim claimed she had also attempted suicide over the incident.
According to a Times of India report, police are currently trying to track down the professor.
Over 100 people killed in Nigeria gas plant explosion
Even as the rest of the world celebrated Christmas, Anambra, in southeastern Nigeria has been in a state of mourning.
On 24 December, an explosion at an industrial gas plant in Nnewi killed almost 100 people and injured several others. Nigerian media agencies reported that the fire, at the Inter Corp Oil Limited plant, was sparked around noon.
Houses and property in the radius of the plant also suffered damages.