Haryana Dalit boy's post-mortem report out; 2 cops booked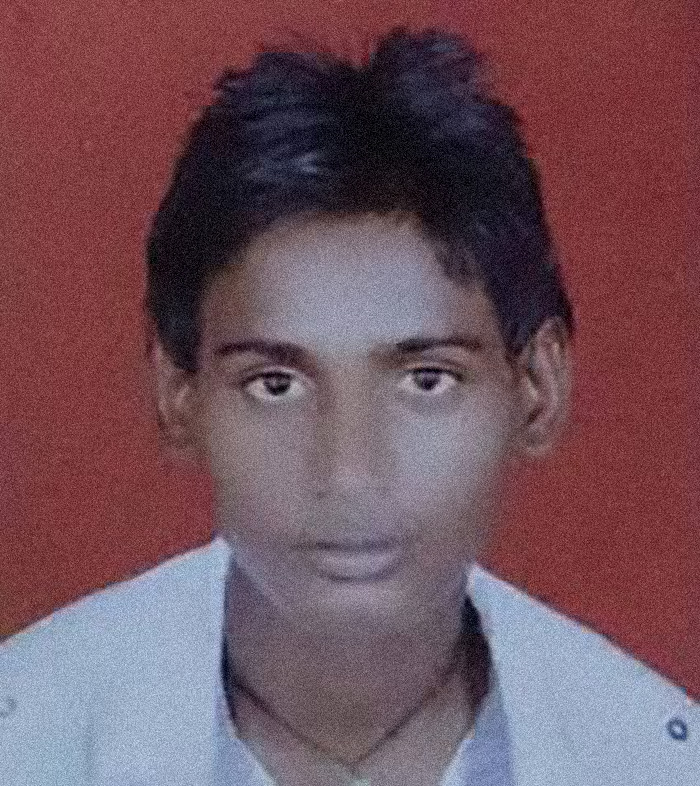 The 15-year-old Dalit boy, Govind, had died of hanging, the postmortem report shows. The incident occurred a day after the teenager was taken to police station for being accused of pigeon theft.
After the boy died allegedly in police custody on Wednesday 21 October, the family of the boy has refused to cremate the boy and have placed it on the road in protest.
The police has lodged an FIR against two assistant sub-inspectors of Gohana police station, Subhash and Ashok. They charged them with murder.
NDA allies lash out at VK Singh; AAP demands his arrest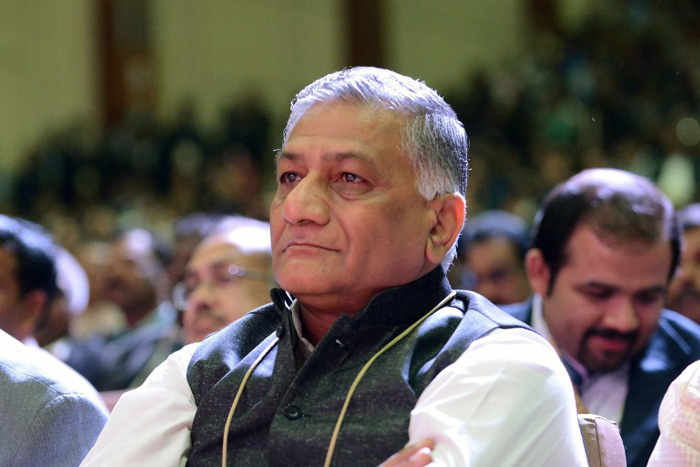 Calling Union Minister VK Singh's mindset 'feudal', Mahadalit leader Jitan Ram Manjhi, and NDA's ally in Bihar elections said, "The incident itself is a blot on humanity." Another ally of NDA in Bihar elections, LJSP leader Ram Vilas Paswan too hit out at the minister asking him to refrain from making such statements. "I don't descend to such low talk, have never done it with any issue," he said.
Meanwhile, Aam Aadmi Party filed a complaint against Union Minister VK Singh in Parliament Street Police station for his controversial comment and demanded his arrest.
Post meeting, Sahitya Akademi condemns Kalburgi's killing, urges writers to take back awards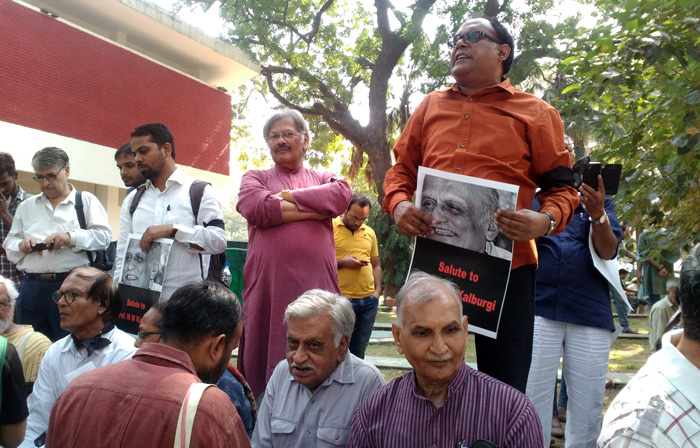 In an emergency meeting today on 23 October, Sahitya Akademi condemned the killing of Kannada Writer MM Kalburgi and expressed support to the protesting writers and poets.
The Akademi also urged those award winners who have returned their Sahity Akademi awards, to take thm back.
Before the meeting, writers and their supporters held a solidarity march with black gags and arm bands in New Delhi from Sri Ram Centre at Safdar Hashmi Marg to the Sahitya Akademi building. There the protesting writers submitted a memorandum to the Akademi asking that it pass a resolution pledging to take stern steps safeguarding the freedom of speech and right to dissent of the writers.
Patricia, Western Hemishphere's strongest hurricane ever, makes landfall in Mexico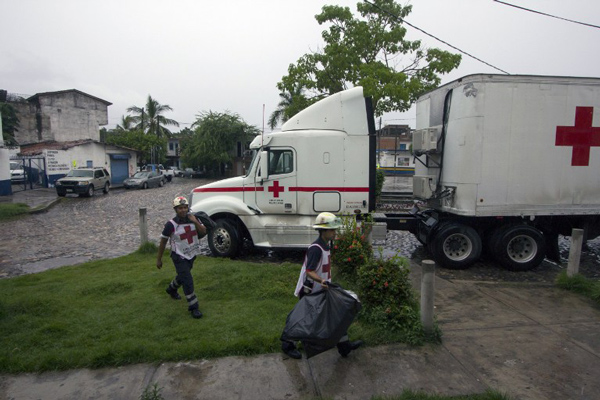 One of the most powerful hurricanes ever recorded, hurricane Patricia, made landfall on Mexico's Pacific coast on the evening of Friday, 23 October. It was a monster Category 5 storm. The hurricane carried 165 mph winds that barreled into southwestern Mexico near Cuixmala according to officials.
Patricia touched down at about 6: 15 PM local time, hours after weaking slighlty. The sustained winds were about 190 mph and gusts to 235 mph. Patricia lashed the coast with fierce winds and rains as residents sought shelter.
US weather experts said that Patricia was the strongest storm registered in the Western Hemisphere. Patricia was downgraded to a Category 4 storm after it weakened after landfall.
Eight lakh sanctioned from Maharashtra CM's relief fund for sending dance troupe to Bangkok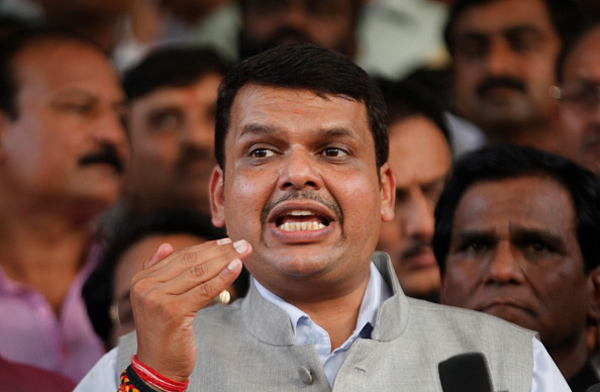 An RTI filed by activist Anil Galgali revealed that Rs eight lakh were sanctioned from Maharashtra Chief Minister's Relief Fund to be spent on a dance troupe visit to Thailand.
The revelation has sparked a row with opposition parties attacking state government of ignoring the problems of farmers when the state is going through a drought phase.
However, an official of the CMO said there is no wrongdoing in disbursing of the fund.
WHO report is bad news for bacon lovers
The World Health Organisation (WHO) is about to declare that bacon, sausages and other such processed meats cause cancer. It isn't just processed meat, red meat will in all likelihood be listed as "probably carcinogenic". The WHO is expected to make the announcements this coming Monday and in doing so will put processed meats in the same category as asbestos, alcohol and cigarettes.
The World Cancer Research Fund already states that, "there is strong evidence that eating a lot of these foods [red and processed meat] increases your risk of bowel cancer." The WHO report apparently looks to adopt the same stance. There has already been predictable outrage from the meat industry who say it will be bad for business.
Statue of Lenin becomes Darth Vader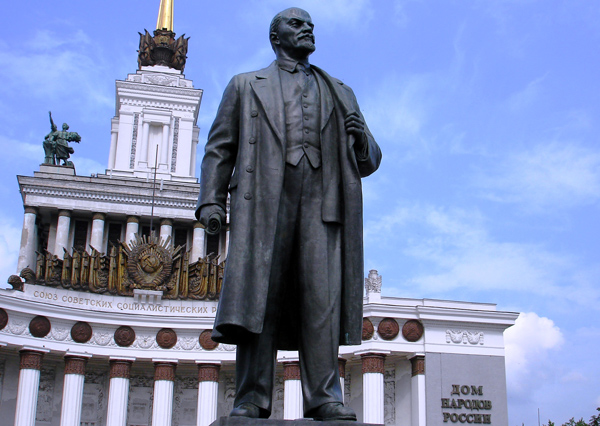 As part of Ukraine's ongoing efforts at decommunisation, a statue of communist icon Vladimir Lenin has been transformed into the iconic Star Wars villain, Darth Vader. As part of the decommunisation efforts the statue in Odessa was scheduled for demolition, however workers interjected, asking for it to be re-designed instead.
Local artist Alexander Milov stepped in and the result is a statue of Darth Vader, armor and all. Not only is the statue decidedly more badass and communism-less, it also has a WiFi router that supplies the surrounding area with free internet.
ISIS makes a killing on oil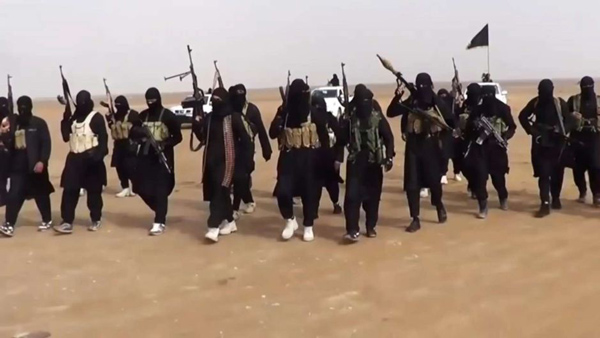 The Islamic State, or ISIS, has been minting money off the oil-rich territories under its control in Iraq and Syria. According to US and Iraqi officials, ISIS are making close to $50 million a month by selling oil from the oil fields have controlled. Neither diplomacy nor the US campaign against the terrorist group has stopped the lucrative trade that serves as ISIS' largest source of income.
ISIS have also brought experts and equipment in from abroad to ensure the trade continues. ISIS claims to have 161 operational oil fields in its Syrian territory alone.
Experts object to illuminating already damaged Taj Mahal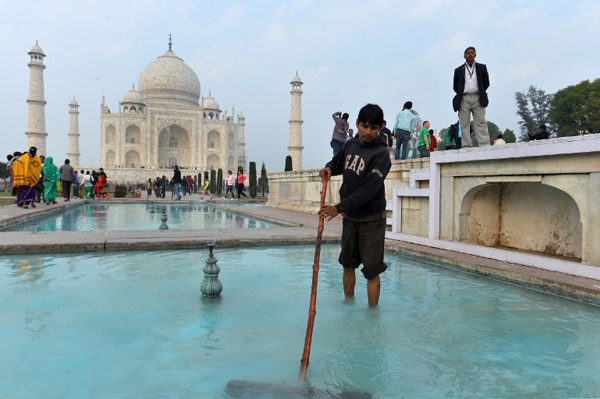 Government plans to illuminate the Taj Mahal every evening and night has run into fierce criticism from worried environmentalists and archaeologists. They argue that illuminating the monument, one that is already browning, would only serve to speed up the rate of damage to the Taj Mahal.
The prime concern is that lighting it up damages the monument as insects that are attracted to the light defecate and dull the Taj's surface. It's not that the Taj isn't ever illuminated - at present it lights up five days in a month around the full moon, though only for a few hours.
Widowed woman hacked to death for rejecting sexual advances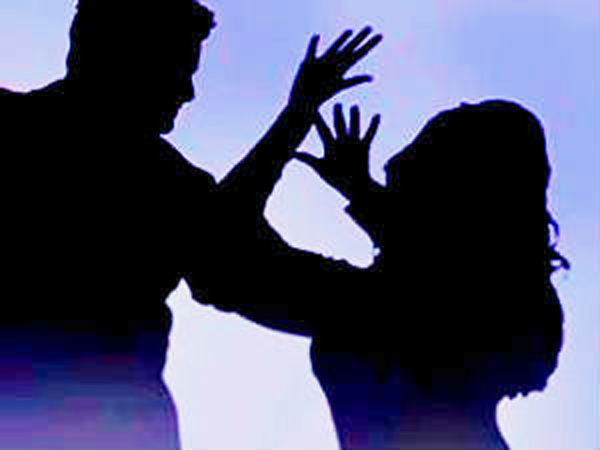 A 43-year-old woman was today hacked to death by a man after she allegedly rejected his sexual advances, Chandigarh Police.
The accused had approached the woman, whose husband had died six months ago, seeking 'sexual cooperation,' which was rejected by her, police said. Angered over the rebuffal, the man came with a sickle and hacked the woman to death and fled the scene after threatening locals who tried to catch him, they said.
Karnataka Dalit writer warned that his fingers will be chopped off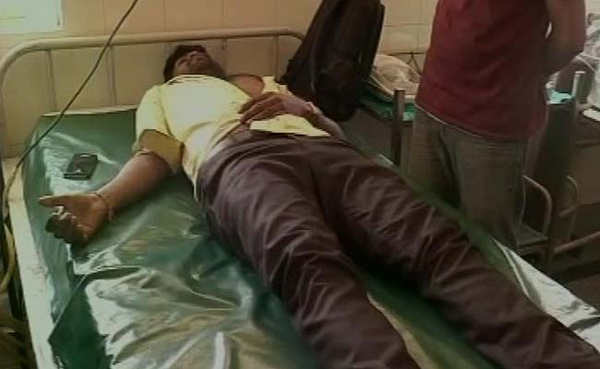 Amid continuing countrywide protests by writers over "rising intolerance", a young Dalit activist and writer was allegedly attacked by unidentified men whom he suspects to be right wing activists, for his alleged "anti-Hindu" writings in central Karnataka and warned that his fingers will be chopped off if he does not stop it.
Huchangi Prasad, a 23-year-old student and author of a book 'Odala Kichchu' which speaks against the caste system, alleged that he was assaulted on Wednesday and threatened at Davangere that his fingers would be chopped off for writing against Hinduism.