30 injured in communal clash in Jahanabad, UP
A communal clash on Thursday at the Khichdi Mela in Jahanabad, Uttar Pradesh, led to injuries to more than 30 people, reports the Hindustan Times. The violence occurred an hour before VHP president Praveen Togadia and Union minister Sadhvi Niranjan Jyoti were to attend a related event, when members of a right-wing group, armed with swords and saffron flags, took out a procession that led to a clash that lasted 40 minutes and saw stone-throwing and arson. Police lathi-charged the rioters, and requested Togadia and Niranjan to leave their event within 15 minutes. The Fatehpur border was sealed, and political leaders were banned from entering the district.
7-year jail term for selling tobacco products to children
A new law, part of the Juvenile Justice (Care and Protection of Children) Act, 2015, cleared by Parliament in December, makes selling or offering cigarettes or other tobacco products to minors a criminal offence with a jail term of up to seven years and a maximum fine of Rs 1 lakh, reports the Hindustan Times. The law comes into effect from Friday, 15 January 2016. The law also allows those between 16 and 18 years of age accused of heinous crimes to be tried as adults, punishable with a jail term of up to seven years.
Muslim couple in MP beaten for 'carrying beef'
Two members of the Gauraksha Samiti in Harda district, Madhya Pradesh, were arrested by the police for assaulting a Muslim couple at a railway station on suspicion that they were carrying beef, reports The Indian Express. Nine local residents were also arrested and released on bail for scuffling with members of the Samiti. The incident took place on the Kushinagar Express when it stopped at Khirkiya railway station. The assault began when the couple objected to having their luggage searched. Laboratory tests later proved that the couple were carrying buffalo meat.
Indo-Pak foreign secretary meet postponed till Pak acts concretely on Pathankot
The meeting between the foreign secretaries of India and Pakistan, tentatively scheduled for 15 January, has been postponed on the basis of mutual consent to the very near future, reports The Economic Times. The scheduled meeting became contingent on Pakistan's action on leads provided by India after the Pathankot terror attack of 2 January. Vikas Swarup, spokesperson for the Ministry of External Affairs, said India would not go by "empty statements". He said the two foreign secretaries felt that some more time was required before they meet "away from the shadow" of the investigations into the terror strike.
Pathankot attack: Masood Azhar under protective custody, not arrested yet
Pakistan's Punjab province law minister Rana Sanaullah on Thursday confirmed that banned Jaish-e-Mohammad chief Masood Azhar has been taken into "protective custody" along with his accomplices, but clarified he is "not arrested."
Earlier, the government chose not to confirm or deny the reports that Azhar has been taken into "protective custody".
-- PTI
Prakash Badal's nephew Manpreet joins Congress
Manpreet Badal, the estranged nephew of Punjab Chief Minister Parkash Singh Badal, on Friday, joined Congress after meeting party Vice President Rahul Gandhi. Manpreet's party which made a debut in the 2012 assembly polls failed to register its presence but managed to win six percent of the votes. This transfer of vote share ended up harming the Congress' bid for a comeback in Punjab.
Now, Congress hopes consolidation of anti-incumbency votes against the Akali Dal could help party come in power again.
Sunanda Pushkar case: Evidence till today indicates death was not natural, says Bassi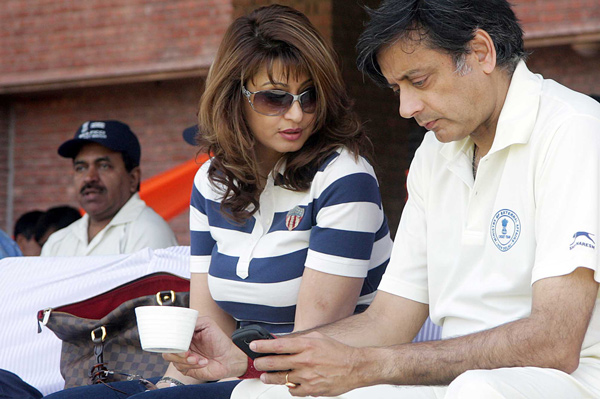 Delhi Police Chief BS Bassi while talking to the media has claimed that evidence till date indicates that Sunanda Pushkar's death was not natural. He was responding to reporters after the Delhi Police on Friday received the AIIMS medical board's 'advice' on the FBI lab report on Sunanda Pushkar's viscera samples. Sunanda was the wife of Congress MP Shashi Tharoor.
Bassi promised to reveal the conclusion of the report soon and refused to make a direct comment at this stage.
Yoga will get its own Olympics-type event, announces yoga minister
Come International Yoga Day on 21 June this year, and you could win Olympic-style medals if you're really, really good at your asanas, reports The Economic Times. "International Yoga Day is to be celebrated every year now. But it won't be done in the same way - some changes should be done," said Yoga Minister Shripad Yesso Naik. "We are thinking about having an Olympic type yoga competition in Delhi this year for two days before June 21." The idea behind turning yoga into a competitive sport is to interest more people in the ancient system of wellness, the minister added. The competition will be based on how well individual asanas are performed.
Brightest supernova - ASASSN-15lh discovered by international team of astronomers
An international team of astronomers have found the brightest supernova yet. Named ASASSN-15lh for All-Sky Automated Survey for SuperNovae, and pronounced "assassin", the supernova is 570 billion times brighter than the sun. "Assassin" is twice as bright as the average supernova. In fact, it outshines the entire Milky Way by 20-50 times. It is located in a galaxy around 3.8 billion light-years away. A world-wide network of telescopes found the supernova last year, and published the findings in the Science journal's latest edition of on 14 November.
Facebook's 'friend finder' a deceptive marketing practice?
Facebook's "friend finder" has been found to be a deceptive marketing practice by Germany's highest court. The "friend finder" goes through a user's address book and sends invitations to those who are not yet on Facebook. The court also found that Facebook was not adequately informing its members about how it was using the contacts' data. The case was filed by a German consumers' organisation in 2010. The top court's order confirmed two lower courts' verdicts that found the "friend finder" violated Germany's data protection and unfair trade practice laws.
Obama administration investing in self-driving cars
The Obama Administration will spend $4 billion over 10 years to develop cars that can drive on their own. The announcement was made by the US Transportation Secretary Anthony Foxx, soon after President Obama in his State of the Union address mentioned his intent to invest in a 21st century transportation system. The US government wants the "fully autonomous" vehicles to be "deployable in large numbers" whenever they are proven to be at least as safe as having humans behind the wheel, according to an official statement.
Global warming will postpone next ice age by 50,000 years
Global warming isn't just causing longer summers and unexpected rainfall. A latest study published in Nature has found that global warming will push forward the onset of the next ice age by 50,000 years. The researchers found out that the timing of ice age depends on CO2 levels in the atmosphere and the amount of energy northern hemisphere receives from the sun. While the next ice-age was expected to set in 50,000 years from now, because of carbon emissions it will take place 100,000 years from now
Maharashtra government ending inflated private hospital bills
The Maharashtra government plans to put an end to inflated bills in private hospitals. The state government told the Bombay High Court on 14 January that it has prepared a draft law that will regulate billing in all hospitals, including those privately owned. The government said it will inform the court after two weeks when it plans to implement the law. The court was hearing a case against Mumbai's Seven Hills Hospital, which has been charged with billing Rs 4.56 lakh to a patient, and then refusing to transfer him to another hospital when he was unable to pay it.
Woman dies hours after World Health Organisation declares end of Ebola
A woman in Sierra Leone reportedly died of Ebola on Thursday, within hours of the World Health Organisation declaring that the deadly Ebola epidemic had ended. Liberia was thought by the WHO to be the last country with Ebola patients. The epidemic has taken over 11,000 lives so far, mostly in the West African countries Guinea, Liberia and Sierra Leone. The new Ebola death could mean the epidemic is not yet finished. AFP reported that a female student died in a Sierra Leone village bordering Guinea. While an initial swab tested positive for Ebola, a confirmed result will be out on Friday.
Burundi on brink of genocide ahead of presidential elections
Burundi is witnessing mass killings and rape in the run up to its presidential elections, TIME magazine reports. The central African nation's President Pierre Nkurunziza has unleashed terror in a bid to win a third 5-year term. Opposition to Nkurunziza's rule had picked up recently, including street demonstrations and a failed coup d'etat. Burundi, like neighbouring Rwanda, has a history of conflict between the Hutu and Tutsi tribes. But the current tensions are said to be the highest since the 1994 Rwanda genocide when over a million died in clashes.