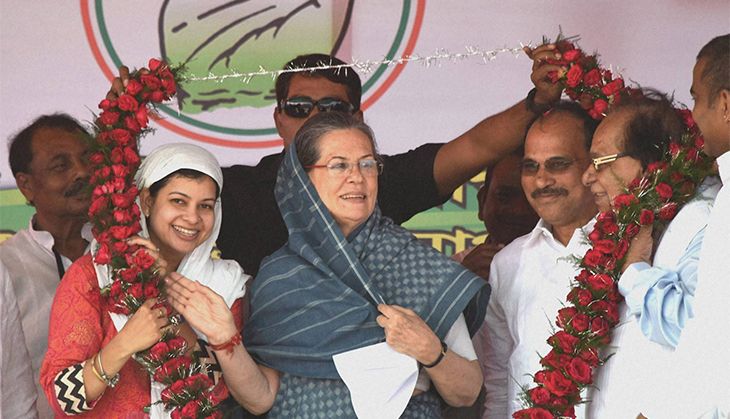 The rally
Sonia Gandhi address a rally in Malda district\'s Sujapur town on Wednesday
She used the platform to hit out at CM Mamata Banerjee and PM Narendra Modi
The history
Malda has been a Congress stronghold thanks to the late ABA Ghani Khan Chowdhury
The TMC had won only two of the 12 seats in the district in the 2011 polls
More in the story
How Modi and Mamata are in cahoots - according to Sonia
Why the Saradha scam is a big poll issue in Malda
A parody of an old Bollywood song was blaring out over the loudspeakers at Sujapur hospital ground in Malda district on Wednesday. 'Aap ka kya hoga Mamata Banerjee?' (What will happen to you, Mamata Banerjee?) it asked, just a short while before Congress president Sonia Gandhi arrived to address what has traditionally been a party stronghold.
She arrived punctually, and the crowd of about 10,000 people, mostly consisting of Congress supporters, erupted in joy. Some broke barricades and occupied the entire press enclosure. And while the Congress may be in alliance with the Left, there were hardly any CPI(M) cadres to be found anywhere.
Nor did her speech mention any alliance. It was dedicated to evoking Bengali cultural icons like Vivekananda, Rabindranath Tagore, Subhas Chandra Bose and Kazi Nazrul Islam, and comparing Prime Minister Narendra Modi to Chief Minister Mamata Banerjee.
Mamata, Modi and Saradha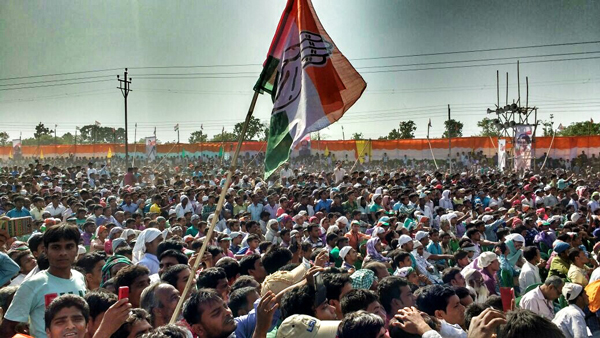 Photo: PTI

Locals say that the BJP stands absolutely no chance of winning in this area, and yet, Modi occupied most of her speech.

"Five years ago, Mamata had promised that she would concentrate on the exploited people, the women and the unemployed. But she forgot all about it, and our faith in her was broken. In a state which has given birth to Vivekananda, Tagore, Nazrul and Bose, there are terrorised mothers, dry soil and unemployed people," she said, taking a shot at Mamata's pet slogan 'Maa, Maati, Maanush'.

"Nobody is worried about the law; those who are with the 'chit fund' are the only ones happy," she added.

The rest of her speech was all about comparing Mamata to Modi.

"TMC is saving Modi in Parliament, that's why there's no action against the people who have made off with the money belonging to the poor," she said, referring to the Saradha scam.

She added that Mamata was reluctant to send chit fund scamsters to jail, while Modi was someone who allowed people who rob banks to flee abroad, an obvious reference to Vijay Mallya.

So, why did Sonia take so many potshots at the Saradha scam? Catch's interactions with the people of Malda district revealed that the scam truly is a big issue, especially in Sujapur, where poor Muslims make up more than 90% of the electorate.
Cong the senior partner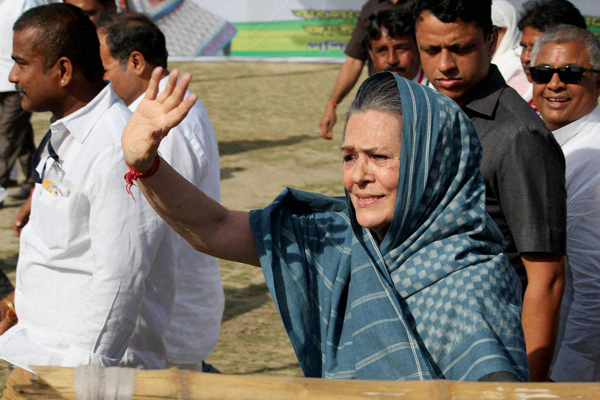 Photo: PTI

On the dais with Sonia were two MPs from Malda - Abu Hasem Khan Choudhury and Mausam Noor, and seven sitting Congress MLAs from the district. One sitting CPI(M) MLA, CPI(M) district secretary Ambar Mitra and West Bengal state Congress chief Adhir Ranjan Chowdhury. Sitting MLAs from the Forward Bloc and the Revolutionary Socialist Party were not on the podium.

Of the 12 Assembly seats in the district, the TMC had won only two in 2011. The war cry this time is to make it 12-0 for the anti-TMC alliance.

According to Sadiq Rehman, the Sujapur block leader for the Congress, the alliance is ready to resist any polling-day violence. He is sure that the alliance will sweep the polls throughout Malda.

Rehman was accompanied by CPI(M) local committee member Ishtiaq Ahmed, who stopped short of admitting that the Congress was the senior partner in the district, but did say that the CPM never successfully managed to create a strong vote bank in the district.
The spirit of Barkat da
The reason for this is the huge affection that the people of Malda still have for the late Congress leader ABA Ghani Khan Choudhury.
Barkat da, as he was affectionately known, was an MP from 1980 to 2004, and was also a cabinet minister in Bengal from 1972-77. He passed away a decade ago.
Anyone over 40 years of age at Sonia's rally seemed to be reminiscing about Barkat da, rather than listening to Sonia, Adhir or Mausam Noor.
The dependence on Barkat da was clear from statements like "Barkat da ka aashirwaad" (Barkat da's blessings), "We have to make Barkat's dream come true", and even when Sonia herself said "Congress without Barkat is not possible".
And yet, while the field was full of large cutouts of Indira, Rajiv, Sonia and Rahul Gandhi, and the stage featured the faces of Mahatma Gandhi, Jawaharlal Nehru, Maulana Azad, Sardar Vallabhbhai Patel, Manmohan Singh, Sonia, Rahul and Adhir, Barkat da's memory was limited to a small cutout parked near a mango tree, to the left of the stage.
The local leadership realised this faux pas a bit too late and brought out another similar sized cutout to place on the right hand side of the stage, but still not on it.