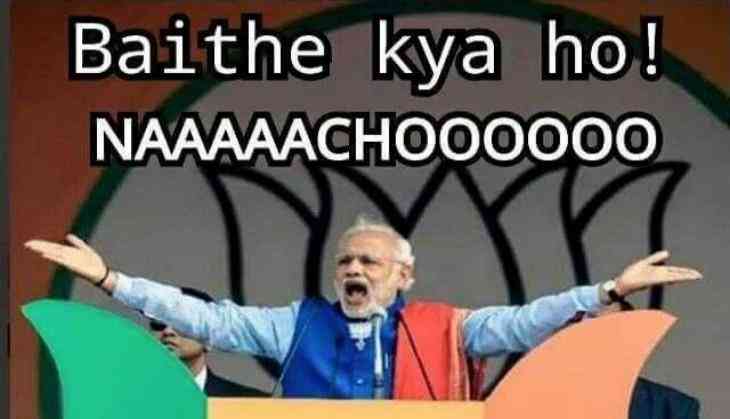 As Bhartiya Janta Party's spectacular performance in Uttar Pradesh embarrased its opponent, Twitter users also did an awesome and hillarious job.
The "Aloo ki factory" jokes, "Modi hater" taunts and much more circulated on Twitter after Akhilesh-Rahul alliance and Mayawati were slapped with a humiliating defeat.
Have a look how Twitterati chose to make people laugh.
Haha!!! Epic one #ElectionResults pic.twitter.com/qcSbtQSv51

— Bhatakti Aatma 👻 (@Achha_Bhoot) March 11, 2017
So true 😂 #ElectionResults pic.twitter.com/HpsjRO1KK0

— ♛Uumang Jain♛ (@uumangjain) March 11, 2017
Those Who Have 'Illusion' That 2014 Was The Peak Of Modi Wave They r Terribly Wrong
It Was Just The Beginning Of Modi Era #ElectionResults pic.twitter.com/84YQtWCwd8

— susmita chakraborty (@sush091979) March 11, 2017
Indians who scored 300:
- Sehwag in Chennai
- Sehwag in Multan
- Karun Nair in Chennai
- Modi in UP#ElectionResults

— Chinu Sarkar (@chinusharma25) March 11, 2017
Deoband with 80% Muslim population votes for BJP #ElectionResults #TripleTalaq pic.twitter.com/BmuAR8aCWT

— Ritvik Sharma (@ritviks95) March 11, 2017
Jokes Apart. Let's Take A Moment & Thank Rahul Gandhi For Entertaining Us Throughout The Election Campaign..#ElectionResults #Elections2017 pic.twitter.com/7P0mLsGTQV

— Sir Ravindra Jadeja (@SirJadeja) March 11, 2017
At this rate we might as well forget 2019 & start planning/hoping for 2024.

— Omar Abdullah (@abdullah_omar) March 11, 2017
#ElectionResults pic.twitter.com/R736nqDjOk

— ठरकी ट्वीटरियाँ (@Bigtharki) March 11, 2017
Modi haters right now 😂😂😂😂#up2017results #ElectionResults pic.twitter.com/2LTUw4JSjq

— Virat Kohli (@BeinGasH18) March 11, 2017
@ArvindKejriwal #ElectionResults #PunjabElection2017 pic.twitter.com/bnjJ3E0pR6

— Ravi Ranjan (@withravii) March 11, 2017
Who did this? 😂😂#ElectionResults #Elections2017 pic.twitter.com/Xzik3armCU

— Writer Thakur (@IndianWriterV) March 11, 2017
Meanwhile #mayawati be like #ElectionResults #BSP #Elections2017 #BJPSweepsUP #BJP4सुशासन #UPElection2017 #SattaKaGulaal #BSPdies #Dalits pic.twitter.com/snCHhuM7o8

— DrAnilJain (@Dr_AnilJ) March 11, 2017
#ElectionResults:#Congress Wins Majority In Punjab. Clearly Proves Punjab Is Suffering From Drugs Problem.#Elections2017 #PunjabElection2017 pic.twitter.com/HBF0z0Q87x

— Sir Ravindra Jadeja (@SirJadeja) March 11, 2017
Me showing Goa #ElectionResults to @tweetfromRaghu 😂😂 pic.twitter.com/aW9OlJyLSE

— Maithun - HMP (@Being_Humor) March 11, 2017
Live pictures coming frm JNU after #ElectionResults pic.twitter.com/lR6PwalCoM

— Chhichhaledar (@chhichhaledar) March 11, 2017