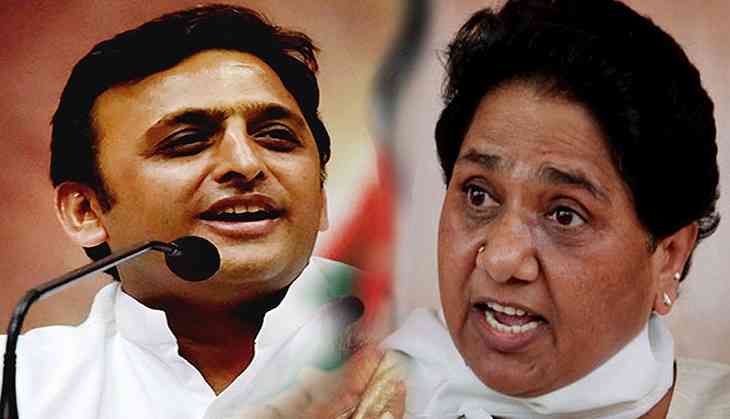 At the very outset, let's take note of two things. In May 2012, when Akhilesh Yadav had just taken over as the Chief Minister of Uttar Pradesh, some aggressive Samajwadi Party workers had destroyed a statue of Mayawati installed at the Ambedkar Park in Lucknow.
Before the incident could rake up a big enough controversy, Akhilesh not only got a new statue installed, but also called up the Bahujan Samaj Party leader personally and gave assurances. In return, Mayawati expressed happiness, and cancelled the BSP's plan to oppose this incident on the streets of the state.
A few days before this incident, and just after the Assembly election results had been declared, this writer had interviewed Akhilesh. In that interview, he had clearly stated that his government would not do anything motivated by 'revenge', and that the parks and statues installed by Mayawati would not be removed – rather, they would be utilised as public spaces.
There's a reason why these two stories are being recalled. The old adage goes that there are no permanent friends or enemies in politics. But the SP and the BSP have disproved this adage for the last 22 years. To understand this, one needs to examine UP's political history.
The alliance and how it ruptured beyond repair
It was 1993 when, driven by Kanshi Ram's thought, Dalits, Muslims and backward classes united behind a single political entity – an SP-BSP alliance – to keep the Bharatiya Janata Party away from power in the aftermath of the demolition of the Babri Masjid.
However, within two years, this friendship reached a nadir from where the two parties could never recover.
In 1995, the Lucknow Guest House scandal occurred, where SP MLAs and leaders tried to kill Mayawati, pulling her by the clothes.
The man who helped Mayawati get out of the guest house safely was a BJP leader from Farrukhabad, Brahmdutt Dwivedi.
Mayawati could never forget the indignity she was made to suffer. And since Mulayam Singh Yadav was the Chief Minister, she believed it had all been done at his behest.
The SP-BSP alliance broke, and provided some much-needed political oxygen to the BJP.
Akhilesh's hint
In the subsequent 22 years, the SP and the BSP have never seen eye-to-eye. But now that the UP Assembly polls are over and the wait for the results is on, murmurs about rekindling the old alliance have begun.
Part of the reason for these murmurs is the predicted performance of both parties, which is far below their expectations.
Then came Akhilesh's interview to BBC Hindi, in which he said: "If the BJP tries to rule UP by remote control, the SP will do everything in its power to stop it."
Political pundits have interpreted this as Akhilesh reaching out to the BSP for a golden handshake. These murmurs have been in the air for a month or two, but it was always certain that such an alliance could only emerge as a post-poll contingency.
The current climate is ripe for an SP-BSP alliance. Like 1993, the BJP once again looks to be in a powerful position. If the alliance does go ahead, it could once again lead to the BJP being reduced to the margins of UP's polity.
The two leaders' perspectives
So, is this unlikely alliance possible, let alone plausible?
There are two aspects to this story – Mayawati and Akhilesh's individual points of view. And both need to be understood in order to examine whether there can be a positive answer to the above question.
Mayawati's perspective: What was the chief reason the alliance broke in 1995? CM Mulayam and brother Shivpal Singh Yadav, who allegedly led the group of hooligans who had attacked Mayawati.
Today, neither is Mulayam very powerful in the SP, nor does Shivpal have much of a standing left. The other 'criminals' who attacked Mayawati have already been sidelined by Akhilesh. Some of these leaders have joined the BJP, like Azamgarh strongman Ramakant Yadav.
In other words, both the reasons for Mayawati's anger towards the SP have dissipated to a large extent. And if it's a question of political survival, she may want to reconsider her staunch opposition to the SP.
Akhilesh's perspective: Things are even clearer from the CM's point of view. Only recently, just before the polls, in fact, he has taken the right to lead the party after a protracted family war. In such a scenario, if he ends up losing the elections, the civil war will rear its head again. Without power, Akhilesh won't be able to handle the party and the family tug-of-wars. To retain his position at the top of the SP, he needs to be in power, or at least share in power.
Mulayam's wife and Akhilesh's step-mother Sadhana Gupta said last week that she won't remain silent anymore – putting even more pressure on the incumbent CM. Sources close to the family say Sadhana wants a share of power for her son Prateek Yadav, and also feels Akhilesh has insulted her.
If Akhilesh loses the polls and Sadhana does follow through on her threat, it is certain that Mulayam will side with her. In such a scenario, Akhilesh will be isolated, and thus, he will do everything possible to retain complete or a share of power.
There is one more point to consider, though – Mayawati can also ally with the BJP and form the government. She has done so three times in the past. But this time around, Mayawati has tried hard to forge a Dalit-Muslim alliance, and allying with the BJP will be political hara kiri.
If the BJP does emerge as the single largest party, as the exit polls are predicting, an alliance can be an elixir for both SP and BSP in a fight for political survival.
The leaders' personal equation
The personal equation between Mayawati and Akhilesh is such that Akhilesh has always referred to her a 'Buaji' or paternal aunt. In return, Mayawati has also called him nephew. The politics of this relationship have always been light-hearted, not sarcastic or anything negative.
There is another huge factor why this alliance could happen. Akhilesh's closest confidant is uncle Ram Gopal Yadav, who has often acted as a bridge between Mayawati and the SP – when she was in power from 2007-2012, and even when Akhilesh has been in power.
Plus, in aligning with Akhilesh, who reduced Mulayam and Shivpal to mere spectators in the party, Mayawati may finally be able to exact her revenge for the Lucknow Guest House episode.
Two months ago, in the Catch newsroom, there was a spirited debated between two journalists on the eventuality of such an alliance. And lo and behold, two days before the results, the hypothetical debate seems to be coming to life right before our eyes.
If indeed this alliance goes through, somewhere in heaven, Kanshi Ram will be a very happy man.