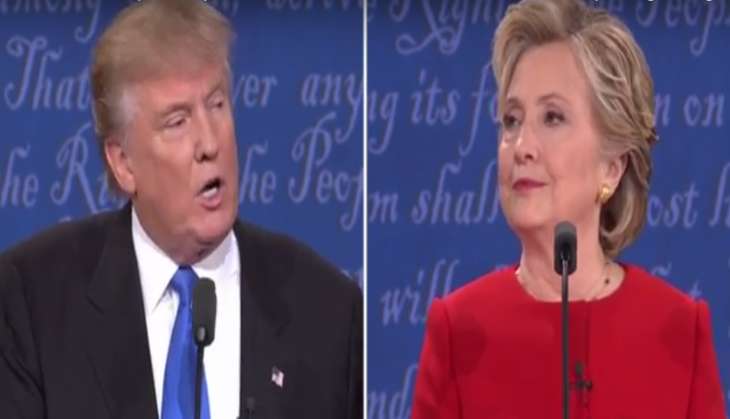 The contentious town-hall started without a traditional handshake and quickly turned into an acrimonious debate. Republican presidential candidate, Donald Trump, on Sunday attacked former President Bill Clinton for his treatment of women and vowed, if he won the White House, to put Hillary Clinton in jail for operating a private email server while US secretary of state.
The 90-minute debate saw some shocking moments as Trump waged personal attack on his rival.
EMAILS ISSUE
Trump said he would appoint a special prosecutor to look into Hillary Clinton's email use because she had endangered national security during her tenure as President Barack Obama's chief diplomat from 2009-2013.
Trump also went on the attack against Clinton over her private email server, saying: "You ought to be ashamed of yourself."
FBI investigation into the emails concluded earlier this year without charges being filed. However, FBI Director James Comey said Clinton had been careless in her handling of sensitive material.
A FAILURE
Donald Trump repeatedly called Clinton's handling of foreign policy as secretary of state a failure.
"She talks tough, she talks really tough," Trump said. "She talks about the rebels, she doesn't even know who the rebels are."
Taking a breath through his nose with a loud sniff, he continued, "The fact is almost everything she's done in foreign policy has been a mistake and a disaster."
RAPE CHARGES: Trump parades women accusing Clinton
Less than two hours before the start of his meeting with Hillary Clinton, the Republican nominee Trump held a three-minute press event with four women who have accused Bill and Hillary Clinton of wrongdoing.
One of them bluntly stated: "Bill Clinton raped me and Hillary Clinton threatened me."
In a statement issued in response, Clinton campaign spokeswoman Jennifer Palmieri said: "We're not surprised to see Donald Trump continue his destructive race to the bottom."
The event aired on Facebook Live, and Trump appeared with Paula Jones, Juanita Broaddrick, Kathy Shelton and Kathleen Willey. Three of the four women have claimed inappropriate sexual contact with Bill Clinton. Shelton was the victim in a 1975 rape case in which Hillary Clinton, in her capacity as a lawyer, was assigned by an Arkansas court to represent her alleged assailant. All four were subsequently Trump's guests in the debate hall.
Also Read: NBC suspends Billy Bush from Today show over Donald Trump lewd tape scandal