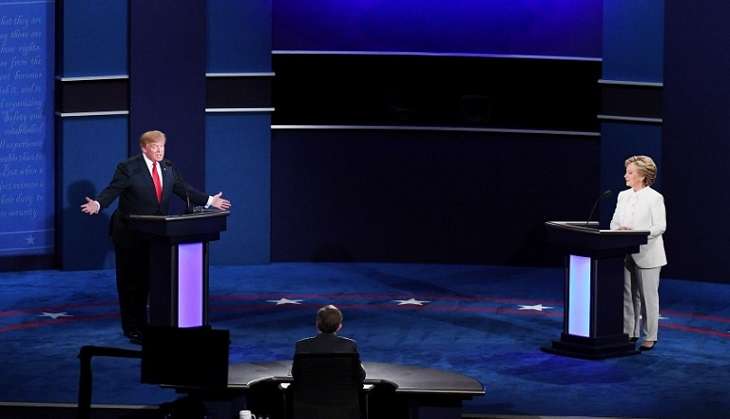 Democratic presidential nominee Hillary Clinton squared off against Republican presidential nominee Donald Trump in the third and final debate moderated by Chris Wallace of Fox News. For the second time, there was no traditional handshake between the two candidates. The debate took place at the University of Nevada, Las Vegas. Wallace at one point asked the Republican presidential nominee whether, regardless of the outcome, he would commit to accepting the results of the race. Trump simply responded, "I will look at it at the time."
"What I'm saying is that I will tell you at the time. I'll keep you in suspense."
Trump's response to the question directly contradicts what he told NBC after the first debate. He said that he would 'absolutely' accept the results of the elections in November. His running mate, Mike Pence, promised that the campaign would "absolutely accept the result of the election".
Trump accused the Federal Bureau of Investigation along with the media of conspiring in Clinton's favour. When Wallace reminded him that the transfer of power is "one of the prides of the country," Trump just brushed it off. Clinton though was horrified at these comments. She accused Trump of "talking down our democracy" and pointed to his frustration at being behind in the elections.
This riled up Van Jones, CNN's Political correspondent, during the discussion after the debate. "This is a really sad night. I'm just gonna say it. This is a very sad night for the country. You can't polish this turd," Jones said. "What you just got now was a nominee of a major party for the first time in our history signaling to the American people that he has so little faith in our institutions, he has so little faith in our people, he has so little faith in our courts, he has so little faith in the Republican governors, Republican secretaries of state across this country, that the will not stand in front of his own country and say that he respects the process and outcome. That is an outrage. The appalling lack of patriotism from this man, to stand there and say that. To praise Putin and Assad more than he has ever praised any American president. He doesn't talk about George Washington, he doesn't talk about Ronald Regan, the way he talks about Putin or Assad. This man has demonstrated an appalling lack of patriotism".
A CNN/ORC poll of debate watchers had Clinton defeating Trump 52%-39%. In CNN/ORC polls, she's gone 3-0. A hat-trick. A womanwash. It's all over. We're done with the primary debates. We're done with the Presidential debates. We are free. We are solidly into the last stretch. This was the final chance - more so for Trump than Hillary - to deliver the knockout punch. Neither pulled that off at the University of Nevada. For Hillary, the knockout punch could have been on the accusations of sexual assaults against Trump. For Trump, it could have been on the leaked Wikileaks documents.
Here are some of the highlights of the debate:
Abortion
One of the first topics of the debate was on abortion, Roe v. Wade. Would Trump want the Supreme Court to overturn Roe v. Wade? "If they overturned it, it will go back to the states," Trump said. Clinton would defend Roe v. Wade and women's choices on healthcare. This is where Clinton excelled.
Noting that Clinton voted against a ban on late-term abortions, Wallace asked the candidates their present views on the issue.
"Roe v. Wade very clearly sets out that there can be regulations on abortion so long as the life and the health of the mother are taken into account. And when I voted as a senator, I did not think that that was the case," she said. "The kinds of cases that fall at the end of pregnancy are often the most heartbreaking, painful decisions for families to make."
"You can take the baby and rip the baby out of the womb in the ninth month, on the final day," Trump responded. "And that's not acceptable."
Puppets and Russia
A question that pertained to what Clinton said during one of her paid speeches for a bank morphed into Trump's ties with Russia.
"He [Putin] has no respect for her," Trump said. "He has no respect for our president. And I'll tell you what. She'd be in very serious trouble, because we have a country with a tremendous numbers of nuclear warheads.
"Putin, from everything I see, has no respect for this person."
Here's how Clinton responded, "That's because he'd rather have a puppet as the president of the United States. It's pretty clear". Trump simply denied it saying, "you're the puppet".
Wallace pounced on Trump, asking him whether he would condemn Russia's involvement in the US election. "Of course I condemn" hacking and election interference "by Russia or anybody else," he said. "I never met Putin. This is not my best friend. But if the United States got along with Russia, wouldn't be so bad".
Experience
"I say the one thing you have over me is experience, but it's bad experience because what you've done has turned out badly. ...The problem is you talk, but you don't get anything done, Hillary," Trump said during a heated back and forth session near the end of the debate.
Clinton's response may just have been the 'fiercest' monologue of 2016.
That 30 years of experience response was the fiercest delivered monologue of 2016 🔥

— Kevin Fallon (@kpfallon) October 20, 2016
"I think it's really an important issue he raised, the 30 years of experience," Clinton said. "So let me just talk briefly about that. You know, back in the 1970s, I worked for Children's Defense Fund, and I was taking on discrimination against African-American kids in schools. He was getting sued by the Justice Department for racial discrimination in his apartment buildings. In the 1980s, I was working to reform the schools in Arkansas. He was borrowing $14 million from his father to start his businesses. In the 1990s, I went to Beijing and I said, 'Women's rights are human rights.' He insulted a former Miss Universe, Alicia Machado, called her 'an eating machine.'"
All Trump could do was shrug and interrupt Clinton with a phrase, "Give me a break". The line of the debate came next from Clinton. "And on the day when I was in the Situation Room, monitoring the raid that brought Osama bin Laden to justice, he was hosting 'The Celebrity Apprentice,'" she said.
Hombres
"But we have some bad hombres here and we're going to get them out," Trump said while elaborating on his immigration policy.
Bad hombres clearly dominated Twitter during and after the debate:
#BadHombres TV show being developed by #Fox as we speak. #debate

— Ty DeMartino (@TytheWriter) October 20, 2016
SNL is just drooling over this #badhombres #debate

— deena markus (@deenamarkus) October 20, 2016
#BadHombres pic.twitter.com/PCVKlChjO6

— Chris Vespoli (@ChrisVespoli) October 20, 2016
#BadHombres was the name of my short-lived music group in grade school. #debate #fb

— Zaki Hasan (@zakiscorner) October 20, 2016
Kellyanne Conway for Trump: "Mr. Trump clearly said 'We've got some bad Harambes' and he's right. Bigger walls in zoos." #DebateNight

— jesse Williams. (@iJesseWilliams) October 20, 2016
Trump and claims by women
Trump once again denied accusations of sexual assault made by several women. He said they were fiction. Those stories have been largely debunked," Trump said. "Those people, I don't know those people. I have a feeling how they came. I believe it was her campaign that did it."
Trump continued to say that these women were coming forward and speaking up because, they want, "fame or they come out of her crooked campaign".
Nasty woman
Closer to the end of the debate, Trump was running out of breath. He was short-tempered and even curt at times. Clinton was describing her plan to raise taxes on the wealthy as a way to fund Social Security. While doing so, Clinton also took a swipe at Trump for "not paying taxes" - and Trump dived for the bait.
"My Social Security payroll contribution will go up, as will Donald's - if he can't figure out how to get out of it," she said. Trump interrupted Clinton (not the first time in the debate), "Such a nasty woman". Clinton shrugged it off.
You know what a #NastyWoman is good at? Voting. #debate pic.twitter.com/T4DDbNC8cY

— Alanna Vagianos (@lannadelgrey) October 20, 2016
It's 2016 and after the final debate for the leader of the free world, #nastywoman is trending. pic.twitter.com/EUV5kLJW12

— Isaac Pellerin (@isaacpellerin) October 20, 2016
I'm just a #nastywoman who already voted for Hillary. #nastywomenunite

— Kristin Garth (@lolaandjolie) October 20, 2016
That's PRESIDENT Nasty Woman to you. #debatenight pic.twitter.com/YSAGBlqO85

— Liz Pierson (@liz_pierson) October 20, 2016
When a man has no argument so he just calls you names #debatenight #nastywoman pic.twitter.com/XUnYF8bph5

— Rachel (@homesickblues37) October 20, 2016
That is a wrap for the debates. That's it, folks. Voting has started. On 8 November (9 November in India), we will know who is going to succeed Barack Obama as the next President of the United States (POTUS). This debate did not change any minds, or move any hearts. At the moment, there is little doubt that the US will have its first woman President, succeeding its first black President. For that, the US is already great, and does not need Trump's "vision" of greatness.