On 10 November, Ivanka Trump posted a tweet of her baby son, clapping for the President-Elect, Donald Trump. The world went gaga over the little one, sporting a red Trump campaign tee-shirt.
Congratulations grandpa! 👏🏻👏🏻 #PresidentElectTrump pic.twitter.com/AxtW12l5tK

— Ivanka Trump (@IvankaTrump) November 9, 2016
The Western media is calling her the 'actual first lady', the one who turned the campaign in favour of Trump.
Who's Ivanka?
Thirty-five-year-old Ivanka, Trump's second child from his first marriage, has been acknowledged as the daddy's favourite by her older siblings. An author and a former model, daddy's favourite little girl holds a crucial position in the Trump organisation - Executive Vice President of Development & Acquisitions.
Also Read: It's over. Donald Trump is the President-elect of the United States

She's reportedly been given unparalleled levels of authority in the family business and also had a crucial role to play in the entire Trump political campaign. Sources even say that she's one of the Trumps' closest advisors and has the power to influence his thinking.
According to New York Times, "...Ivanka Trump has served as a surrogate political spouse for a candidate who may need one more than anyone else in the race."
Ivanka attended Georgetown University for two years but later transferred to Wharton Business School, University of Pennsylvania, from where she got a bachelor's degree in economics.
Jared Kushner, Ivanka's husband, is a businessman and investor. He's the principal owner of the real estate holding and development company Kushner Properties and the newspaper publishing company the New York Observer. According to Politico, he was one of the key advisors of the Trump campaign.
The couple has three children - five-year old daughter Arabella Rose Kushner, three-year-old son Joseph Frederick Kushner and seven-month-old Theodore James Kushner.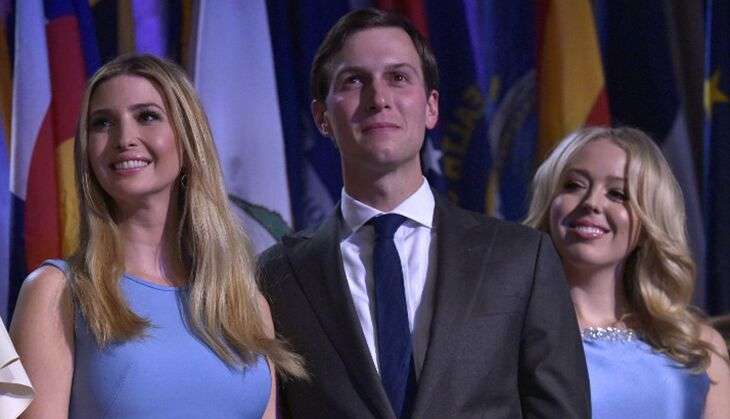 Ivanka Trump, her husband Jared Kushner and Tiffany Trump smile as Republican presidential elect Donald Trump speaks during election night at the New York Hilton Midtown in New York on November 9, 2016. Trump stunned America and the world Wednesday, riding a wave of populist resentment to defeat Hillary Clinton in the race to become the 45th president of the United States. (AFP PHOTO / MANDEL NGAN)
How Ivanka arrived on the scene
Ivanka first joined the Trump campaign in August 2015, after the media started accusing the later of misogyny when he said that Fox News' Megyn Kelly had "blood coming out of her ... wherever" during a debate.
And Trump has made no secret of the fact that he wants her to be a part of the White House.
"She is very, very trusted by me," Trump is quoted saying in the same NYT article. "She has great real-estate instincts and great political instincts."
Trump, in an interview to Hannity some months ago, said his daughter was his guide on women's health and other women's issues.
Also Read: President elect Donald Trump takes to Twitter after his massive victory

Politico has called Ivanka "the quiet power behind the Trump throne," who has reportedly huddled with her father during debates.
Trump, in an article in Vox, said he trusts his daughter on tactical campaign decisions. But on her father's extreme political views, her stance hasn't worked.
The Future
Ivanka has denied a role in the White House. But experts and close aides expect both Ivanka and her husband Kushner to play an important role in the new administration. She will continue to be an influence on her father, may be in the spotlight more than Melanie Trump.
Also Read:
Canada's immigration website crashes after Donald Trump takes lead in US Elections 2016
Indian markets likely to be hit by Modi's black money clampdown & Trump's US poll result