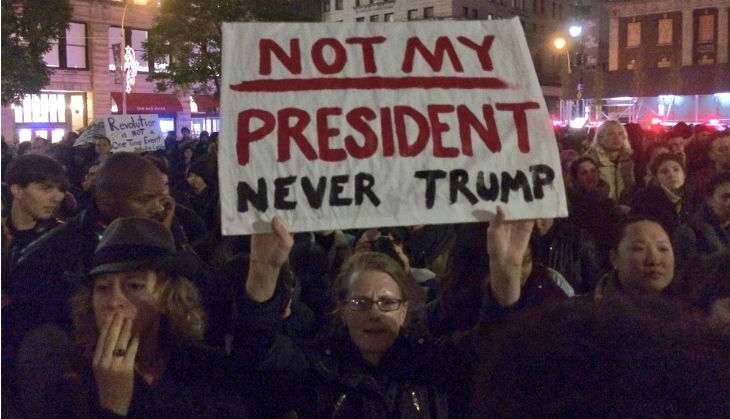 Anti Trump protests are showing no signs of abating for the second day running in American cities, as tens of thousands of people came out on the streets the second night in protest in about 25 cities across America chanting 'Not My President'.
These disturbing developments emerged nearly 48 hours after the country elected its 45th president after a bitter campaign that many political pundits say has been the bitterest one they have seen in their lifetime.
In downtown Manhattan, home to both Presidential candidates Trump and Clinton about 200 protestors gathered in Washington Square Park chanting 'Trump and Pence make no sense'.
For full coverage on US elections visit here: US Presidential Election
This even as Presidential-elect Donald Trump flew in to the country capital Washington DC to meet with President Obama for the first time ever.
In reaction to the protests, President-elect Donald J. Trump tweeted from his personal handle, accusing the media of galvanising professional protestors.
He tweeted, "Just had a very open and successful presidential election. Now professional protesters, incited by the media, are protesting. Very unfair!"
Just had a very open and successful presidential election. Now professional protesters, incited by the media, are protesting. Very unfair!

— Donald J. Trump (@realDonaldTrump) November 11, 2016
However, Hillary Clinton stayed away from any political activity on 11 November as she went hiking with her dog in White Plains.
A woman who met her on the trail said she was surprised to see the Presidential candidate who was hiking with her husband.
Back in New York, Hillary's supporters which included celebrities were in a state of shock and revulsion over the results.
Over 5000 protestors including Lady Gaga were in front of the Trump Tower raising anti Trump slogans. 15 protestors were arrested outside Trump Towers.
Even as I file this report, protestors are pouring out into the streets in Baltimore, Maryland. Traffic was backed up in several points in the city as hundreds of people joined in spontaneously in the protests.
One of the protestors Philo told the Baltimore Sun, "We are just showing that this is going to be the next four years, it will be four years of resistance. Tonight in particular is supposed to serve as a catharsis for Baltimore residents to let their anger out in a peaceful way"
On the West Coast in many cities demonstrators carried flags and effigies of President-elect Trump declaring that they refused to accept Trump's victory.
Across college campuses and street corners, authorities are not stopping the demonstrations so long as it is peaceful. "They're not protesting Trump, they're protesting democracy and the right to disagree with them," said one observer.
The divisions are so stark in America that even after the results have been out for 48 hours there is no sign of a healing process visible.
-ANI