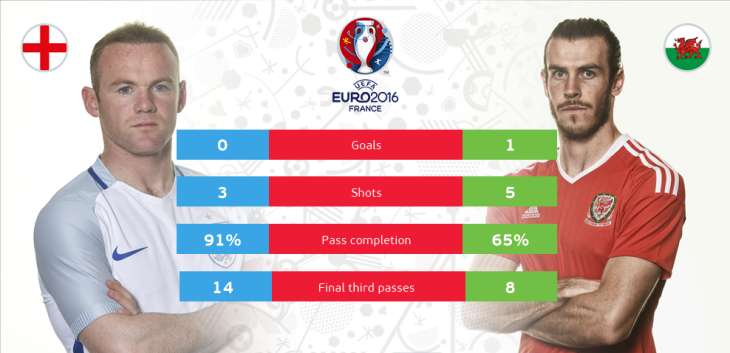 Group B of the UEFA Euro 2016 is turning out to be quite dramatic with Wales sitting on top of the table with three points and England at the third spot with only one point. The match between England and Wales will see the best of their rivalry, which is 137 years old. If Wales win, they will qualify. However, things don't seem rosy for England.
The two sides are meeting for the first time in a major tournament; this will be their 102nd meeting.
England's last match against Russia ended with a 1-1 draw and debutants Wales won 2-1 against Slovakia giving the nation an upper-hand. England will try hard to win the game tonight and edge a little bit closer to qualify and prove to Wales, that they are better players.
While Wales can only depend on Real Madrid star Gareth Bale, Gunner Aaron Ramsey, and Liverpool star Joe Allen, England has stars who are known for skillful play - Wayne Rooney, Harry Kane, Raheem Sterling, and Adam Lallana - but the recent form of the players could lead to a big upset.
The war of words begun from the first drawn match of England when Bales commented, "They (England) big themselves up before they've done anything." Roy Hodgson, the England coach, labelled the Real Madrid star disrespectful for this comment. England midfielder Jack Wilshere, commenting on the rivalry, said, "We know that Wales don't like us. Do we like them? Not really!"
The two English giants have only met four times in the recent years - qualifiers for 2006 World Cup and Euro 2012 - and England emerged winner every time.
As the match is sure to be one big display of rivalry, fans can expect a great display of football, and breathtaking skills. But will we see referees busy running around the Stade Bollaert-Delelis (Lens) stadium with cards? Watch the match tonight to find out.