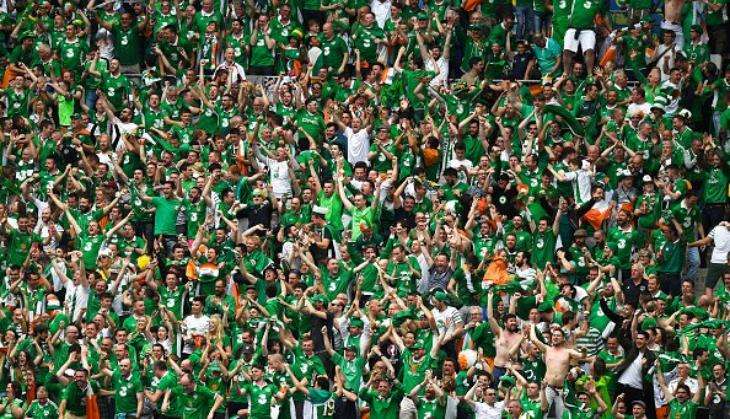 It has been quite a start to the European Championships in France. Starting from last week's opener between France and Romania, almost all the games so far have provided football fans from around the globe with some entertaining action on the pitch.
Things, however, haven't been going pretty well off the pitch in France. The opening week of the tournament has been marred by fan violence, both inside and outside stadiums.
Fans from England and Russia have been involved in quite a few violent clashes, with Russia already being handed suspended disqualification after their fans attacked their English counterparts following the two countries' group stage game in Marseille on 11 June.
However, amidst these violent events, supporters of the Ireland national team have set an admirable precedent for other football fans travelling to France.
The Green Army has been at its best behaviour so far. They have also managed to turn quite a few eyeballs with their brilliant sense of humour.
For instance, they have the best banners in the tournament, clearly.
They made a random French guy in a balcony feel like a celebrity:
They've done their bit to help clean up the streets.
While other fans were busy knocking each other out on the streets, Irish and Swedens fans were belting out ABBA numbers together before their teams met on the pitch.
Republic of Ireland and Sweden fans singing Abba 😅👌 pic.twitter.com/70cRssXerN

— Football Vines (@FootballVines) June 13, 2016
They love Westlife too, it seems.
Republic of Ireland fans singing Westlife in the streets now. Great to see! https://t.co/Y0CbGNgMs8

— Football Vines (@FootballVines) June 13, 2016
Football hooligans, watch and learn.
As hooligans run amok in France well done the Ireland fans who helped an elderly couple change a tyre pic.twitter.com/E40U1gp3Yc

— Omid Djalili (@omid9) June 14, 2016
Irish fans serenaded a nun with a rendition of 'Our Father who art in heaven' when she entered the cabin of a train the fans were travelling in. She turned out to be a good sport, it seems, and appreciated the humour.
It remains to be seen as to how far Ireland go in this tournament, but when it comes to fans, the Boys in Green definitely have some of the best in Europe.