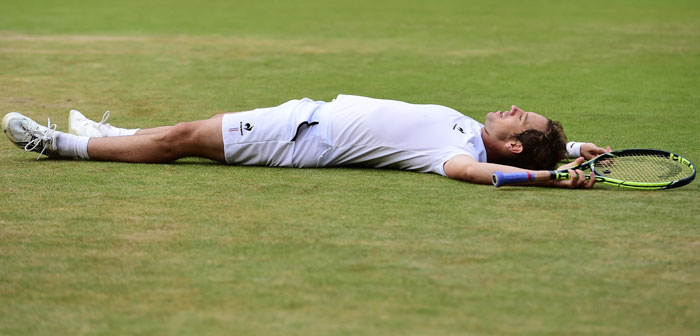 "I'm proud because there are big players in the semis. But I'm the worst when you see Federer, Djokovic and Murray and me," said Richard Gasquet after his quarterfinal five-setter against Stanislas Wawrinka
Former Wimbledon champions and current 1, 2 and 3 seeds, Novak Djokovic, Roger Federer and Andy Murray made it look easy during their quarter-final matches. Djokovic beat Marin Cilic 6-4, 6-4, 6-4; Murray beat Vasek Pospisil 6-4, 7-5, 6-4, while Federer beat Gilles Simon 6-3, 7-5, 6-2. The fourth quarter-final went down to the wire. Richard Gasquet outlasted Stanislas Wawrinka 11-9 in the fifth and final set to become the most unlikely semi-finalist.
Ranked 21 in the world, Gasquet reached his first Wimbledon semi-final since 2007. He beat the fourth seeded Wawrinka 6-4, 4-6, 3-6, 6-4, and 11-9, to prevent Wimbledon from having the top 4 men's seeds in the semi-finals for the first time in 20 years!
In the semi-finals, World number 1 Djokovic playing his sixth consecutive semi-finals will take on Gasquet while Great Britain's hope Murray will take on Swiss ace and 17-time Grand Slam winning, Federer. Federer has never lost in a Wimbledon semi-final, holding a 9-0 record. Against Murray, Federer holds a 12-11 edge. Back in the 2012 Olympics, Murray defeated Federer in the final to bag the gold medal. Federer had a strong comeback as a few weeks later he defeated Murray at the finals of Wimbledon.
The question remains that, if Gasquet can overcome World number 1 Djokovic on Friday, then momentum may just take him all the way to the title.
Novak Djokovic
The 28-year old, Serbian World number 1, Djokovic, is in red hot form in the 2015 tennis season. He holds a 46-3 win-loss record and has 5 titles to his name. Djokovic won the first Grand Slam of the year in the Australian Open but ended up on the losing end in the final of the French Open.
Andy Murray
The 28 year old tennis star is currently is not only Britain's number 1 but also the poster boy of tennis in the United Kingdom. Murray has a 46-6 record in 2015 with 3 titles and is Britains primary hope for the Wimbeldon. His current ranking of number 3 is one spot down from his highest ever ranking. Murray reached the final of the Australian Open but lost to Djokovic.
Roger Federer
Federer is a legend in himself. He is a 17-time Grand Slam champion and an Olympic silver medallist. In 2015, Federer became the third man in the Open Era to have 1,000 or more wins, joining Jimmy Connors and Ivan Lendl. He is also the only man to have won at least one title for 15 consecutive years.
Richard Gasquet
Gasquet is the unlikeliest of the four Wimbledon semi-finalists. Ranked 21 in the world, Gasquet played out of his skin to beat fourth seed Wawrinka in a tough quarter-final match. His best performance in a Grand Slam has been the semi-finals of Wimbledon in 2007 and 2015 and also the semi-finals of the 2013 US Open. Gasquet has so far enjoyed a topsy-turvy 2015 season but this Wimbledon tournament represents his best chance at a title.
Semi-finals on 10 July:
Novak Djokovic vs Richard Gasquet at 5:30 pm
Roger Federer vs Andy Murray at 8:30 pm (Unless the Djokovic-Gasquet match goes over 3 hours)