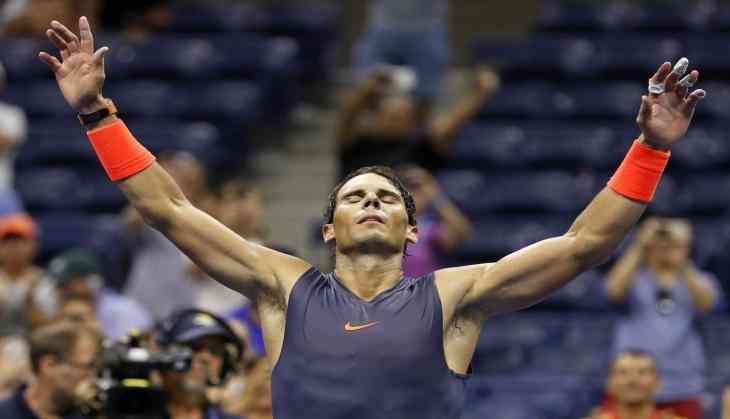 After nearly five hours on court, world No.1 Rafael Nadal beat No. 9 Dominic Thiem 0-6 6-4 7-5 6-7 (4) 7-6 (5) for a semifinal berth at a third consecutive Grand Slam tournament.
The world No 1 booked a semi-final showdown with Juan Martin del Potro. Rafael Nadal is now just two victories away from defending his American Grand Slam crown.
In the previous three such occasions, Nadal had lost. On this one, he managed to come back to win never did get easy for him.
"I'm very sorry for Dominic," Nadal told a rowdy crowd in Arthur Ashe Stadium. "He's a close friend on tour. He's a great guy. A great player."
It was one of those evenings when Rafael Nadal proved why he's the player you'd want to play for your life, writes @JoelDrucker: https://t.co/uBA570nYtm #USOpen pic.twitter.com/azAegZV1Ar

— TENNIS.com (@Tennis) September 5, 2018
Nadal beats Theim in an absolute classic at Arthur Ashe. The quality of tennis was magnificent. Classy from Nadal at the end to console his close friend. Thiem won more points but nadal was resilient as always. Thiem - you're a champion Hard luck. #USopen

— Harsh Khatri (@harshkhatri7) September 5, 2018
According to the reports of Express.Co.Uk, World No 1 Rafael Nadal believes that when matches are so closely fought then he has to make sure his attitude is correct. "Winning, losing, I lost in Wimbledon a match like this, today was for me," Nadal said.
"In some way when you give everything that you have, win or lose, is just that someone have to lose, someone have to win, that's part of the game."But the personal satisfaction when you give everything and you play with the right attitude is the same.
Also Read: Six-time US Open champion Serena Williams registered victory over Czech Republic's Karolína Pliskova