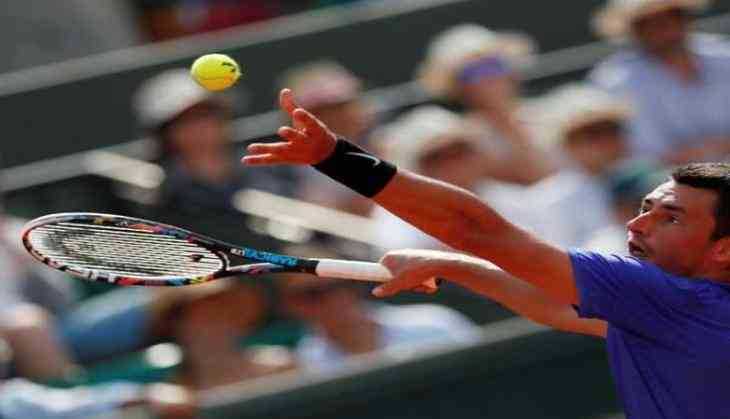 The father of Australian controversial tennis player Bernard Tomic has expressed his displeasure over his son's recent Wimbledon behaviour, saying that he is 'ashamed' of it.
After slumping to a first-round Wimbledon exit, Tomic had said that he felt "bored" during the course of his match against Mischa Zverev and suggested that he only played tennis for money.
Tomic, after suffering a feeble 6-4, 6-3, 6-4 loss to Zverev on Tuesday, had further admitted, in the post-match press conference, that there was nothing wrong with him and he called a medical timeout to try and disrupt his opponent's momentum.
The Australian called the trainer in the second set when he had a breakdown.
Hitting back over the same, Bernard father John said that he is not happy with the way his son approached the situation and that he doesn't support the same.
"He's my son, I love him, but I'm ashamed at how he's approaching his business - it's not good what he's doing. I do not support such behaviour, especially at (a) unique grand slam like Wimbledon," Sport24 quoted Bernard as saying.
"You have to have respect and follow the rules. You have to work hard. You have to put in 100 percent and challenge yourself," he added.
However, Tomic, who has earned almost 5.5 million pounds in his short career, refused to apologise and also justified his recent comments.
"I worked 10 hours a day with my father, having no money in our life from the age of eight to 15. We were driving a A$500 car to now having millions and earning millions at 24, having houses all over the world," Bernard emphasised.
"You probably don't like me but, at only 24, you guys can only dream about having what I have at 24," he added.
Earlier, tennis legend and nine-time Wimbledon champion Martina Navratilova had also blasted Tomic for his attitude, saying, "It's disrespectful to the sport; it's disrespectful to the history of the sport."
-ANI