Joy Tirkey
| Updated on: 23 November 2016, 16:17 IST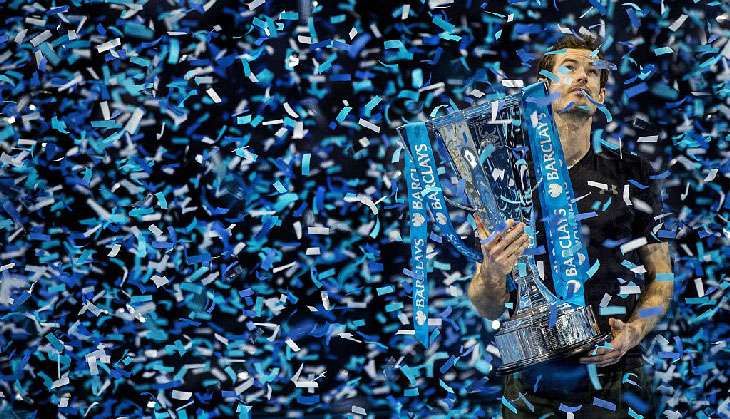 6-3, 6-4 and it was game, set and match for Andy Murray as he cruised past Novak Djokovic to walk into 2017 as the world number one.
The 29-year-old Brit lifted his ATP world tour finals cup after traversing a long and difficult journey peppered with skillful opponents and intense training.
"Now that I've got there, I obviously would be motivated to try and stay in that position," Murray was quoted as saying after his win.
Murray is the 26th man to reach the top of the men's standings since the system began in 1973. Before the 2016 ATP tour finals, he reached the ATP finals twice. At his first ATP Tour final, in September 2005, he lost to then-invincible Roger Federer.
He won his maiden ATP Tour title in February 2006. His victory over the then hot-shots of the game - Andy Roddick and Lleyton Hewitt - helped him break into the top 50 of the world rankings.
Murray got his first major break with the US Open junior title in September 2004 - a feat which cemented his place in Britain's tennis team. In April 2007, he broke into the top 10 for the first time after reaching the semi-finals of the Masters events in Indian Wells and Miami. However, he lost the semi-final to Novak Djokovic. The defeat would go on to give Murray a few sleepless nights as it marked Djokovic's seemingly unstoppable rise to the top.
Throughout 2016, he reached the finals and semis of major tournaments but lost a majority of them to his rival, Djokovic. Murray won the US Open 2012 by pipping Djokovic in five sets.
In the summer of 2013, Murray fought hard to beat world number one Djokovic 6-4, 7-5, 6-4 to win the Wimbledon. By doing so, Murray managed to end Fred Perry's 77-year reign as the last home men's singles champion.
He won his two singles rubbers in Great Britain's Davis Cup match against Japan a month after his daughter was born in 2015.
In the first half of 2016, experts speculated if Murray was losing steam. With just one final to his name, he suffered a third round exit to world number 53 Federico Delbonis during Indian Wells in March. He followed it up with another disappointment at the hands of Grigor Dimitrov at the same stage in Miami - a tournament Murray had won twice before.
But, Murray wasn't going to give up. He kickstarted his clay-court season and reached the semi-final in Monte Carlo before losing to Rafael Nadal, who went on to claim his ninth title at the tournament in April 2016.
Djokovic's shadow loomed over Murray throughout, as he lost to the Serb again in the Madrid finals despite beating Nadal in the last four.
Murray lost his second spot in the rankings after losing to the king of clay. But he outdid himself and claimed his first title in the Italian Open Crown with a 6-3, 6-3 win over Djokovic and headed to Roland Garros and the French Open.
In May 2016, Murray and his coach Amelia Mauresmo ended their two-year-long partnership. "She's been a calming influence in the team and we will all miss having her around," Murray was quoted as saying. "I'll take some time to consider the next steps and how we progress from here, but I'd like to thank her for everything she has done. She's been an invaluable member of the team," he had then said.
After three previous semi-final appearances in Paris, Murray made way to his first final against Djokovic. He took the first set, but Djokovic halted his campaign to claim his 12th major title.
An account of Murray's career is grossly incomplete without a mention of Ivan Lendl. Murray's coach from 2011-2014 - during which he bagged gold at the London Olympic 2012 - returned to the British tennis ace's camp in 2016. Lendl helped Murray defend his gold at Rio 2016 and stood firmly at his side while he won his first and second Grand Slam titles.
With Lendl's backing, Murray went on to win his third grand slam title - 2016 Wimbledon - by defeating Milos Ranic 6-4, 7-6 (7/3), 7-6 (7/2).
The change of coach did the trick for the Brit. His playing style improved, while his approach towards the game grew in leaps and bounds. Here was a brand new Murray - one with the fierceness of Nadal and the strength and technique that could rival that of Federer.
Without Lendl, Murray's record against Djokovic comprised only two wins and a win ratio of 25%. However, with Lendl in charge, he went on to beat the Serb in four of their nine encounters (a win ratio of 44%). Two of these encounters were slam finals. Commenting on Djokovic's bid to win the career Grand Slam this year, Lendl had told reporters: "Obviously Andy and I would like to ruin those plans."
Murray may have fought a long and weary battle to the top, but with the prestigious trophy, he has officially cemented his spot in the club of the current tennis greats alongside Roger Federer, Rafael Nadal and Novak Djokovic.
--edited by Blassy Boben