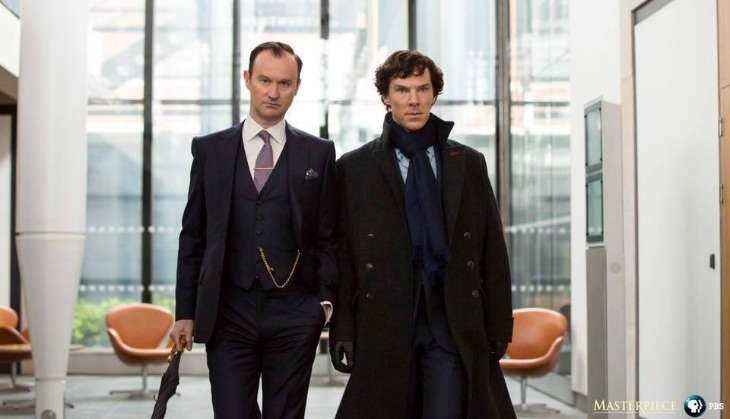 Rejoice Sherlock fans, your favourite detective is making a comeback soon. With just another month to go, a bunch of new images from Sherlock season 4 has hit the internet and you really do want to see this.
Titled The Six Thatchers, the photos from this highly anticipated episode shows Sherlock Holmes, with his dark hair messy hair, looking quizzically at the newest addition to John Watson's extended family, reports the Daily Mail.
Standing next to his best friend, his faithful side-kick Watson (Martin Freeman), the detective can be seen casting a strange look at Doctor John and Mary Watson's baby, who is strapped to the good doctor.
The sneak peeks give an insight into what could be the last outing of the BBC hit, and offer fans a glimpse of what Holmes and the Watsons will face.
Instantly recognisable in his tatty grey overcoat, Benedict Cumberbatch can be seen in character as the brilliant but irksome sleuth.
Watson's wife looks content for the time being, having given up her assassin trade to raise a child with her husband.
One striking revelation in the photos, is the first proper look at Tobey Jones in the mysterious character of Culverton Smith who is pictured sitting in a crisp blue suit with a sneer on his face. Other photos show the Holmes brothers together once-again. Mycroft Holmes (Mark Gatiss) is the same crisp and prim figure as always.
The Six Thatchers, which will be part of a three-episode run for the fourth season of Sherlock, is set to return on New Year's Day.
--
With inputs from ANI
--ANI