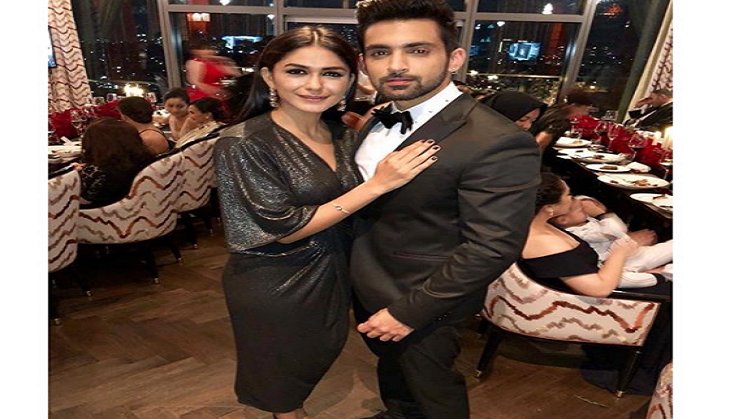 KumKum Bhagya is one of the most popular daily soap that airs on the Zee TV. Every second day there is one or the other gossip that rises that revolves around the cast of the show and yet again another one has started coming up that doesn't involve the lead pair but surely one of the most interesting couples in the show.
Here we are talking about the reel life couples Bulbul and Purab aka Mrunal Thakur and Arjit Taneja. There were reports doing rounds on the internet from quite a long time that they both have been dating each other and the fire to the fuel was added when both left the show almost at the same time and started doing Indonesian shows together. Both of them have been quite about the same and have called themselves 'just friends.'
When Arjit during an interview was asked about the show and his reason why he quit it, he opened up about the same and said that since there was nothing in the character so he thought to leave the show and he did not have any regrets about it. Further in the interview given to the Indian Express, he said, "To be honest, there was nothing for me to perform in the character and it was a well-thought decision, so there was never any regret. It was a new start for Vin Rana, who replaced me but I had reached a stagnant point with it. Even Mrunal had quit the show so the chemistry was seeing, yes, I still miss the team but I have no complaints. They are like family to me and Kumkum will always be the best phase of my life."
ALSO READ:
Further in the interview when he was quizzed about Mrunal and his relationship, he said that they both are close friends and since she was his first co-star, so the relationship that they both share is very special. They share a very comfortable space with each other and rumours like these have never affected their friendship.
Arjit was even asked why he keeps on mumming the name of Mrunal everytime, to which he blushingly said, "I did not; you asked me such questions. We work together so when you talk about those specific projects, it's only reasonable that I name her."
ALSO READ: OMG! This Kundali Bhagya actor is madly in love with Jennifer Winget
Meanwhile, check out some adorable pictures of the couple here:
What is the reality behind their relationship is still unknown but if they really are dating each other, then definitely it is a good news for all of their fans.
ALSO READ: TRP Report Week 3, 2018: KumKum Bhagya, Kundali Bhagya slips down in the list because of this show