Keith Sequeira can be one of the top finalists this season. Yes, we are saying that after watching what he did in last night's episode of Bigg Boss Double Trouble. As we told you earlier, Keith was seen shouting at Mandana Karimi during the second phase of the 'sand' task. However, what would have melted hearts (including ours) is the fact that he was shown shedding tears in last night's episode. And he did it so silently, that nobody, not even his partner Rochelle Rao knew about it.
It all started with Priya leaving no stone unturned to ensure that Rochelle couldn't go ahead in the task. And as Keith was made the sanchalak (coordinator), he could not help Rochelle with any strategy. Even though Rochelle tried to not let Priya take out sand from her funnel, she could not be succeed.
Also read: Bigg Boss 9: Keith Sequeria shouts at Mandana Karimi. Has the show got to him?
Realising how disappointed Rochelle was at the end of the task, Keith could not control himself. He embraced his girlfriend, who was crying in his arms and tried to console her. However, he started silently weeping himself, while hugging her. And that actually made for quite an 'awww' moment on the show.
Keith has had many arguments with Rochelle in the recent past. But seeing them together like this can make fans fall in love with them as a couple all over again. Keith has already been nominated for rest of the weeks in the show.
Also read: Suyyash Rai had some nasty things to say about Mandana Karimi, Rishabh Sinha after being evicted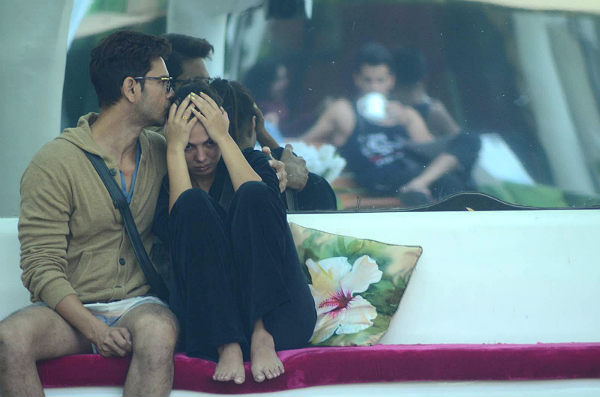 However, as his emotional side came to the fore last night, his constant nomination may not mean much in terms of an elimination.
You know he's a man and society dictates that he mustn't cry. But he shed real tears. On national television. And now all votes seem to be his. Rejoice!
Also read: Bigg Boss Double Trouble: 4 things Nora Fatehi said about Prince Narula and Kishwar Merchant post her eviction