The era of supernatural thrillers is back on small screen. And a new Colors TV show -- Kavach... Kaali Shaktiyon Se, is just a new addition to the mix of witches and naagins crowding our idiot box.
The show is about two women -- one human and the other one a spirit, both fighting for one man. While Mona Singh (yes, the no-nonsense Jassi), plays the character of Paridhi Rathore Maheck Chahal of Bigg Boss 5 fame, essays the character of Manjulika, the spirit.
Due to a troubled childhood and a dreadful murder, Manjulika has turned evil and is keen to harm Paridhi's husband. While the entire show is built around Manjulika possessing Paridhi and the family drama that ensues, the two female leads of the show feel that their show has something different to offer.
Maheck Chahal plays an evil spirit in Kavach... Kaali Shaktiyon Se (Twitter)
They believe that it doesn't stereotype women on small screen. They also believe that by portraying an evil spirit and a bahu, they are showing shades of empowered women. How? Maheck and Mona replied to a leading daily when asked the same:
Maheck Chahal: "She has had a horrible childhood, and has never known love. And then she falls in love with this man. But she isn't sure how to express herself, so she goes overboard. Then, they kill her! Of course, she is going to return evil, right? Every man today has a gharwali and baharwali, even if the latter is only a mirage in his head. So, that's why! We are playing modern women who are fighting over a man. How unrealistic is that?"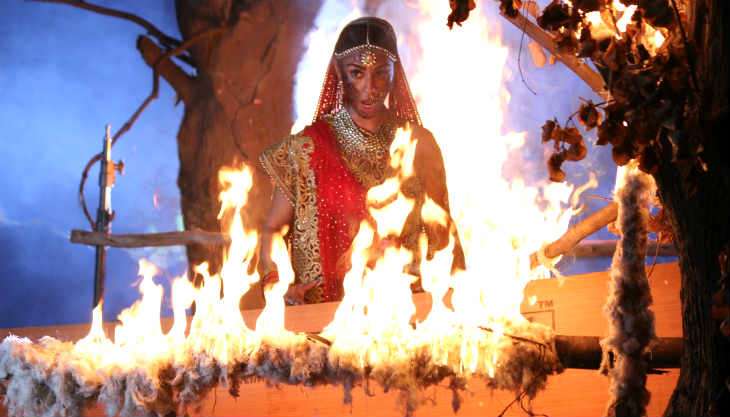 Manjulika wants to harm Paridhi's husband in Kavach (Twitter)
Mona Singh: "Paridhi is not the sati savitri bahu. She is an archaeologist, who doesn't even believe in spirits and the like. It's only when she sees the spirit that she turns believer. I actually get Maheck's character bumped off since she is troubling my husband, and has fallen in love with him. But then I realise, that my troubles aren't over. She is back, and this time, I need to be evil myself to beat her. Also, when she possesses me, I am pretty terrible. There is no good girl here. I have rejected so many roles where they've wanted me to play the typical bahu. I couldn't do them, especially after I played Jassi, someone who was trying to break stereotypes."
Are you convinced?
-- quotes from Mid Day