It looks like that FIR fame actress Kavita Kaushik is quite upset with Facebook and this the reason why she has chosen to leave Facebook. The actress left Facebook by giving a very clear reason for doing so, bold and clear.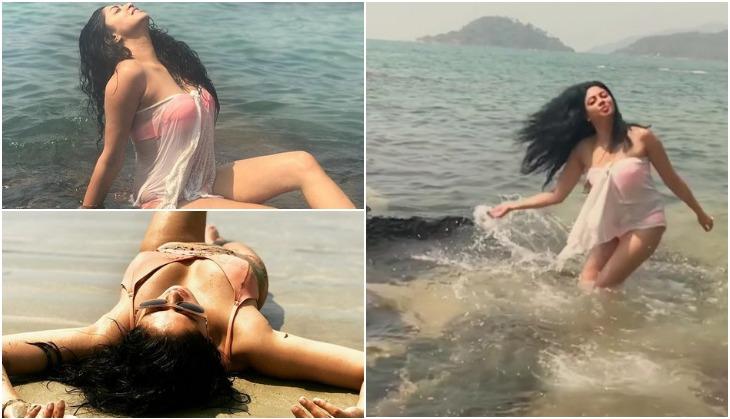 Kavita Kaushik pictures
Kavita feels Facebook all over negative and that is not good for her to be there. That is the reason why she doesn't want to be a part of this social media platform because she feels totally a misfit there. He has permanently said goodbye to the social media platform.
Also Read - Brahmastra actor Alia Bhatt to collaborate with Aamir Khan in Osho biopic; read details inside
Kavita Kaushik's last post reads, "Facebook is a time guzzling monster where friends seem to be arguing strangers, colleagues seem to be political party candidates preparing to take over the country cos change toh hone se rahi , I swear IL end up getting a huge dog into my flat and give it the dullest life If I see one more dog video! and a place where one gets to see morphed nudes of yourself if one is an actress ! All this would've hooked me a couple of years back (not the morphed pics that always makes me livid) but now somehow it seems to have become an assault to my sense of taste, time and attention ,So I really think I'm a misfit here. Clear the clutter is my new thing you can call it a fad , call it anything behind me those who wanna cos I am out , any of you who genuinely gives a fuck has my number , call me come over there's always food n drinks at home we can socialise n talk about anything ! anytime! And have way more fun I assure u, so Fu FB ! Bye doston aur parivar , mast raho"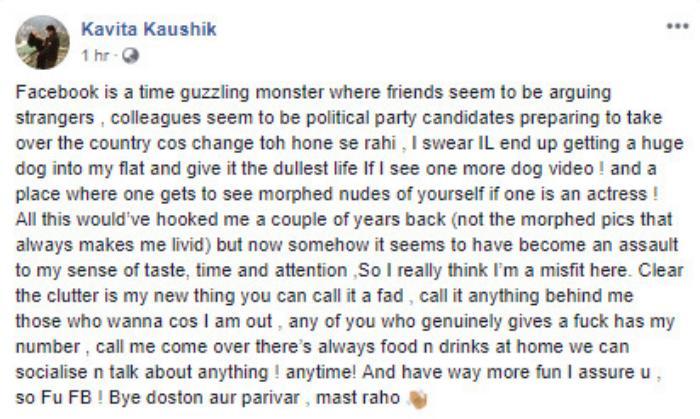 Kavita Kaushik Facebook post
Well, fans are surely disappointed with this decision of Kavita Kaushik as the actress already has made the distance from the tv screen. As she is not even doing any tv show.
Also Read - Leaked! Saif Ali Khan's Naga Sadhu look from his next film Hunter is something like Amitabh Bachchan in Thugs of Hindostan