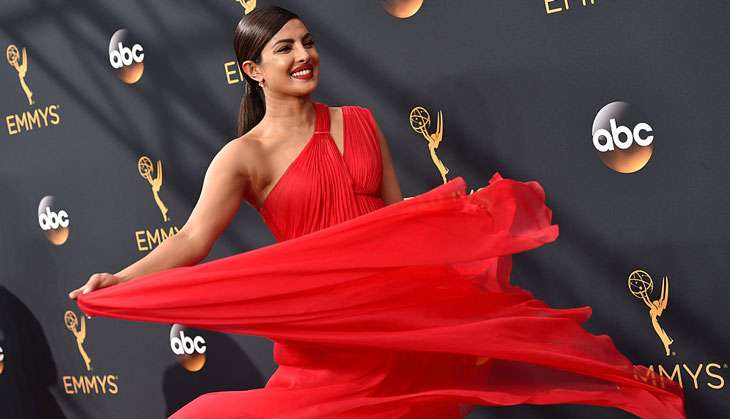 Emmys 2016 played out early this morning when most of us were catching our z's and dreaming a little dream. You may or may not have missed it and you may or may not be interested, but we're still wholly determined to list down the highlights of the 68th Annual Primetime Emmy Awards. The show was hosted by Jimmy Kimmel whose hosting skills are as bland as can be. So that's one thing you didn't miss out on.
So here goes:
1) Priyanka Chopra was there
This has to be the number one highlight. For what do we care about award shows abroad anyway. Unless it has Priyanka Chopra in it.
Although, personally there is a strong urge to talk about this former Miss World's exceptional run as first, a Bollywood superstar and now as one of the highest paid television actresses in the world (courtesy Quantico), but no. Let's talk about her clothes just like everyone else:
She wore a red gown.
.@Priyanka at the #Emmys #EmmyswithPC pic.twitter.com/oVfxgNwcx9

— Priyanka-Chopra.us (@PriyankaNetwork) September 18, 2016
2) Game of Thrones won almost everything
Alright, fine. No, it didn't. HBO and George RR Martin's favourite baby took home awards for 12 out of the 23 categories it was nominated in. Including the much-coveted, 'Outstanding Drama Series'.
The Many-Faced God sends his approval, and a face-pie.
Also see: 2016 Emmy winners: And the awards go to...
The King in the North and The Mother of Dragons at the #Emmys pic.twitter.com/Lh5qt3vbsj

— Game of Thrones Meme (@Thrones_Memes) September 19, 2016
3) Julia Louis-Dreyfus creates a record for most wins

The 55-year-old Julia - who is as perfect as a human can possibly be - won best actress for the political satire comedy, Veep. In total she now has eight Emmys, of which seven (whoaaa!!) are acting awards. She's won six lead actress Emmys, five of which are consecutive wins.

Has your jaw dropped to the floor yet? Has it been unhinged permanently?

Oh, lest we forget: Julia wore black.

4) Beyonce lost *cue gasp*

This is only a highlight because nobody can still bloody believe it. Pretty sure everyone almost expected Kanye to drop in from the sky, snatch the microphone away from the crew of the winners of Best Direction in a Special Variety, Grease : Live.

#LongLiveLemonade

5) Sarah Paulson finally won

After being nominated seven times, Sarah Paulson the real god of small things, FINALLY won a Best Actress in a Limited Series Emmy for FX's The People v OJ Simpson: American Crime Story.

Her date to the award show was Marcia Clark, the attorney she played in the crime series. For those wondering why Sarah's win is considered a highlight above other things that happened, you're not enlightened enough for this conversation. Go home and watch Game Change and American Horror Story, please.

Hey front benchers: Sarah wore green.
congratulations @MsSarahPaulson! we are all proud of you, YOU deserve it! #Emmys pic.twitter.com/G2Ih6dFKek

— best of paulson (@bestofpaulson) September 19, 2016
Other fun, non-award highlights included the kids from Stranger Things handing out sandwiches to the audience and Matt Damon eating an apple on stage while insulting Kimmel. So even if everyone was bored, at least they went home with their stomachs full.
Emmys, out.
-- Edited by Aishwarya Yerra