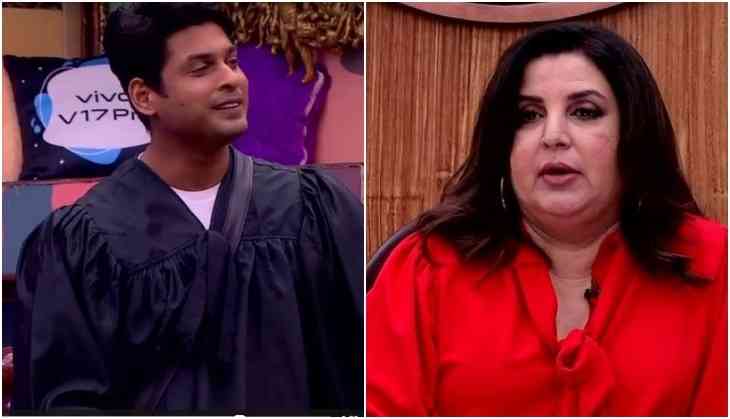 After a Diwali weekend, the contestants wake up on the famous song 'f Diwali and soon Bigg Boss announces the new task for the contestants. The new task was BB Adalat and the house turned into a courtroom, the contestants divided into two teams namely, Shukla's and Desai's. The team were divided between two lawyers Rashami Desai and Sidharth Shukla.
While Sidharth Shukla has Shehnaz, Asim, Aarti, and Devoleena, whereas Rashami Desai has Mahira, Paras, Shefali, and Siddharth Dey. After each buzzer, they have to present a case in front of the special judge and the film special judge was former Bigg Boss host Farah Khan. The game begins and Rashami Desai's team put Asim on 'Kathghara' and accuses him of being abusive over a pretty matter like tea. However, the team was successful in proving Asim gets abusive in small issues.
The second accusation of Rashami Desai's team was against lawyer himself Sidharth Shukla. Rashami Desai's team accuses Sidharth that he gets very aggressive and women in the house are unsafe around him. Well, Farah Khan totally denied the allegations and shown a mirror to 'Bahu Gang' of Bigg Boss house. Farah told that they all gang up against Sidharth Shukla and make an issue out of any petty statement. Team Rashami although refuses to agree and get offended of it.
#FarahKhan rocking it. Bashes #ShefaliBagga, #MahiraSharma and shuts #RashmiDesai up. 🤣🤣#SiddhartShukla rocked it! 😎#BB13 #BiggBoss #BiggBoss13

— MB (@MithiMirchi10) October 28, 2019
Repeatedly #FarahKhan has stated that #BahuGang deliberately comes infront of #SidharthShukla , target him solely, never sees her gang's mistakes, continuously bitching about other housemates...

But #RashmiDesai ko apni GALTI NAHI MANNI HAI..

Kya attitude hai..#BiggBoss13

— ❤MannMohak❤SidHeart❤ (@OhhGodItsMe) October 28, 2019
I have to say that #RashamiDesai you are so clever and boring. After bigboss you have destroyed your image.. that's it @TheRashamiDesai and for your kind information #SiddhartShukla is far better than you. Love Shukla group 😘 #BiggBoss13 @BeingSalmanKhan

— Komal (@komal1545) October 28, 2019
#BiggBoss never told Audience views to HMs in all seasons

in #BB13 , #FarahKhan officially told #RashmiDesai group tht they r not looking good in camera..

But those Losers still arguing with Farah 😂

Rashmi is trying to portray, BB gives Favourtism!🤦🏻‍♂️

Fakery!#BiggBoss13

— CA Rakesh 🇮🇳 (@albelaindian) October 28, 2019
This support of Farah Khan to Sidharth Shukla has gone in favour for the contestant and outside Bigg Boss house, fans are also hailing the judge Farah Khan for showing the mirror to the 'Bahu Gang' of the house.
Also Read - Ranveer Singh to play Baiju Bawra in Sanjay Leela Bhansali's next?