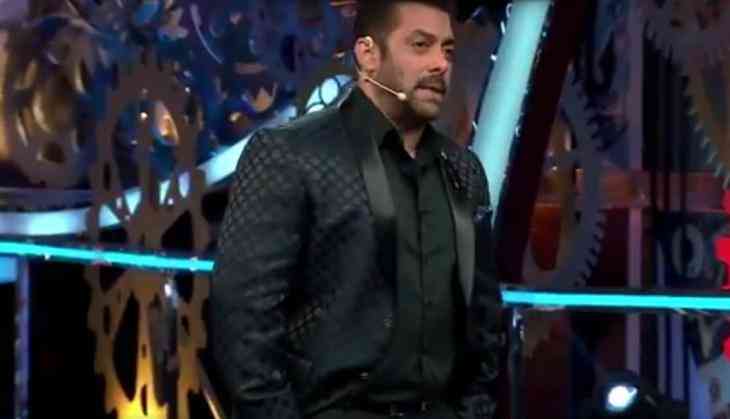 Bigg Boss 11 Weekend Ka War 2.0: Hina, Vikas are safe, Shilpa in Katghara
Last time when Salman Khan came to the show in the first Weekend Ka War of the Bigg Boss 11, that was surely a big shot for the housemates when he showed his anger to the contestants. Now once again the audience were waiting for their favourite host Salman Khan to take over the charge of the Bigg Boss house in the second episode of Weekend Ka War.
This week also many things happened like Vikas tried to run away from the house after an ugly spat with co-contestant Hina Khan, and then after a long and tough task, Vikas won the captaincy. Then the real war started when contestant went against Vikas, Hina targeted Vikas, Arshi vs Shilpa Shinde fight and much more.
Here are five Catch points of Salman Khan's Bigg Boss Weekend Ka War 2.0 episode:-
1. Salman Khan comes to the Tv screen and housemates welcomes him in a shout. Then Salman starts understanding the verbal fight of Sapna Chaudhary and Arshi Khan, however later he called that it was a full fun ride. Then he recalls the housemates that Arshi Khan, Sapna Chaudhary, Jyoti, Shivani, Vikas Gupta, and Hina Khan are the nominated contestants of this week.
2. Then Salman calls Shilpa Shinde in Katghara and tells her the accusations of the housemates on her. First Salman tells Arshi has accused her of being a chameleon, on this, a bigger accusation fight started in between Shilpa and Arshi, which is now usual.
Shilpa Shinde aur Arshi Khan ke jhagda pe kya ho gaya @BeingSalmanKhan ke vichaar? Find out in #WeekendKaVaar, tonight at 9 pm. #BBSneakPeek pic.twitter.com/Qkk4EV5TpP

— COLORS (@ColorsTV) October 14, 2017
3. Then the second person who came to the Katghara was contestant Hina Khan, Salman said housemates have accused her of thinking of her too much. Even once she said in a show to Hiten that only she and Hiten could be the good captain in the house. Vikas also said that Hina underestimates him also and other housemates. Housemates said that she cries a lot on this Hina replied he cries every time when she is happy or sad.
.@BeingSalmanKhan ne daala @eyehinakhan ko katghera mein. Watch what happens next on tonight's #WeekendKaVaar at 9 PM. #BBSneakPeek pic.twitter.com/7QZ2jUUsAN

— COLORS (@ColorsTV) October 14, 2017
4. Well after so many allegations, Salman says Hina is safe. Now the turn is for Vikas and everyone claims that he is biggest Kaamchor of the house and coward also by justifying his action to leave the show. Vikas targets Hina for using people as first she uses Zubair and then Vikas and both contestants are out of the house now.
5. However, Salman announces Vikas is also safe. Shilpa gets a call from Appy Fizz caller of the week. The caller targets Shilpa how she changed her behaviour towards Vikas as he became captain. On this, Shilpa says that she is not giving any chance Vikas to use his powers. In the end, Salman says Jyoti, Sapna, and Shivani have to wait for the next episode.