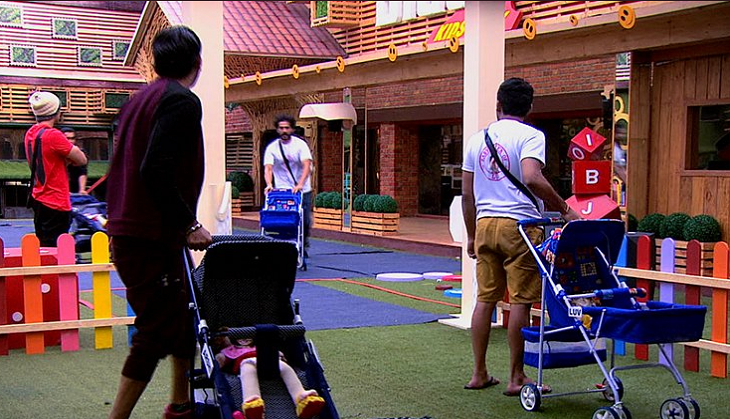 The popular reality show is witnessing its captaincy task which is titled as 'BB Day Care.' In the same task, each contestants has become the contenders for the post of the captain and in the task they have to take care of the baby dolls which are of another contestant.
The contestants will have to take care of the baby and will have to feed them. When the buzzer will ring they have to park their pram and the contestant who will left in the last will get out of the task and since each one of them have the dolls of another contestant which means that they have the right to make another person the captain of the house.
ALSO READ: Bigg Boss 11: Shocking! Shilpa Shinde loses her cool after Akash Dadlani forcefully kisses her
All of the contestants enjoyed in the task in the first half but during the same everyone started the planning in the game. Vikas Gupta was seen planning in the game along with Hiten Tejwani and Puneesh Sharma and said that he would not make Arshi Khan the captain of the house although Vikas had the doll of Arshi in his hands. She got really upset with him for ditching her while he led out his support for Bandgi Kalra and made her the captain.
In tonight's episode it will be shown that Hiten will play during the task and will avoid parking his pram in the parking lot which ill make Hina out of the game and she will not be the contender for the captaincy anymore. Hina will loose her calm in the game and will shout at at Hiten and will call him spineless.
ALSO READ: Bigg Boss 11: Family members of the housemates to make a surprise visit in the coming episodes
The housemates will be seen playing the second round of the game. While they will fight for the post of the captain, we now reveal the name of this week's captain. As per reports by a leading Entertainment daily, Businessofcinema.com, Arshi Khan will become the new captain of the house that clearly means that Vikas has supported her during the course of the task.
ALSO READ: Bigg Boss 11: Here's the truth behind Shilpa Shinde and Vikas Gupta's marriage that is going to take place in the show
It will be interesting to see wether she will be able to handle the responsibilities of the captain efficiently and prove everyone wrong. For more news related to Bigg Boss 11, stay tuned!