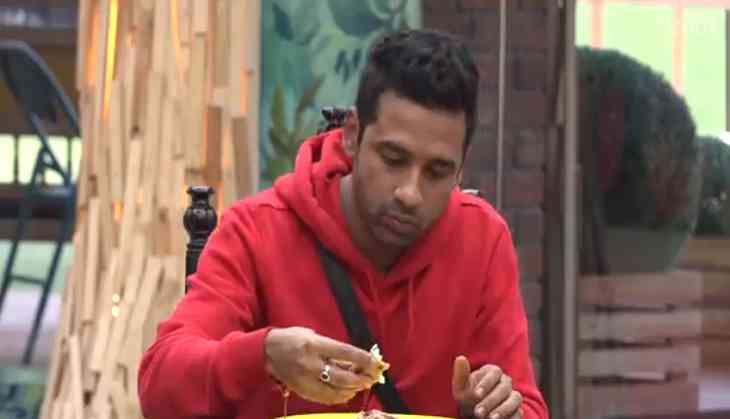 This season of the popular reality show, Bigg Boss season 11, saw the love story of two commoners Puneesh Sharma and Bandgi Kalra that started in the house. But one of the two lovebirds got nominated in the last Weekend Ka Vaar episode. It was Bandgi Kalra, who had to leave the house this time that left Puneesh really sad.
After she left the house, Puneesh was seen getting sad as he was missing his lady love in the house. Everyone in the house were seen cheering him up and his mood. In an unseen video that got uploaded on Voot, everyone in the house is seen talking about both of them. Vikas talks about them and says that they both decided to do it for the game but in the next week they really felt for each other.
ALSO READ: Bigg Boss 11: Here is how Twitterati reacted when lovebirds Puneesh Sharma, Bandgi Kalra got separated
Puneesh opens up about Bandgi and said that she would make sure that he had his meals on time and then everyone started discussing about their future. Akash told Puneesh that he needs to sort things out with his family and then Vikas tells him that there is a need to talk about his relationship with his family. He asks Puneesh if he will have a live-in relationship with her outside the house.
Shilpa at that time, teased Puneesh that he was already in a live-in relationship while he was in the Bigg Boss house. Puneesh to this replies that he has been in a live-in relationship before but the biggest one in his life has been in the BB house where he is living in with so many people.
ALSO READ: Bigg Boss 11: Here are some shocking revelations about Hina Khan and Arshi Khan that Bandgi Kalra made after getting evicted from the house
After listening to the same, everyone started laughing. Akash, on the other hand complains about the fact that Puneesh does not give him any importance.
See the unseen video here.
ALSO READ: Bigg Boss 11: Shilpa Shinde reveals the reason why she ran away from her marriage; see video
For more news related to Bigg Boss 11, stay tuned!