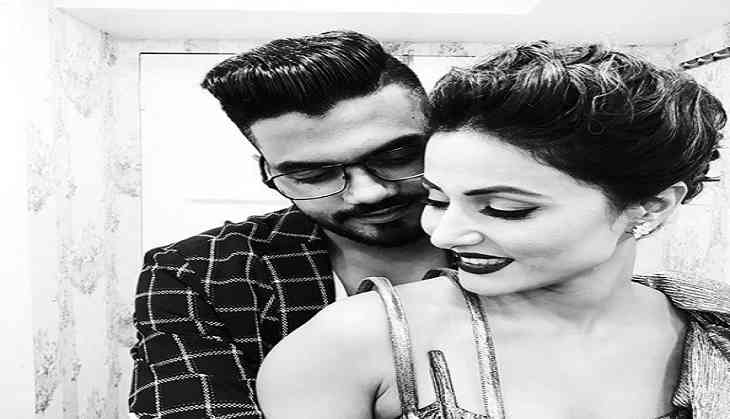 Popular reality show, Bigg Boss season 11, has crossed all it's limits when it comes to fights, arguments and vulgarity. The family show does not seems like one now. In the last few episodes of the show, the housemates were seen fighting with each other. In the last night's episode, the housemates were given a luxury budget task in which they failed and because of which the prize money of the show came down to zero from 50 Lakhs.
Hina Khan planned a strategy by which the remaining contestants could relieve themselves by getting out of the rocket while the 'sanchalak' of the game Puneesh Sharma was asleep. Later in the morning Bigg Boss announced that they have lost the game as the contestants have cheated and Puneesh acted carelessly during the task. After the whole fiasco was over, Hina Khan was seen crying with her family and her boyfriend's picture in hand and considered herself responsible for the same.
ALSO READ: Bigg Boss 11: Hina Khan's father is deeply disturbed to see her breakdown in the house
Hina's father, during an interview also opened up about her breakdown and said that it is really difficult for them to see her like that. And now, her boyfriend Rocky Jaiswal has also spoken on the matter. He could not see her crying and therefore an adorable Dubsmash of themselves on the social media with a long caption.
He posted the video on his Instagram account and the caption read as, "I miss her and Of course it's difficult to see her going through such heart wrenching moments but that's what makes her a human being. @realhinakhan being what she is never said that someone else is jealous of her or insecure because of her popularity, even when she was showered abuses and cornered she fought back but never abused."
Check out the Dubsmash here:
He did not stopped here but also posted another picture and again posted a long caption in which he took a dig at co-contestants Shilpa Shinde, Vikas Gupta and Arshi Khan. He wrote, "Thank you to all who are appreciating @realhinakhan 🙏 but a bigger thank you to all who are doing what they always do #spreadhate. Some appreciators are feeling bad because of what people are saying. To them I say that guys the entire point of doing #BIGBOSS was to be as real as u can be and for Hina that has always been the case. She doesn't know diplomacy and she doesn't have any 'Filters' to cushion her words but she will never stoop to the level of some people who are in the house or were however I also say that people who have such attributes are often more popular. The house has moments where right and wrong appear as we fit, according to our allegiances and not as how they really are! So don't hate people who are commenting on Hina after watching some video because they are just giving their views on what they have seen, had they shown Arshi n others abusing n irritating for an entire week continuously in one chunk of a video I am sure the comments would be a little different. Remember social media gives u the platform to speak your mind but most jump to conclusions just as they come across an effect of something and happily forget what caused it in the first place. We luv her .. u may hate her ... but u God damn won't be able to ignore her! Lastly, Allegiances will shift, change of heart will happen, there will be fights and there will be friendships inside the house just like the world outside but you're welcome to judge and use some of your free time hoping someone will notice U just coz u were able to scratch a shining car while it was parked , m sure u know what I mean !!"
ALSO READ: Bigg Boss 11: Benafsha Soonawalla's boyfriend threatens Akash Dadlani for commenting on her private parts
Check out the picture here:
ALSO READ: Bigg Boss 11: This ex-contestant wants Salman Khan to leave the reality show
For more details related to Bigg Boss season 11, stay tuned!