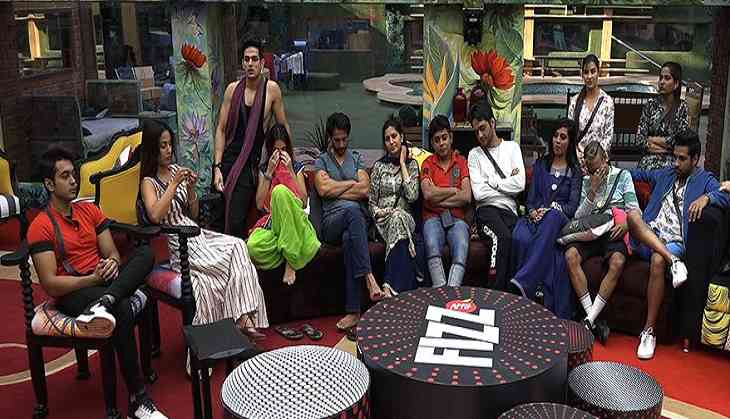 Bigg Boss season 11 has completed it's first month and we have seen it all from fights to arguments to love and vulgarity. The last night's episode was crucial since the contestants had to decide the names of the contestants who will be sent to the kall kothari. Benafsha Soonawalla was punished by the Bigg Boss and which is why she got nominated for the next week and was also sent to the jail this time.
For those who are unaware about what happened in the last night's episode of the reality show, get updates by reading the highlights of the show in the form of 5 Catch points from last night's episode.
ALSO READ: Bigg Boss 11: The favourite contestant of Salman Khan revealed!
Check them out:
Arshi Khan is uncomfortable with Luv Tyagi around and confronts him. Watch #BB11 to find out what happened!

— COLORS (@ColorsTV) November 9, 2017
1. Hina, Luv, Priyank and Benafsha were seen sitting together and discussing about what Arshi Khan was wearing. Luv told everyone that she was wearing only a bra under a nightie to which Hina said that she is purposely wearing that. Later Arshi complained to Vikas that Luv was looking at his chest after which she discussed it with Luv but he cleared that he did not saw her inappropriately.
There seems to be something brewing between Benafsha & @ipriyanksharmaa. Watch #BB11 to find out!

— COLORS (@ColorsTV) November 9, 2017
2. Benafsha and Priyank were seen talking to each other in the garden area. She asked him he was so upset with her for having a private conversation with Luv. Priyank asked Ben if they were doing something wrong. To which Ben replied, "Why would be wrong? My love and your love will understand that this is just friendship."
Bigg Boss makes an important decision about Benafsha. Did you see that coming? Keep watching #BB11! pic.twitter.com/Rbw5rs2cdR

— COLORS (@ColorsTV) November 9, 2017
3. Bigg Boss nominated Ben for pulling Akash's hair and Hina, Ben and Hiten were finally decided to be sent to the kaal kothari this week.
ALSO READ: Bigg Boss 11: Rocky Jaiswal, Hina Khan's boyfriend slams her haters and takes a dig at Arshi Khan, Vikas Gupta and Shilpa Shinde
4. Hina was upset with Sabyasachi and told her that his decission was not fair. Ben commented that Sabya did not took Priyank's name because he wanted to talk to Priyank after which Sabya got offended and said that he will never talk to Priyank again.
.@lostboy54 seems upset with Luv Tyagi as the other housemates start plotting. Keep watching #BB11!

— COLORS (@ColorsTV) November 9, 2017
5. Luv while sitting out of the jail made fun of Vikas and Shilpa's fight after which Vikas got angry with him and asked Arshi to not let him sleep. Later, he calls Luv a bouncer to which Bandgi said that he is Hina's bouncer.
For more details related to Bigg Boss 11, stay tuned!