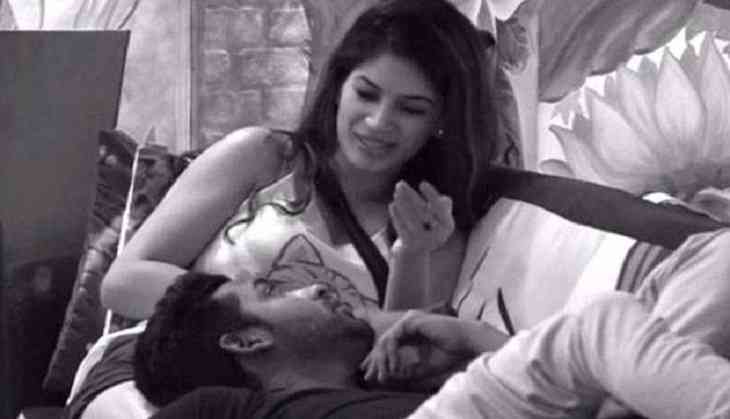 The eleventh season of the popular reality show has almost completed it's one month and the fans of the show have seen it all. Be if fights, arguments, drama or what not everything has happened in the house. The last night's episode of the reality show the nomination process, fight between Priyank Sharma and Arshi Khan and the closeness between Puneesh and Bandgi Kalra.
For those who missed the last night's episode that caught everyone's attention, here are the highlights in the form of 5 Catch points that you should definitely check out.
ALSO READ: Bigg Boss 11: Sapna Chaudhary to spread magic through her first Bollywood dance number 'Love Bite'; see video
Bandgi Kalra and Puneesh Sharma discuss about the cameras. Tune in to find out what happens next! #BB11

— COLORS (@ColorsTV) November 6, 2017
1. Puneesh and Bandgi are seen under the sheet and getting cozy under it and discussing about the same. Benafsha and Priyank discussed about how Bandgi is going on the right track and how she is using Puneesh for the same. In the morning Bigg Boss played the song 'Jumma Chumma' after which Bandgi got conscious about the fact that the camera has seen them kissing each other but after the discussion they started kissing each other again.
Arshi Khan and @ipriyanksharmaa get into a war of words. Witness it all only on #BB11!

— COLORS (@ColorsTV) November 6, 2017
2. Priyank Sharma and Arshi Khan fought over the fact that he brought news from outside to spice up things in the house and for footage. She gets angry and removed her mic and asked Bigg Boss to call her inside the confession room. Hina supports Priyank while Vikas is on Arshi's side. Later, Arshi cried infront of Vikas and started crying. Priyank and Akash also gets into a fight.
ALSO READ: Bigg Boss 11: Arshi Khan opened up about the time when Priyank Sharma of Splitsvilla 10 tried to kiss her forcefully
Shilpa Shinde gets the exclusive chance to see the entire nomination process. Keep watching to find out what will happen! #BB11

— COLORS (@ColorsTV) November 6, 2017
3. Bigg Boss announced Shilpa as the winner of the secret task and she gets saved in the nomination process. Bigg Boss then annonced the name of the nominated contestant and Priyank, Benafsha, Sabyasachi, Sapna and Mehjabee gets nominated. Later Shilpa is called in the activity area and Bigg boss showed her the nomination process.
Shilpa Shinde talks to Benafsha about Akash Dadlani. Find out what's happening on #BB11!

— COLORS (@ColorsTV) November 6, 2017
4. Shilpa talked to Benafsha about her fight with Akash to which Benafsha said that she is loosing her calm and said that she will kill him once she is out of the house. Housemates discuss about how cheap Akash is and how he talked about women's bodies.
.@eyehinakhan & @ipriyanksharmaa discuss about Bandgi Kalra & Puneesh Sharma. Tune in to #BB11 to find out more!

— COLORS (@ColorsTV) November 6, 2017
5. While the light goes off, housemates indulge in a discussion. Arshi said how Hiten is looking great today. While everyone talked, Puneesh and Bandgi cuddled under the sheets and Hina, Priyank and Sabyasachi talked about how they are doing it on cameras.
ALSO READ: Bigg Boss 11: Was Dhinchak Pooja's high fees the reason why she got eliminated before Sabyasachi
For more updates related to Bigg Boss season 11, stay tuned!