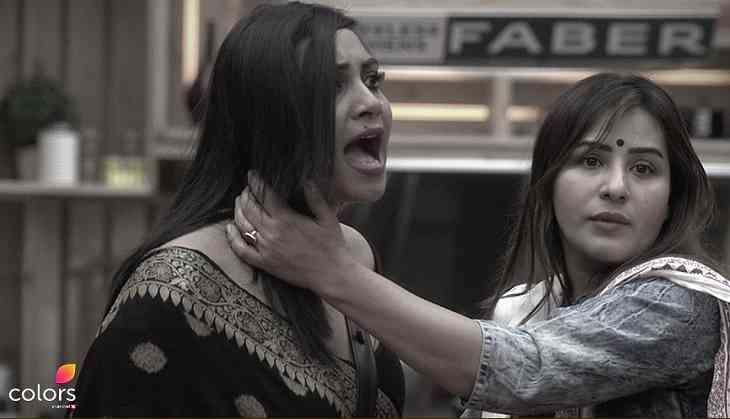 The popular reality show, Bigg Boss season 11, has entered its ninth week and the game has now become interesting as all the contestants are in their great phase. After the nomination for this week got over, it became clear that who all are playing safe in the game and who all can go to any extend to make the game dirty.
For those who missed the last night's episode of the reality show, here are the highlights of the reality show in the form of 5 Catch points that will make you aware about the recent happenings in the show.
ALSO READ: Bigg Boss 11: Here is how Bandgi Kalra's brother reacted on her intimate scenes with Puneesh Sharma and her ex-boyfriend Dennis Nagpal
Check them out:
.@eyehinakhan & @ipriyanksharmaa discuss Puneesh Sharma's comments. Catch the drama on #BB11!

— COLORS (@ColorsTV) November 21, 2017
1. Hina spoke to Priyank about what Puneesh said about Sapna. Later, Sapna told that he is a dog and will remain a dog. Later, Bandgi asked Puneesh to be careful about what he speaks to others but Puneesh asked Bandgi why he is scolding him.
The roles have been given to the housemates and they couldn't be more ecstatic. Who's excited for this courtroom drama? #BB11

— COLORS (@ColorsTV) November 21, 2017
2. A luxury budget taks is given to the housemates in which the house is divided into two families, one is of Arshi and the other is of Hiten. They both are married couples and are fighting for their divorce. Arshi's family members are Shilpa who is her mother, Puneesh and Vikas who are the brothers. Hiten's family members include Priyank, Akash and Luv who are his brothers and Hina who is Hiten's sister. Hina and Vikas are the acting lawyers. Bandgi and Sapna are the acting judges.
.@ipriyanksharmaa has some shocking revelations about @lostboy54. Keep watching #BB11 for the khulaasa! pic.twitter.com/nJunPa4qjB

— COLORS (@ColorsTV) November 21, 2017
3. In the task, while standing in the 'katghara', Priyank claims that Arshi has tried to flirt with him a lot of times. She used sultry tone while asking him for food and also exercises in a provoking manner.
ALSO READ: Bigg Boss 11: Know who will be the winner of this season
.@lostboy54 defends his sister, Arshi Khan! Will it be enough? Find out only on #BB11! pic.twitter.com/tKIVD64GfR

— COLORS (@ColorsTV) November 21, 2017
4. Vikas takes Arshi's side in the game and said that she does not need to ask her husband Hiten for doing anything.
.@ipriyanksharmaa & Arshi Khan get into an argument with each other. Stay tuned to #BB11 for all the drama! pic.twitter.com/pn340w0xLF

— COLORS (@ColorsTV) November 21, 2017
5. Arshi gets really irritated for all the things that Priyank said about her. While, Priyank, on the other hand, is irritated with Arshi for calling him gay.
ALSO READ: Bigg Boss 11: Lovebirds Bandgi Kalra and Puneesh Sharma gets into an ugly fight; see video
For more news related to Bigg Boss 11, stay tuned!