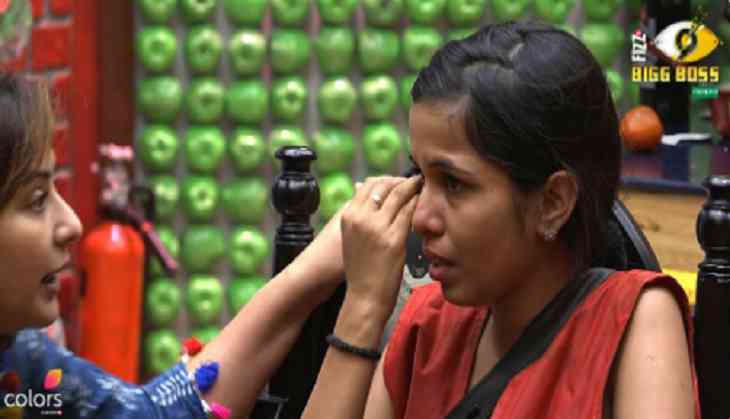 At present in the popular reality show Bigg Boss season 11, the contestants and the fans are witnessing the luxury budget task. The contestants had already spent a night outside the house for the sake of the game and that is why they looked all tired. Fights remained the common scene in the house. Where on one hand some contestants for the sake of the game went way too far and gave rascist comments for another contestants there were some who at the end of the game broke down with tears.
For those who did not watched the last night's episode of Bigg Boss 11, we have 5 major Catch points from last night's episode that created a buzz and entertained the contestants as well as the fans of the reality show.
Also Read: Bigg Boss 11: Here's how Salman Khan's cabin inside the house looks like
Check them out:
Mehjabi Siddiqui and @eyehinakhan talk about Puneesh Sharma. Do you agree with what they said? #BB11

— COLORS (@ColorsTV) October 25, 2017
1. On one hand where Puneesh and Bandgi were seen talking to each other romantically, Mehjabee on the other hand called him "langoor ke haath hoor lag gayi" and talks about how they are faking their relation for the sake of the show.
2. Akash calls Mehjabee dark-skinned and later the fight starts. Everyone loses their temper at Akash.
Mehjabi Siddiqui shares her heartfelt life story with Arshi Khan, Puneesh Sharma and Jyoti Kumari. #BB11

— COLORS (@ColorsTV) October 25, 2017
3. Mehjabee explained to Arshi how many things she had to face and how the society was forcing her husband to get married again because she could not give him a child. She told her that she was proud that her husband who was fair-skinned didn't let her go and loved her so much.
The pressure of the task seems to be too much for Pooja. Stay tuned to find out what happens next. #BB11 pic.twitter.com/9NNuXxYnCo

— COLORS (@ColorsTV) October 25, 2017
4. Vikas convinces Pooja to quit the game and go inside the house else she will be put into the jail for not performing well. Bigg Boss sends pizza for the contestants. Dhinchak Pooja quits the game, goes into the house and later breaks down. Everyone talk sbout her while Shilpa consoles her and provides her with food.
.@eyehinakhan gets emotional because of all the housemates' accusations during the task. Stay tuned to watch what happens next. #BB11

— COLORS (@ColorsTV) October 25, 2017
5. Team Blue wins the task. After the task is over, Hina roams around the pool area and later cried because of all the bad things that the people called her. Sabhyasachi comes and consoled her.